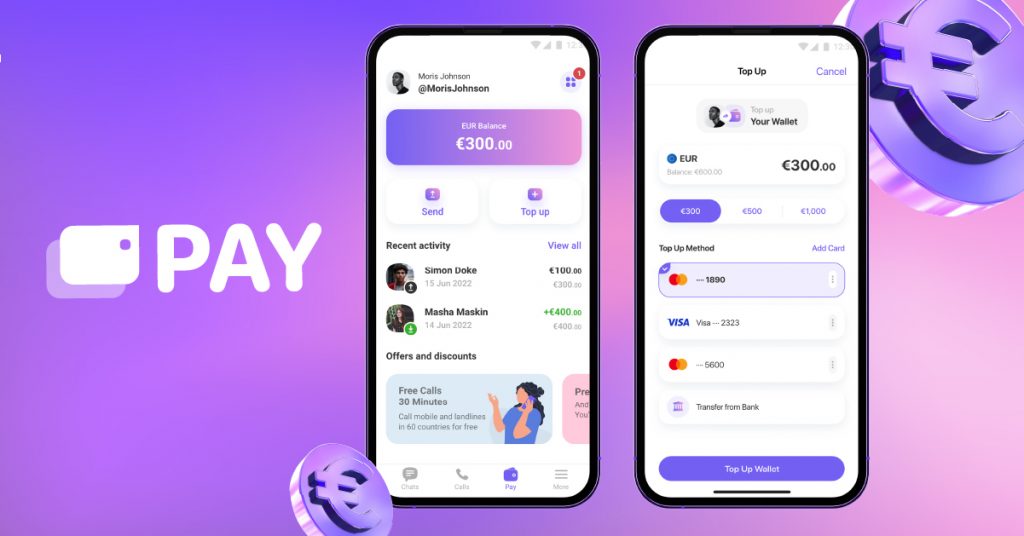 Today we are thrilled to announce the launch of Viber Pay, the simple and secure way to transfer funds to one another within the Viber app!
Starting in Germany and Greece, Viber users will be able to access their very own wallet to store and transfer Euros. This will soon extend to more currencies, countries, and capabilities.
We are proud to be working with Rapyd, a global Fintech-as-a-Service company to bring this new, exciting capability and enable international licensed payments within the native Viber app.
The addition of a seamless payment solution with an in-app wallet, is a natural evolution that furthers Viber's position as a super app. Since 2019, Viber users have conducted millions of peer-to-peer payment transactions in more than ten markets via various third party integrations with chatbot and chat extensions.
How do payments in Viber work?
Adding funds to your digital wallet will be possible via all Mastercard and Visa cards and local banks upon its launch in Germany and Greece. Upon availability in more countries, Viber users can access a wide variety of additional financial services, including:
Viber-to-Viber wallet payments for domestic and cross-border Euro transactions, with plans to introduce multiple currencies soon
Bank transfers for seamless payment of routine expenses like utility bills
Exclusive discounts and rewards from local partners
Want early access to Viber Pay? Join the waitlist!
Users in Greece and Germany can now guarantee early access to Viber Pay as it rolls out across both countries by joining the waitlist in Viber.
If you are resident in Greece you can join the waitlist here
If you are resident in Germany you can join the waitlist here.
Users on the waitlist will gradually be invited to activate their Viber Pay wallets over the coming weeks.
Payments in Viber, Private and Secure
Security and privacy are top of mind in Viber with everything that we do. From private and group chats to 1-1 calls, end-to-end encryption is on by default. With Viber Pay, payments and transfers are encrypted by Viber and secure since licensed and regulated entities are used to carry out the transactions. To maintain the integrity and security of our payments ecosystem, we are requiring that all Viber Pay users register using verifiable identity information, which will be highly secured.
What's Next for Viber Pay?
Viber Pay is coming soon to more regions worldwide. We look forward to providing our users with even more robust features that allow you to connect, pay, create and do more with confidence.