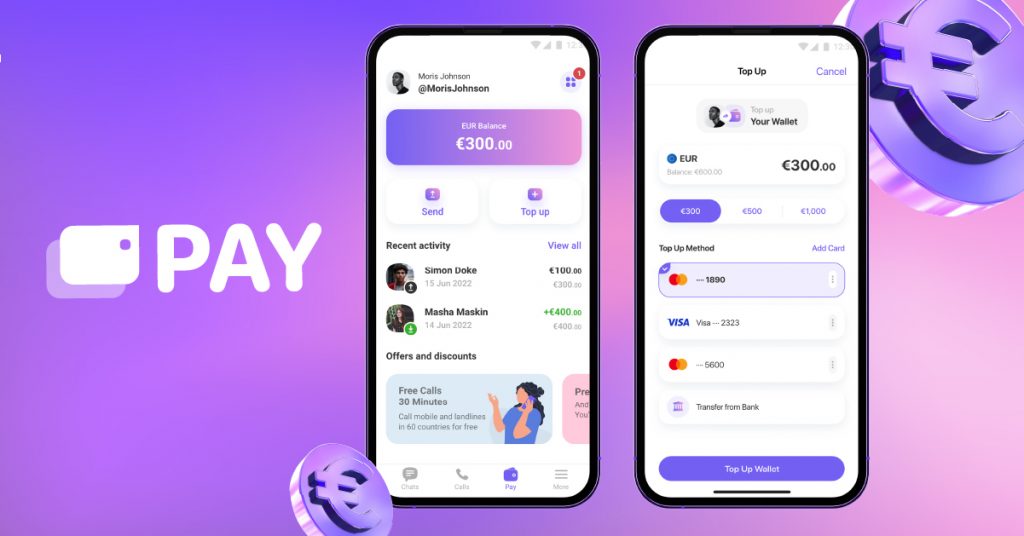 In July 2022 we launched Viber Pay, providing our users with a simple and secure way to transfer funds to one another within Viber! We first rolled out in Greece and Germany, allowing Viber users in these countries to activate their very own Viber Pay wallet and start sending money for free.
We are proud to be working with Rapyd, a global Fintech-as-a-Service company, to bring this exciting capability to our users and enable international licensed payments within the native Viber app. A seamless payment solution with an in-app wallet is a natural evolution that furthers Viber's position as a super app. Since 2019, Viber users have conducted millions of peer-to-peer payment transactions in more than ten markets via various third party integrations with chatbot and chat extensions.
How do payments in Viber work?
Our users tell us what they enjoy most about Viber Pay is how easy and fast it is to send and receive money – it's as easy as sending a message! The days of logging into a banking App, entering long account numbers and paying transfer fees are over. With Viber pay you can send money in a just few taps right where you chat to a friend, for free!
To ensure security, Viber users need to follow a short sign up process that normally takes just 60 seconds to complete. Users then have access to a digital wallet complete with an IBAN that operates like a bank account.
Adding funds to the wallet can be done via Mastercard and Visa cards and local banks in Germany and Greece.
We are working hard to soon offer Viber Pay in more countries and add features that our users will love such as:
A rewarding referral program for inviting friends to join Viber Pay
Exclusive offers and discounts from top brands
Ability to request money from a friend in chats
Splitting bills within a Viber group of friends
A virtual debit card with Apple Pay and Google Pay integration
Easy payment of utility bills within Viber Pay
…and lots more!
Payments in Viber, Private and Secure
Security and privacy are top of mind in Viber with everything that we do. From private and group chats to 1-1 calls, end-to-end encryption is on by default. With Viber Pay, payments and transfers are encrypted by Viber and secure since licensed and regulated entities are used to carry out the transactions. To maintain the integrity and security of our payments ecosystem, we are requiring that all Viber Pay users register using verifiable identity information, which will be highly secured.
What's Next for Viber Pay?
Viber Pay is coming soon to more regions worldwide. We look forward to providing our users with even more robust features that allow you to connect, pay, create and do more with confidence.
How to use Viber Pay
Getting started with payments on Viber can be done in 3 easy steps. Before getting started, however, users are required to enable 2-step verification. This includes setting a personal identification code or biometric recognition to enable secure transactions. 2-Step verification can be done later on in the process, but Viber Pay will not be enabled without it.
Open Viber Pay

Viber Pay can be found on your phone's main screen of the Viber app. Tap on Pay to open Viber Pay.

Verify identity

To use Viber Pay, you will need to verify your identity to ensure compliance with relevant banking regulations . For small transactions, you can use the express verification process (location, full name, date of birth, email). For security purposes, you will need to complete the full verification process (selfie and identity document scan) to increase your transaction limit.

Add a bank/credit card to your wallet

To add a new card to your wallet:

Open Viber on your Phone
Tap on Pay
Tap Top up
Tap Add Card and enter your card details
Tap Save