The most secure messaging app
All around the world, users turn to Viber to have open and authentic conversations with their friends, family and colleagues. With Viber you can rest assured, knowing that your personal chats are always protected and private and that all your conversations are your own. Our mission is to protect that privacy so you never have to think twice about what you can or can't share when you're using Viber.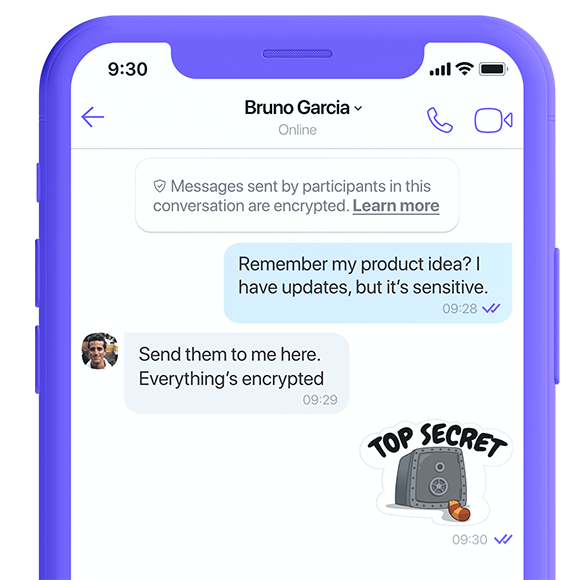 We don't read or listen to any of your chats and calls
Unlike other messaging apps, Viber can't read your personal chats (including one-on-one chats and group chats) or listen in on your audio or video calls. We can't access your messages since we use end-to-end encryption by default. You don't have to go out of your way to turn it on. This means that your private and group communications are completely encrypted so that only you and the people you're talking to can read or hear them.
We can't and don't sell your content
When your chats are protected by end-to-end encryption, no one can access them. Perhaps most importantly, Viber doesn't have access to them—which means nothing you share can be used to target you with ads later. Other messaging apps will not fully encrypt your chats automatically for you unless you actively turn on the encryption mode. This means that some of these apps can access, read and sell your private conversations to other 3rd parties or advertisers. Viber's policy guarantees that we can't sell your private information since we chose to have no access to your private chats and calls in the first place. So, you can be sure you won't mysteriously see ads related to something you were just talking about with a friend on Viber.
More than encryption
Not only are your communications protected by end-to-end encryption by default, nothing you share is ever stored on Viber's servers once delivered. In fact, the messages you send make their way from your device to the recipient's as an encrypted code. If the recipient's phone is off or they don't have an internet connection, for example, your message will wait patiently on Viber's servers for a limited time—still safe and encrypted—until their device is prepared to receive and decrypt it.
100% privacy you can trust
Thanks to end-to-end encryption, any type of information you share will always remain between yourself and the person you're talking to. This means you never have to think twice about what you can or can't share when you're using Viber.

In-transit encryption
For extra protection, everything Viber sends from your device to the server on its way to your recipient's device is encrypted as it travels across the internet.

End-to-end encryption by default
Messages you send make their way from your device to the recipient's in the form of an encrypted code that only their device can translate to plain text using an encryption key. Encryption keys exist only on user devices and nowhere else. So, no one — not even Viber — can read your messages.

Trust your contacts
Verify the identity of the person you're communicating with. In your chat info screen, authenticate and confirm that the person you're chatting with is who they say they are. This provides you with an extra level of security protection if anything changes with your contact.
An added sense of privacy
While Viber's end-to-end encryption by default gives users peace of mind, sometimes we need even more privacy. These privacy features enable users to share extra-sensitive information.
Hidden Chats
Planning a surprise party and don't want anyone to accidentally see your conversation? Hide conversations from your main chat list and access them whenever you need to with a PIN.

Self-destructing chats
Secret Chats lets you set a self-destruct timer for every message in your conversation so that after your message is read, it is automatically deleted from the Viber chat.

Stay under the radar
Control when others can see your online status and the delivery status of the messages they send you.
Learn more about Viber's security measures on our support site.
Viber's security protocol was based on the "double ratchet" protocol found in Open Whisper Systems Signal application, with our own proprietary implementation and additions. Our entire security overview is available here.