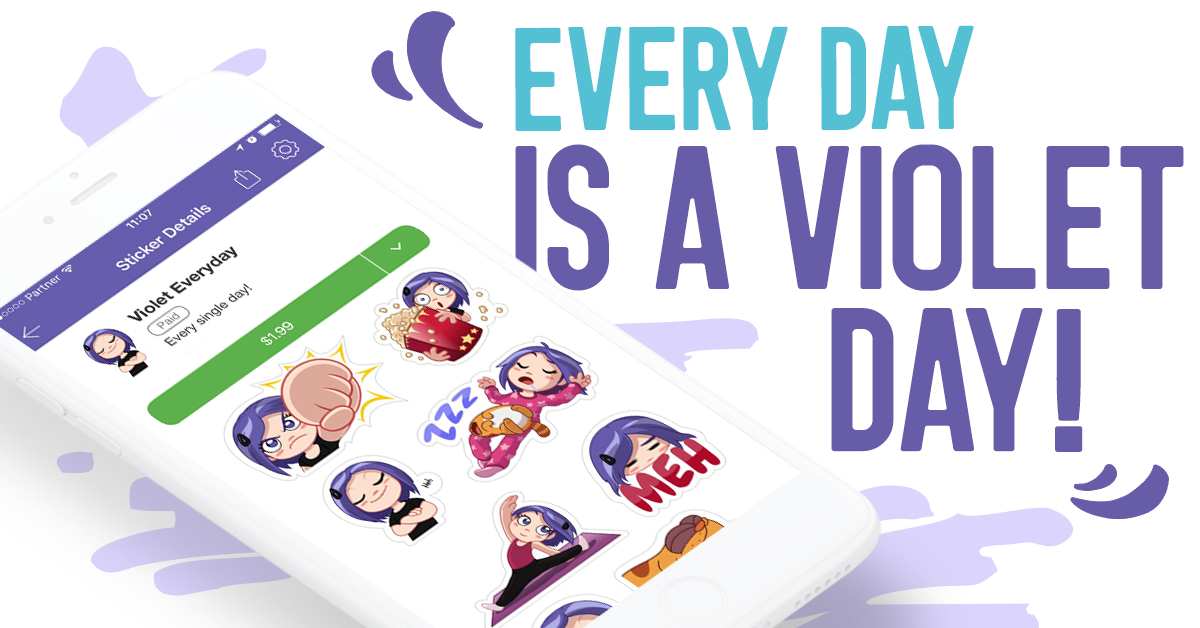 We promised you more sticker pack spotlights and we're here to deliver! From Violet's new sticker pack to a love sticker pack to end all love sticker packs, we've got just what you need to brighten up your chat and put a smile on your friends' faces!
No One Says It like It Is Quite like Violet!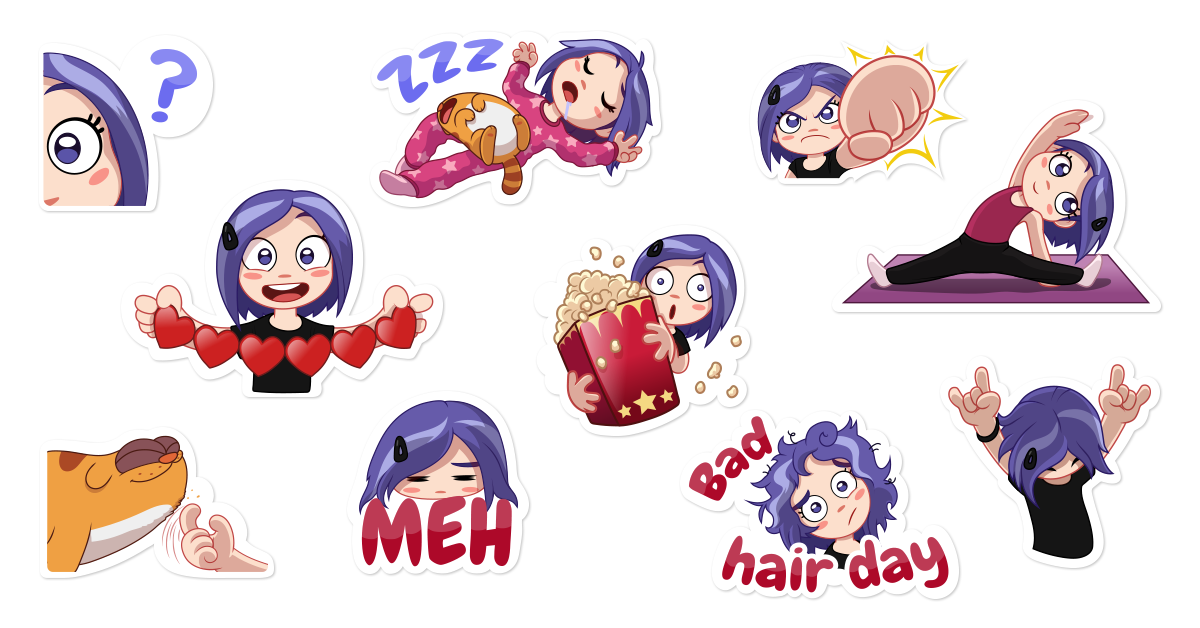 You know us – we just can't get enough of Violet! As our first sticker character, Violet has been featured in over 20 packs including some with her favorite sidekick LegCat and boyfriend, DJ. Her newest sticker pack, Violet Everyday, focuses on Violet in daily situations we can all relate to from a bad hair day to stretching on a yoga mat. You'll love sharing this pack with your best friend!
Download here: https://vb.me/c6d45c.
OMG! I just downloaded the new Violet sticker pack and I'm obsessed! Check it out. https://vb.me/327aeb – Click to Tweet
Feel Just Like an "Aristocat" with Marie Cat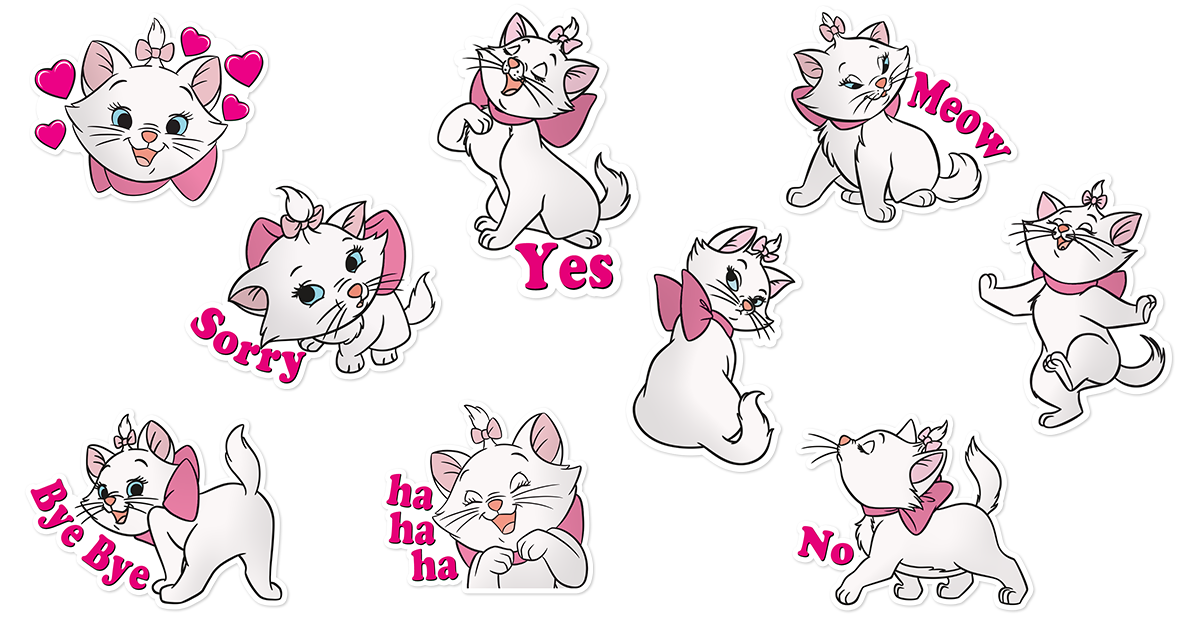 You never know what to expect when dealing with an "aristocat" like Marie Cat! This white kitten is always ready to get into mischief but will always take the time to pamper herself afterwards, like the true royal cat that she is. Share this fun and cute sticker pack with friends and wish them an adventurous day!
Download here: https://vb.me/a94adf.
I can't get enough of Marie's fun and furry sticker pack! You'll absolutely love this "aristocat"! ? https://vb.me/a2ed5e– Click to Tweet
Send a Message of Love with Love Is Basic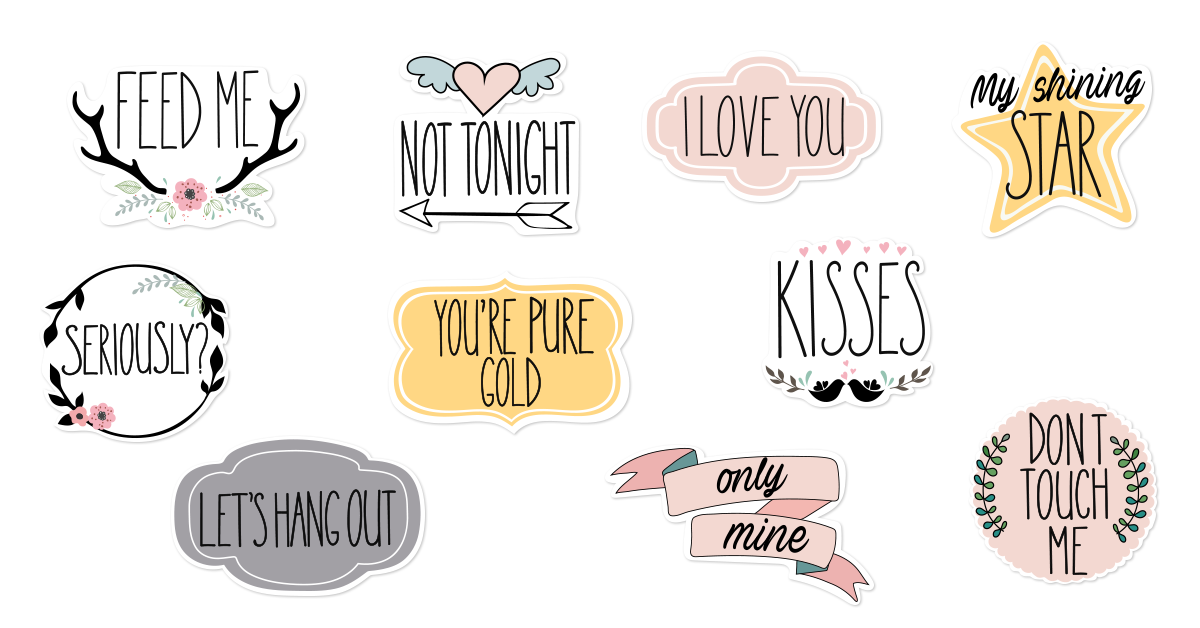 Thinking of ways to show your loved one you care? Simply download the Love is Basic sticker pack if you'd like to tell someone you love them or thinking of them. Words can go a long way when it comes to expressing the way you feel. We have a feeling the person you send these to will agree.
Download here: https://vb.me/547540.
"I love you" – did you know that? Share this sticker pack with your loved one to show you care. https://vb.me/7d4ca5 – Click to Tweet
Let us know on Twitter which new sticker you like best and check out the recent sticker spotlight, which included the new Shakira pack! Make sure to stay tuned for next week's sticker spotlight edition!