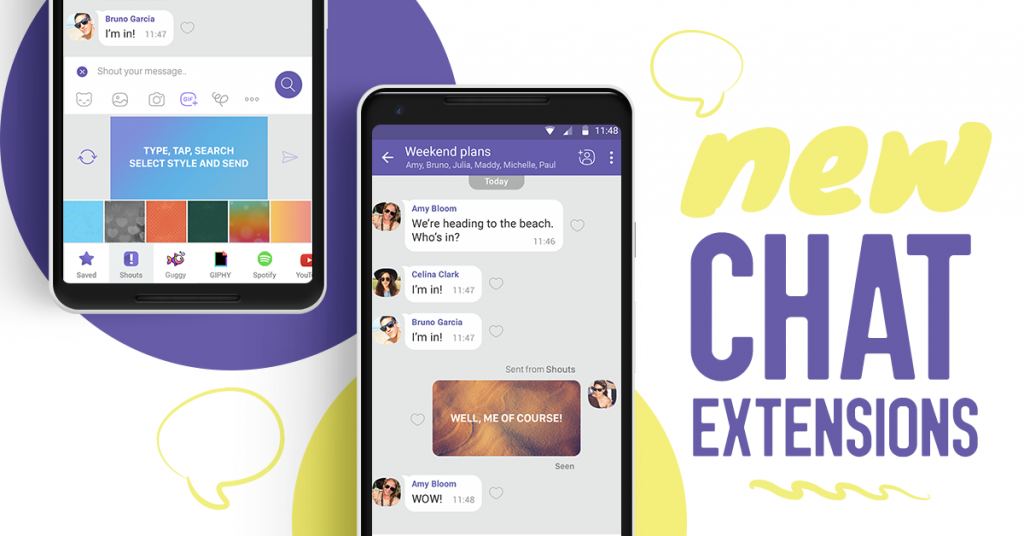 Viber's Chat Extensions add so much to your chats. From helping you to find and share the perfect GIFs and YouTube videos, to Spotify songs, Yelp spots and more. Once you have started using Chat Extensions, you have rarely stopped. Our newest Chat Extensions offer even more fun ways to express yourself and share the things you love with friends.
Make your messages more colorful with Shouts
There are messages, and then there are Messages. Shouts is perfect for the times you want your message to stand out in one-on-one chats, groups or communities. Choose from 20 colorful backgrounds  (more to come) to immediately make your message stand out in a stream of messages. A Shout takes seconds to create, but their impact will last way longer.
Resend your Favorite GIFs (and more) again and again easily
You've found that perfect GIF, the one you just know you'll want to send time after time. Or, you have a link you need to keep close by to share inside any chat. Now it's super easy. Save any GIF, web link or video that you really liked by long pressing on it, and create a collection of your favorite stuff. You can easily access this collection from the Favorites Chat Extension inside any chat, so the next time you need that special GIF, it is waiting for you to instantly share.
Share your whereabouts and more with the new, improved, Location extension
Don't just share your location with your friends on Viber, use the Location Chat Extension to discover more relevant information about nearby places. Send them details about where you are, and what there is to do. The location you share is sent in a specially formatted message, with a quick-access button to any mapping app of your choice.
Note: We continue to safeguard your privacy. This feature is only enabled for users who have granted Viber access to their location. The location is only requested when you tap on the Chat Extension to share it with friends.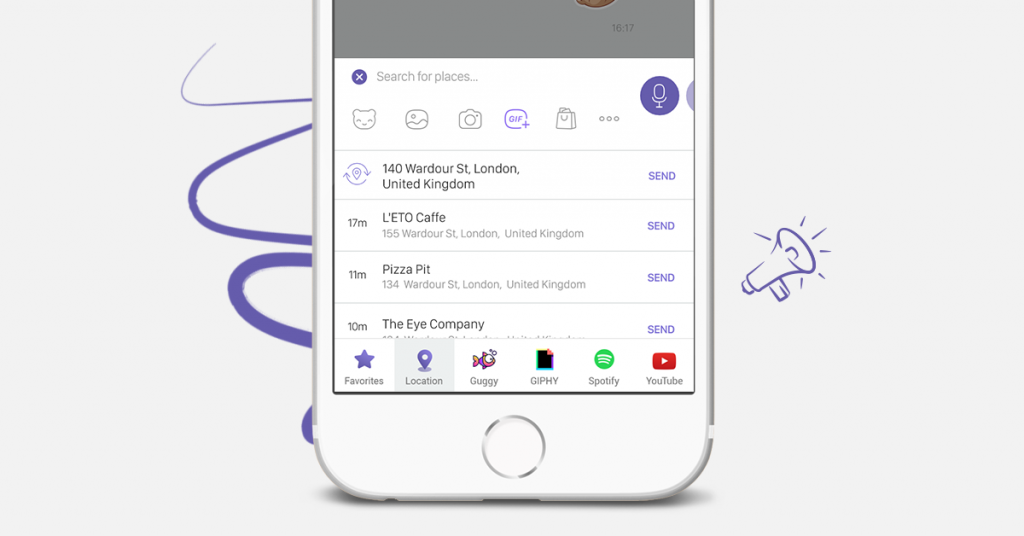 These new Chat Extensions will roll out in the coming days for all users, all around the world, on iPhone and Android.
Get Viber to send colorful messages that really stand out.