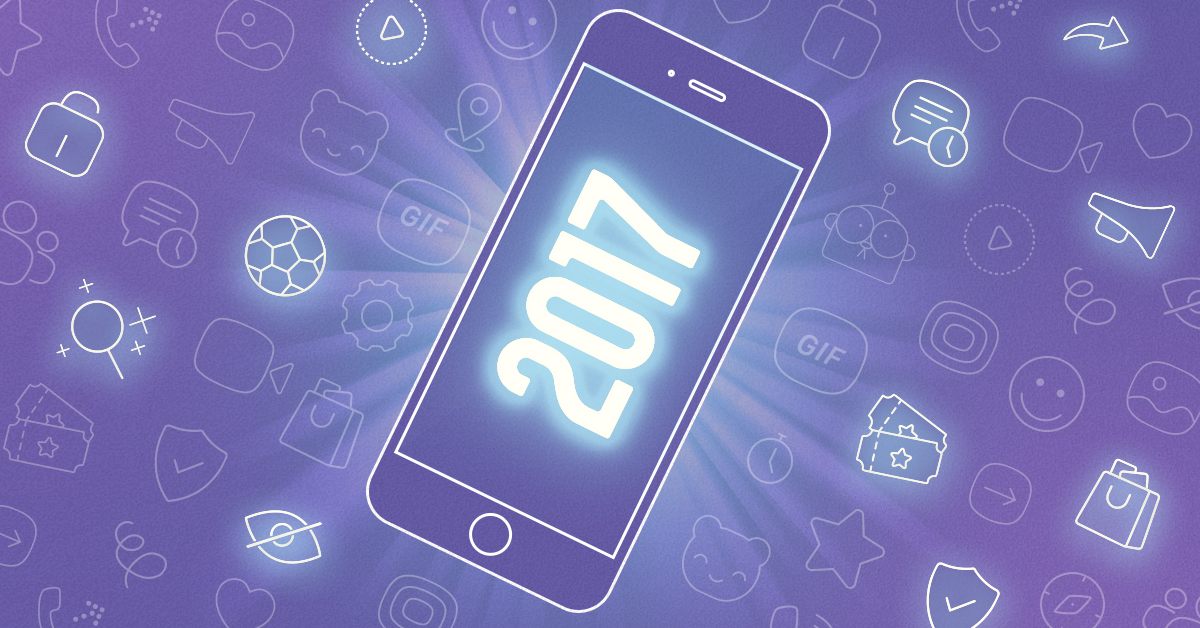 There's no denying 2017 was a good year for Viber! From exciting new partnerships with some of the biggest names in the world to revolutionary new features and improvement to our user experience, it's been quite the adventure! Here's a list of all our biggest achievements in 2017 and a few words on what's in store for 2018.
Viber turns 7!
We just celebrated Viber's 7th birthday! These past 7 Years have enabled us to connect people freely and securely, guaranteeing you are able to contact your family and friends freely while knowing we won't sell any of your information. In fact, we even enabled secret chats just in case you're in need of an added sense of privacy, and we were one of the first messaging apps to introduce full end-to-end encryption. Our advancements in different innovative features while taking your privacy and security into account have helped us increase our user base by 20% and double our revenue in 2017.
In the past year we also celebrated a few landmarks and partnered with some of the biggest names in the world. The Sticker Market celebrated its fourth birthday and proved you all like our stickers since a whopping 668 million sticker packs were downloaded in 2017, up from 600 million in 2016! Furthermore, our delete messages feature hit the 7 billion mark and we were also named the proud Official Messaging App of Shakira's El Dorado World Tour, as well as the Official Communication Channel of FC Barcelona, and we also signed a 4-year agreement with the French football team, OM.
Throughout it all, we didn't neglect our company's values and worked together with our partners in order to give back by helping raise awareness to important global issues. With WWF we helped spread awareness to the environment as well as to the hardships facing tiger protectors who risk their lives trying to protect the majestic animal around the world. We worked closely with a New Zealand school in order to help disabled children better communicate their feelings and thoughts through their very own sticker pack, and we partnered with the Sri Lankan Ministry of Health to raise awareness of dengue fever.
One-Stop-Shop
With so much going on, our different teams had a lot on their plate coming up with new stickers, answering users' questions, and developing new innovative features we thought you'd love. Since we all spend the majority of our time within a messaging app, one of our goals for 2017 was to expand the services we provide so that you wouldn't have to exit the app in order to find a GIF or video you'd like to send. That's where our Chat Extensions came into the picture, becoming a one-stop-shop for anyone who doesn't want to leave their chat in order to send a message to their friends. First introduced exactly one year ago, Chat Extensions has since expanded to include Yelp, Ticketmaster, Tunemoji, YouTube, Vice and many others.
Throughout the year, our team of senior product managers made sure to release new versions each month on both mobile and desktop in order to improve the app as often as possible and address pressing matters. And since your overall experience and the functionality of the app have always been their top priority, 2017 was all about the new and exciting features we could add to enhance your group chats experience on both mobile and desktop. These features included the ability to invite anyone to your groups, send instant video messaging and stickers with sound and decorate photos with stickers and doodles. More options included the ability to create a broadcast list, pin a message or send a quick reply, watch a YouTube video play in the background of a chat and change a phone number without worrying about losing that phone's history.
As we said, 2017 was intense, and we can't wait for 2018 to unfold all our newest advancements and features! In this coming year, we plan on introducing new features that will make group chats and one-on-one chats even better, so stay tuned!
Tell us what you'd like to see from Viber in 2018 by writing us on Twitter and using the hashtag #Viber2018. And if you haven't downloaded Viber yet, do it today to join in on all the fun!