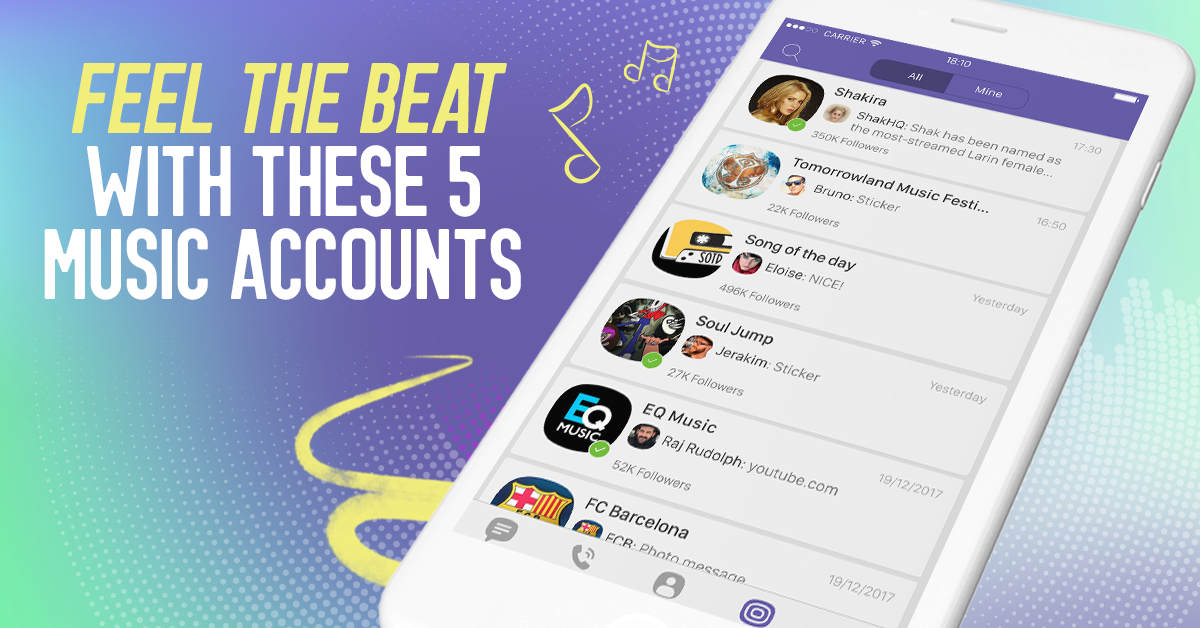 Are you ready to get your groove on? If you love discovering new music, these 5 Viber music accounts are bound to get your foot tapping to the beat. From Shakira's, which gives you an exclusive look to the singer's preparations for her El Dorado World Tour, to the Tomorrowland Music Festival's fan account for all you electronic music lovers, there's something for everyone! Follow these top 5 picks and start your day off with a tune stuck in your head.
Shakira
For personal photos from Shakira's life as one of the most famous singers in the world, check out the singer on Viber. While she most recently had to delay the El Dorado World Tour, she keeps posting messages, videos and pictures to her many fans worldwide. So if you're a true Shak fan, make sure you're following Shakira to get the dish on the big event and so much more!
Tomorrowland Music Festival
If you're a fan of the electronic dance music festival held in Boom, Belgium, this is the account to follow. TheTomorrowland Music Festival will take place between July 20th-July 30th and is known for breaking sales records, having sold out in 40 minutes in 2016. The account is unique in that it is run by the festival's fans, so if you're planning on going to the music extravaganza, check out the cool photos they've uploaded.
Song of the Day
With over half a million followers, Song of the Day will put a smile on your face with some of your all-time favorite tunes and a few songs you've never heard before. If you like being introduced to singers and albums as well as learn some interesting facts on the way about some of your favorite songs, you're going to love Song of the Day.
Soul Jump
If you're into neons, cartoons and getting to know new bands, check out Soul Jump. The funky band from the UK will share with you updates about their tour, videos and so much more. Get to know frontman Ricky Clep, cynical egg drummer Colin, Joyful and soulful hip chick Joy, party animal and mad rap artist Jerakim and mysterious tech-wizard DJ Sketch and finally their brand mascot Slugbe. And start rocking out to some soulful pop, funky dance, hip hop and what the band refers to as "plain cartoon craziness"!
EQ Music
EQ Music celebrates electronic pop music from the '80s to today. What started out as a music blog launched in 2005 by pop music enthusiast Raj Rudolph, is now on Viber with over 50,000 followers. The EQ Music Blog set out on a mission to discover relevant and inspiring new talent in the electronic pop genre, and not to settle for the music played on the Top 40 radio playlists. From cover songs of your favorite '80s  tunes to news about current music events and performances, check out EQ Music to stay in the loop about all things music.
If you'd like to discover some more cool accounts you can follow, check out the 8 news-related accounts to keep you in the loop on things going on around the world. Make sure you tell us on Twitter which were your favorite picks and why!