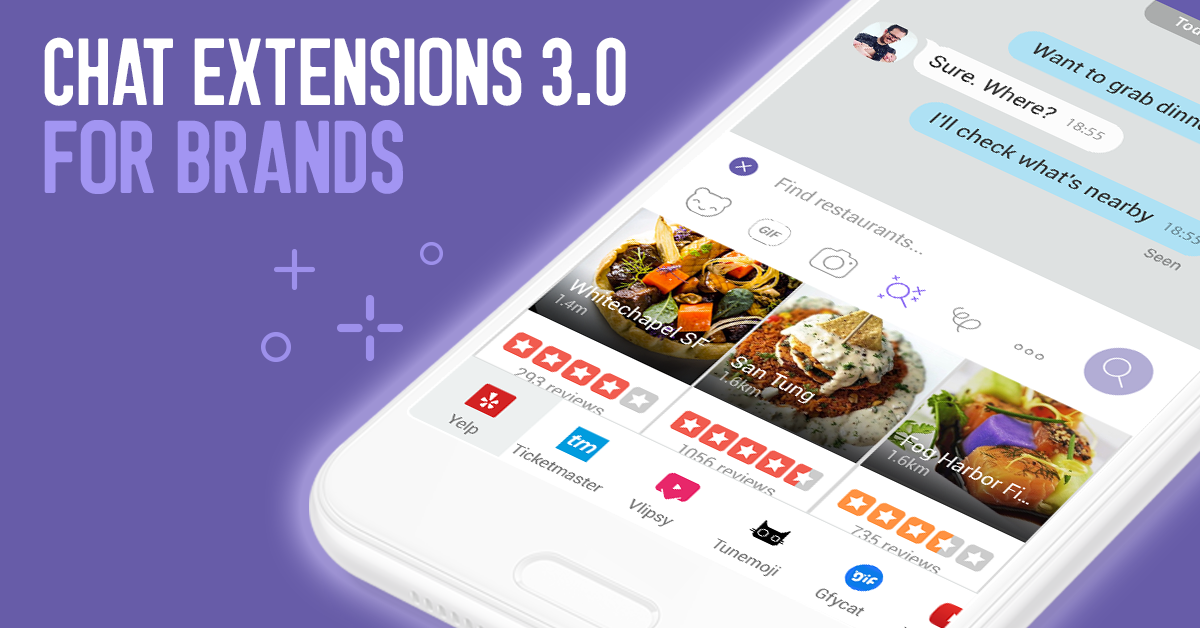 You may or may not recall when we first rolled out Chat Extensions—making it easy for Viber users to share multimedia from a GIF to a YouTube video with anyone and anywhere. Additional Chat Extensions were released with Booking, Vice and Spotify to simplify traveling, news and music, while continuing to make these experiences more exciting.
Shortening the sales funnel—from awareness to intent and conversion—is an industry advantage that messaging apps provide to brands. Each and every one of these Chat Extension partners are able to extend their brand and digital experience on Viber, so we decided to scale this quickly. Our latest Chat Extensions partnerships include Yelp, TicketMaster, Vlipsy, Tunemoji and Gfycat, putting more brands front and center with highly-active consumers in a brand-safe environment.
Let's take a deeper look at some of the Chat Extensions 3.0 highlights.
Yelp, Ticketmaster & Others Extend Digital Experience to Viber's Audience
Yelp
Mostly everyone knows and has used Yelp. Tourists and locals alike use the app to find the highest user-rated restaurants, hotels, nightlife and everyday businesses in almost every city in the world. Yelp's Chat Extension enables users to do everything mentioned above directly within the Viber environment. They can easily search and share places with their Viber contacts in a seamless manner, raising exposure and usage of Yelp—every brand's dream digital scenario.
TicketMaster
TicketMaster's Chat Extension allows users to find, share and purchase tickets to concerts, sporting and special events within Viber. Music and sports are inherently emotive and social, so giving consumers a basic and seamless way to discover, discuss and buy tickets are a no brainer for a brand seeking to grow exposure and revenue.
Content-Driven Brands Come to Life on Viber
We've seen great success with Chat Extensions for sending hilarious GIFs and mind-blowing videos, giving content-focused digital brands extra reach to an engaged audience. It was an easy decision to expand this further and partner with other great brands.
Vlipsy's Chat Extension lets users share short videos from their favorite TV shows or movies to convey their feelings or thoughts on a conversation. With the Tune-Moji Chat Extension users can comb through a library of licensed music to deliver the coolest musical GIF imaginable. Last, but definitely not least, the Gfycat Chat Extension offers users a treasure trove of high-quality GIFs in almost every language to express themselves.
It's been rapid growth for Chat Extensions. Brands are seeking fewer ways to reach a high-quality audience in an efficient manner. Our Chat Extension product is a great solution for these brands and our partner growth is evidence of that.
If your brand is interested in hosting a Chat Extension on Viber let us know. Otherwise, stay tuned as we continue to partner with more incredible brands in our Viber journey.