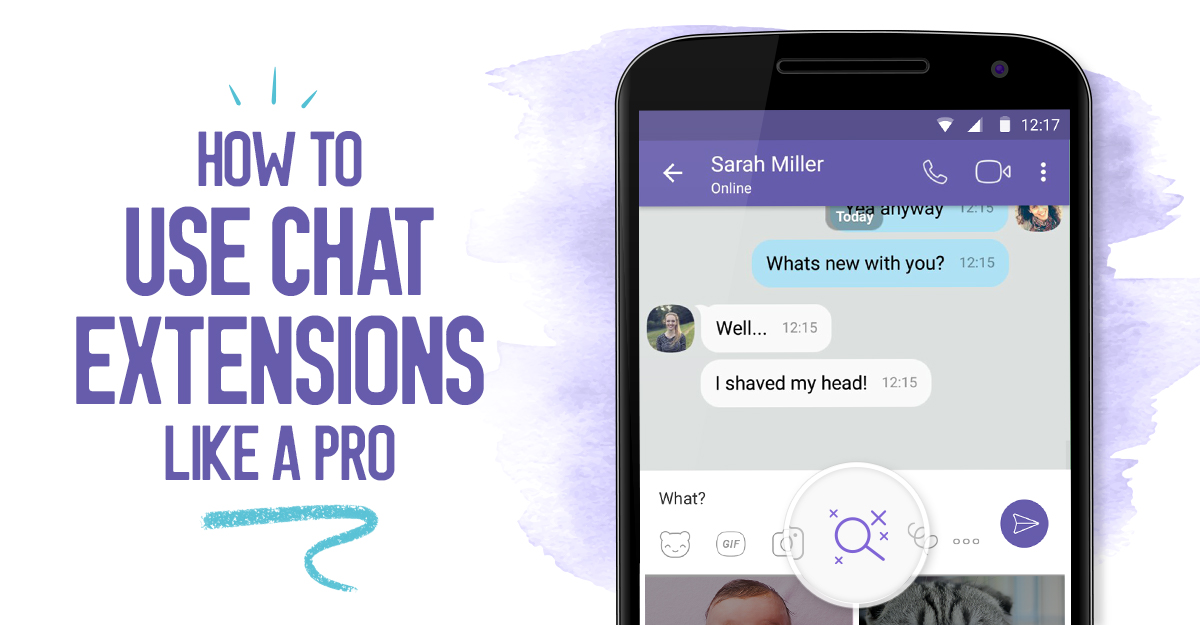 When we first introduced Chat Extensions, we wanted to make it easier for users to find just the thing they want to send in a chat without having to leave it in order to do so. Now, with our new and improved Chat Extensions you'll be able to not only send your favorite GIF or Guggy but also send YouTube videos to your friends, book a hotel via Booking, stay in the loop with VICE and listen to music with Spotify.
Here's the full list of what Chat Extensions now offers so you can master it like a pro!
Where Can I Find These Chat Extensions?
Tap the icon and choose the extension you want from the menu that appears.
You can easily switch between chat extensions to find different types of content for your search term. Once you've chosen the chat extension you're interested in, type in your text (for example, "Coldplay"), swipe to see more results and send your chosen selection. Now you're ready to get started!
Watch YouTube Videos
Search, play and share your favorite YouTube videos within your chat without having to leave it! With chat extensions you'll be able to find the exact song or video you're searching for, and you won't have to worry about having to stop it short if you'd like to leave the chat you're in. Same goes for Viber for Desktop users who will be able to continue to watch their YouTube videos in the background of whatever tab they're in.
Listen to Your Favorite Tunes with Spotify
Spotify gives you access to millions of your favorite songs so that you can share them with your friends. Now you can do just that by simply tapping the chat extensions icon and choosing the Spotify option. Start sharing!
From @YouTube to @bookingcom, @Viber's #ChatExtensions let you search and share right within your chat!- Click to Tweet
Stay in the Know with Vice
If you're looking to stay in the loop with trending news and viral content, look to the VICE chat extension. The online publication's chat extension will bring you the original reporting you've been looking for so you don't have to leave the app in order to get updated on everything from culture to current events.
Share Getty Images
If you're into photography, you already know Getty Images, and there's no doubt you're going to love the new Getty Images chat extension. Choose from over 80 million still images and send any type of image, from editorial to nature pictures, to your friends, family or colleagues.
Book Your Next Vacation with Booking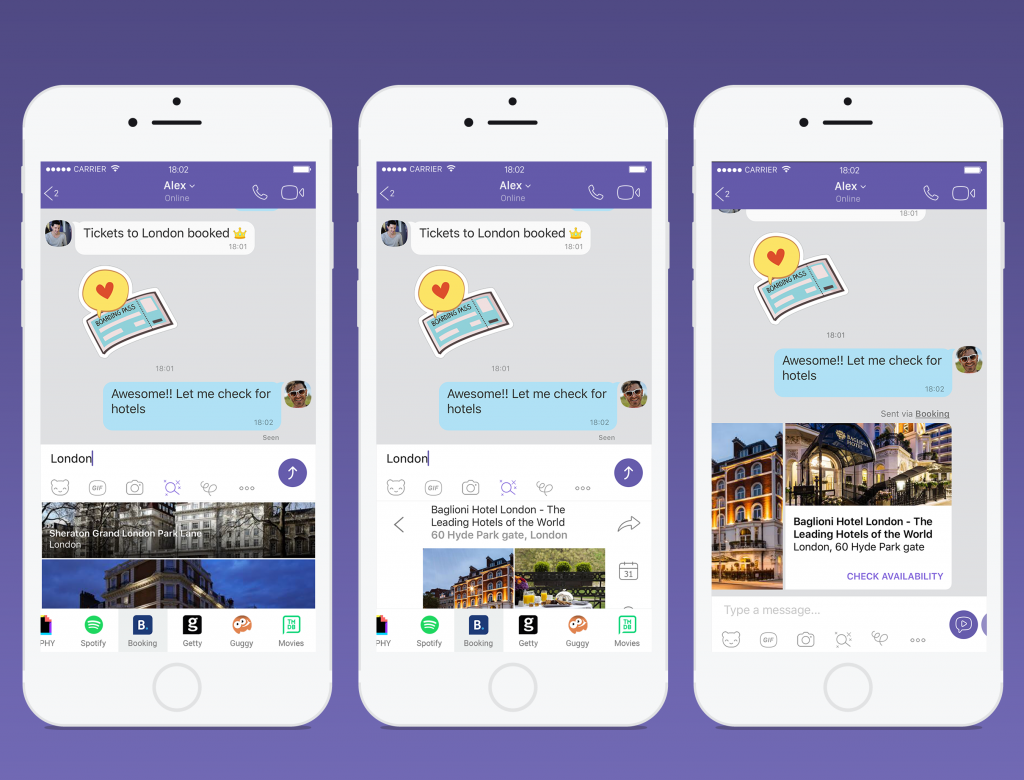 With over 1.2 million hotels worldwide and nearly 120 million hotel reviews, Booking helps you get the best deal for a hotel on your next vacation. Share your favorite hotel picks on your chat and plan the best holiday with your loved ones.
Impress with GIFs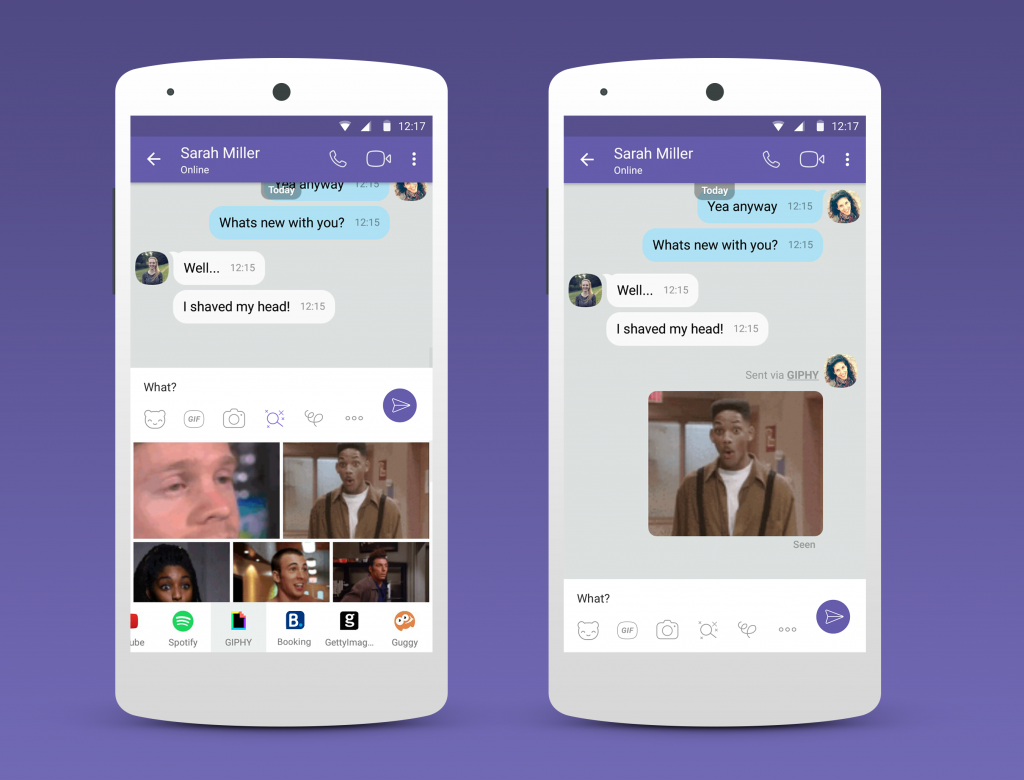 Communicating through GIFs is the best form of expressing yourself when words fail you. Getting your message across with a moving image that will most likely express your feelings better than your words ever could will allow you to be original and creative, and add something special to your chats. GIPHY's enormous GIF database will help you find the exact GIF you're looking for to best express yourself.
Create Custom Image and GIF Messages
Guggy brings together the best of both the sticker and GIF worlds and makes them extra personalized. With Guggy, you can customize your message by typing in exactly what you want to say (for example, "Pizza for dinner?") and a bunch of GIF or sticker options will be created based on that text.
Chat Extensions are available on Viber for Android, on Viber for iOS, and on Viber for Desktop so you'll be able to have fun with them no matter where you are. Simply download Viber and don't forget to let us know which feature you're using the most and why. We'd love to hear from you!