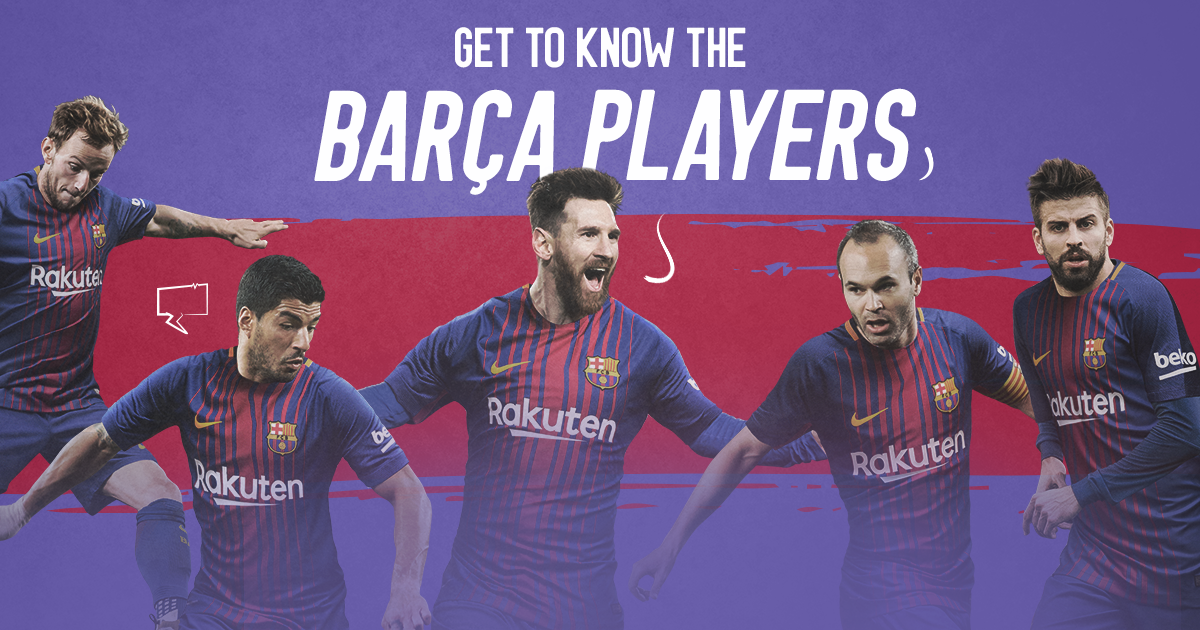 We all have an idea who the talented FC Barcelona players are, but do we really know Messi, Suárez, Piqué, Iniesta and Rakitić? Commonly known as Barça, the FC Barcelona team has been around for over a century, producing some of the best football players throughout history including Dani Alves, Xavi Hernández and Ronaldo de Assís Moreira 'Ronaldinho'. As FC Barcelona's Official Communication Channel, we thought we'd give you some more information about everyone's favorite team players who are part of the iconic football team.
Lionel "Leo" Messi 
Age: 30, born June 24th, 1987
Place of Birth: Rosario, Argentina – also birthplace of Argentinian revolutionary Che Guevera
Height: 5 ft 7 in
Spouse: Antonella Roccuzzo
Playing Position: Forward, Barça number 10
Nickname: La Pulga Atómica ("The Atomic Flea") for his ability to quickly switch directions and evade his opposer's tackles.
Interesting Facts: Despite the fact that he moved to Spain when he was 13, Messi preserved his distinct Rosarino accent, and even got married there to his long-time love, Antonella Roccuzzo, a fellow native of Rosario. He has a double Argentinean and Spanish citizenship.
Messi is predominantly a left-footed player and first established himself among the world's best players before the age of 20. He even inherited his number 10 FC Barcelona jersey from renowned footballer Ronaldinho.
He's a real mama's boy, which he proved by tattooing his mother, Celia's, face on his left shoulder.
Messi gives back to different charities and causes he cares about. He has served as a UNICEF goodwill ambassador and has founded his own charitable organization, the Leo Messi Foundation, which supports access to health care, education, and sport for children. He also financially supports the Sarmiento football club based in the Rosario neighborhood where he was born.
You may not believe it, but when Messi arrived at the Camp Nou at the age of 13, his first contract with FC Barcelona was signed on a paper napkin! Today, Messi is signed with the football team until June 30th, 2021.
Watch Messi score 12 goals at the Spanish Super Cup.
Luis Suárez
Age: 30, born January 24th, 1987
Place of Birth: Salto, Uruguay
Height: 6 ft
Spouse: Sofia Balbi
Playing Position: Striker, Barça number 9
Nickname: El Pistolero, which means "the gunman".
Interesting Facts: Suárez is the fourth of seven boys. His brother, Paolo, is also a professional soccer player.
Like Messi, Suárez also ended up marrying his high-school sweetheart, Sofia Balbi, who he started dating at the age of 15. They married in 2009 and have two children.
His book, "Crossing the Line – My Story" was published in 2014, and describes his early love for the game as well as his competitive nature, which has gotten him in trouble on the field quite a few times.
Suárez is the second of FC Barcelona's Luis Suárez's, with the first namesake playing for the team between 1955-1961.
Click here to watch Suárez in action.
Gerard Piqué
Age: 30, born February 2nd, 1987
Place of Birth: Barcelona, Spain
Height: 6 ft 4 1⁄2 in
Partner: Shakira
Playing Position: Defender, Barça number 3
Nickname: Piquenbauer, a combination of Piqué's name and former German footballer, Franz Beckenbauer.
Interesting Facts: Piqué met his partner and mother of his two children, Shakira, when he appeared in her music video for "Waka Waka (This Time for Africa)", the official song of the 2010 FIFA World Cup. They both share the same birthday, but Shakira is 10 years his senior. Shakira's song "Me Enamoré" details how she met and fell in love with Piqué.
Piqué even has a beer named after him, called the Piquenbauer.
When he was only 17-months old, Piqué, who was already playing football, sustained an injury while playing and was in a coma for 2 days.
Piqué isn't just interested in football- he's even modeled for Mango, however his wife does not permit him to model alongside any "hot models."
Watch this magnificent goal by Piqué.
Are you a @FCBarcelona fan? @Viber gives you the dish on the team's #allstars including #Messi, @andresiniesta8 and @3gerardpique! – Click to Tweet
Andres Iniesta
Age: 33, born May 11th, 1984
Place of Birth: Fuentealbilla, Spain
Height: 5 ft 7 1⁄2 in
Spouse: Anna Ortiz
Playing Position: Midfielder, Barça number 8
Nickname: Iniesta has quite a few nicknames, due to his versatility, magical touch, dribbles, passes and control. These include: El Ilusionista (The Illusionist), El Cerebro (The Brain), El Caballero Pálido (The Pale Knight) and Don Andrés.
Interesting Facts: Andrés Iniesta joined Barça as a twelve-year-old in 1996 after scouts spotted him at the Brunette Tournament playing for Albacete. He didn't forget his roots and now owns the Albacete football club.
Iniesta scored an extra time goal for the team in the final match of the 2010 World Cup against the Netherlands. The win gave Spain its first World Cup title. He also helped lead FC Barcelona to an incredible six titles in 2009.
Iniesta has a sponsorship deal with Nike and not only appears in their commercials but also receives new custom shoes. This April he got a new custom Nike Magista Opus 2 boot.
He has four children with his wife, Anna.
Watch Iniesta score this goal against Deportivo de la Coruña in the 2010/11 season.
Ivan Rakitić
Age: 29, born March 10th, 1988
Place of Birth: Möhlin, Switzerland
Height: 6 ft 1⁄2 in
Spouse: Raquel Mauri
Playing Position: Midfielder, Barça number 4
Nickname: Raketa, which means rocket, and looks like his last name.
Interesting Facts: Ivan Rakitić joined FC Barcelona in the summer of 2014. He was born to Croatian parents in Switzerland, and has dual nationality, allowing him to represent Croatia at an international level.
Rakitić was the first to win the Europa and Champions League successively with different teams.
His most important goal so far took place during the Champions League final against Juventus, in which he opened the scoring and paved the way to Barça's fifth Champions League title.
Rakitić made plenty of friends during Barça's Club World Cup campaign in Japan, mainly due to his resemblance to Dragon Ball cartoon hero Son Goku.
Rakitić has a tattoo bearing his brother's name on his right arm. He has two daughters.
Watch this incredible goal Rakitić made in a match against Levante in La Liga season 2014-15.
For more information about the FC Barcelona players, and for a chance to win incredible prizes and choose your favorite Man of the Match, check out the official FC Barcelona chatbot.