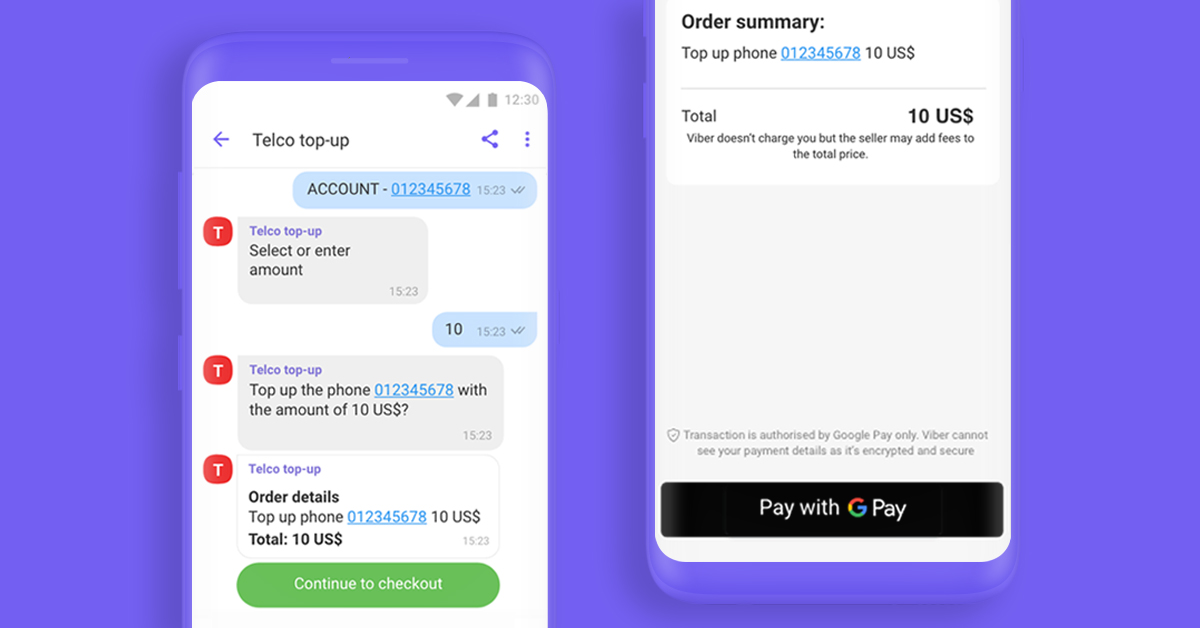 Things are always changing and moving forward. As our reality is shifting, there is a need for new and easy ways to do things from home. Whether it's shopping, eating or paying bills it isn't as simple to do so outside anymore.
Now, paying on Viber is easier, safer – and even healthier – than ever.
Pay in chatbots with Google Pay and Apple Pay
📱💳 You already do so much with chatbots on Viber – whether it's shopping, paying bills or ordering food – and now everything will be much safer and simpler as chatbots will be able to include Google Pay and Apple Pay when you check out.
Your payment experience will be hassle-free as payments are done within the chatbot – directly between Google Pay or Apple Pay and providers connected to your means of payment (such as credit cards). Since this is directly through Google Pay or Apple Pay, there are no extra charges from Viber (however the seller or service may add a fee on their own behalf).
The payment process is protected by Google and Apple, meaning neither Viber, sellers or any third party will have access to your payment details, making this the safest method possible. To enhance security even more, Viber is ensuring all sellers and services are trusted – so you are safe purchasing only through verified partners.
More chatbots will offer this soon, so take advantage of it and set up your Google Pay or Apple Pay accounts. This option is available now in Ukraine, coming soon to more countries.
If you want to add Google Pay or Apple Pay to your chatbot, read here.
Filter unknown chats
⛔️ Some of you don't like getting unwanted messages from unknown numbers and we know it's disturbing. That's why we are rolling out, in several countries first, a new inbox for Message Requests – which frees your main chat list from such unwanted messages.
New Community and group chat invitations from unknown senders will go under Message Requests automatically, as we understand they are the biggest source of spam – as reported by users.
You don't have to do a single thing – Viber will filter these messages for you!
Backup has arrived
📱📂  Auto-backup your photos and videos, along with your Viber chats on iPhone. Select whether you want to backup daily, weekly or monthly, so you'll never worry about losing memories.
Traded your old iPhone for a new one? Restoring everything is easy – tap: Settings > Account > Backup.
Coming soon to Android.
Never forget again
📱📝  Set reminders for tasks and other important things easily in My Notes. Choose a date and time and whether it repeats, and the reminder will pop up on your phone with the message from My Notes!
Long-tap any message on My Notes > Tap Set Reminder.
Choose who to call
👆👇  Now also on Android, start a call in any group chat – no matter its size – by tapping the top icon in the group chat and selecting up to 19 participants you want on the call. Easy.
The boomerang has arrived
🔁⏪  Finally on Android! Reverse or boomerang GIFs for that extra touch. The possibilities are endless.
Forward and delete with a swipe
👈  On iPhone, swipe left on any of your messages to select multiple messages you want to delete or forward.