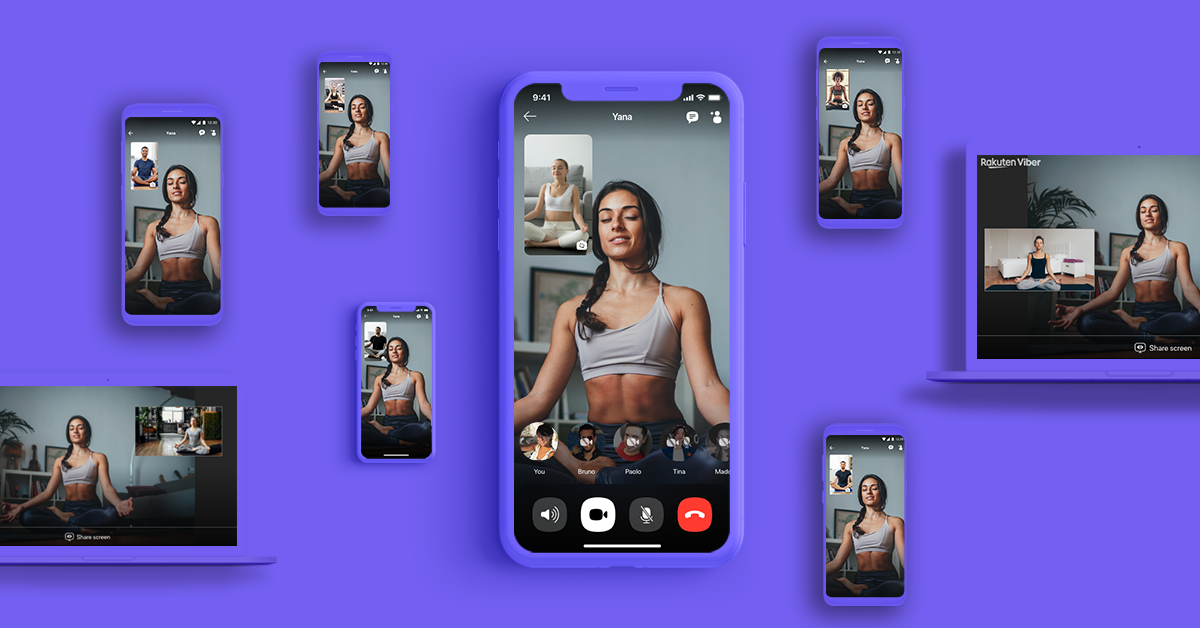 These days, many of us must stay at home, away from the people we care about or unable to attend activities we used to be part of with others up until recently. When sending a message or making a voice call isn't enough, video calls are there to bring us one step closer to the real thing of meeting someone in person.
On Viber, you can have a group chat with up to 250 people or group voice call for 20 people, and starting today …
Introducing Group Video Calls for up to 20 people together!
This feature has been long-requested by Viber users, and we're thrilled to bring it to all users globally, helping you see and talk with others over video as much as you want. We've dedicated our entire team to this launch over the past weeks, and we will continue to do more in the near future.
Group Video Calls are available across platforms – Android, iPhone and Viber for desktop.
How does it work?
Just like Group Voice Calls on Viber, start a Group Video Call from a chat group of up to 20 people by tapping the new Video button added on top, or by adding more participants to an ongoing video call.
Group Video Calls give the speaker the floor. For undivided attention, the speaker's video is the one displayed for all participants, but you can choose to pin any other participant's video on your screen during the call.
Feel free to mute yourself or turn off your video during the call. You can also see if other participants are on mute or their video is turned-off.
What is it ideal for?
Any reason you want to see and talk to a group of people!
See family or friends on a Group Video Call when not everyone is at the same place. If you join a Group Video Call from your desktop, you can easily share your desktop screen so everyone can see it during the call.
There are so many other things a Group Video Call on Viber is amazing for: Teaching a Yoga course or cooking class, work meetings, watching a movie together, or hosting a trivia game with your friends while everyone is at home.
No matter where you or they are at, start a Group Video Call on Viber Now!
See what else is new on Viber:
Create a sticker on iPhone and Desktop
It's been so much fun with new stickers being created everywhere ? Now you can create your own stickers on iPhone and Viber for Desktop, too.
Style Photos & Videos on iPhone
You know how you sometimes want to style your media with fun fonts and designs? Well, now you can! Bold, italic, underline. Add some new styles to your media now on iPhone.
Easily delete multiple messages
On iPhone, select multiple messages to delete with one single tap – either your messages or anyone else's.
Auto-Dark Mode
Why turn on dark mode each time the sun sets? Instead, let your device do it for you automatically ? Dark mode on Viber will be synced to your device's dark mode settings. Let the magic happen on its own without having to toggle on and off.
Resend Files Faster
When you try sending a file on Android, and try to send it again, the second time will be much faster! We don't want to keep you waiting – so we wanted to make sure your files are sent ASAP ??
Video Trimmer
Now on Android! You heard that right. You've waited long enough. Send a video that's just the right length.
Get Share Suggestions
Every time you share something through the native share dialog on iPhone from any app, you will see suggestions to share it directly to specific chats on Viber.