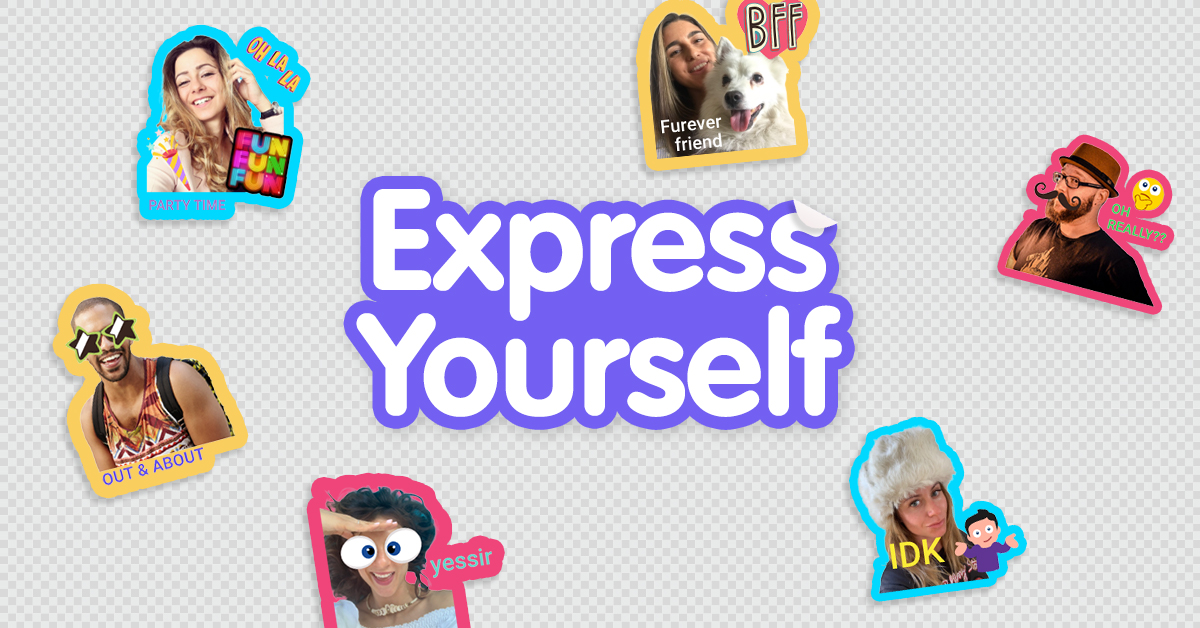 Stickers are simply the best way for us to express ourselves in a chat, and billions of stickers are sent in chats on Viber every month. Take expressing yourself to the next level with the expressions that really say it for you and create your own sticker packs.
We are thrilled to announce that you can design and create your own sticker packs right inside the Viber app. Send stickers starring your face, your favorite sayings, people, places and more. Wow your friends with your creativity in every sticker you make!
Start creating your pack by opening the sticker creator from the sticker market, sticker menu inside any chat, or simply take the photo you are about to send in a chat and instantly turn it into a timeless sticker.
Stickers can be anything you want them to be, for example, your gang of friends saying what they always say, showing off your cute puppy doing adorable things, a souvenir of your last holiday, or a special pack for a big event coming up. You decide – it's your sticker pack!

Create your stickers
Now you know what is going in the pack, give it a name so you can find it again and again.
Once you know which photos you want to make into stickers, it is time to add some magic and transform any ordinary photo into a cute, funny, popping or beautiful sticker.
Use the tools in the creator to polish your stickers:
Shape your sticker – move the photo around, rotate it, or zoom in on a particular detail to create the sticker's focus. Use the magic wand to remove the background of the photo and highlight just the bits you want.
Decorate your sticker – once the shape was set, decorate your stickers with doodles, text, other stickers or emojis to make them unique.

Finish your pack
Since you are the creator of the pack, you have the power to choose whether other people can use your stickers on Viber.
If your pack is public, everyone on Viber can download it either from the sharing link in the sticker pack page, or by tapping and holding on a sticker. If you keep your pack private, only you can see all the stickers in the pack, but a sticker you sent in a chat can be forwarded by anyone who has received it.
Each pack can contain up to 24 stickers, so you have plenty of space to turn your photos or memes into fabulous stickers.
Pro tip: Search your photos first so that you get the right stickers ready for your pack. Your besties may not thank you if you get the wrong photo, where they all look out of focus in the sticker you want to use all the time!
Check over your pack one last time, tap Publish, and your stickers are instantly ready for you to send.

Say it best with your stickers!
Your stickers are all ready to use, so why not start a chat now, and really show how you feel with one of your sticker creations. Your sticker pack is easy to find in the stickers bar in any chat, so open your pack, choose your sticker, and tap to send it.
Create stickers is available for Android now, coming soon for iPhone and Viber for Desktop.
What are you waiting for? Create your own sticker pack now!