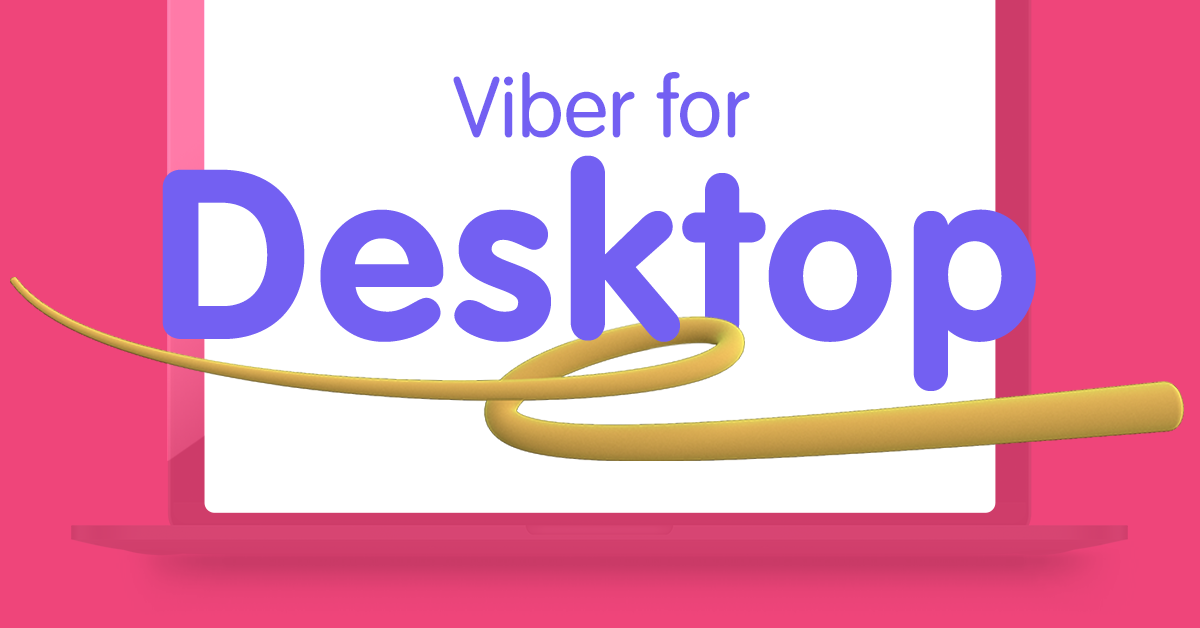 In today's world, even though we are on our phones all the time, many of us spend hours every day on a computer be it at work, school, or home.  We want to be able to do everything we usually do on our phones on our computer, without the need to check our phones every few minutes.
Viber for Desktop is just for that – an easy way to keep on chatting and stay connected throughout the day, without having to look away from your computer.
Read our top 5 reasons why you should get Viber for Desktop on your computer right now:
1. It's always synced
All messages that you send and receive on Viber – whether you are on your computer or mobile phone – are continuously synced, so you will never miss a message, or have gaps in your chat.
Once you set up Viber for Desktop, you connect your phone in order to sync all your previous messages and contacts, so that you can carry on chatting from exactly the same place you left off.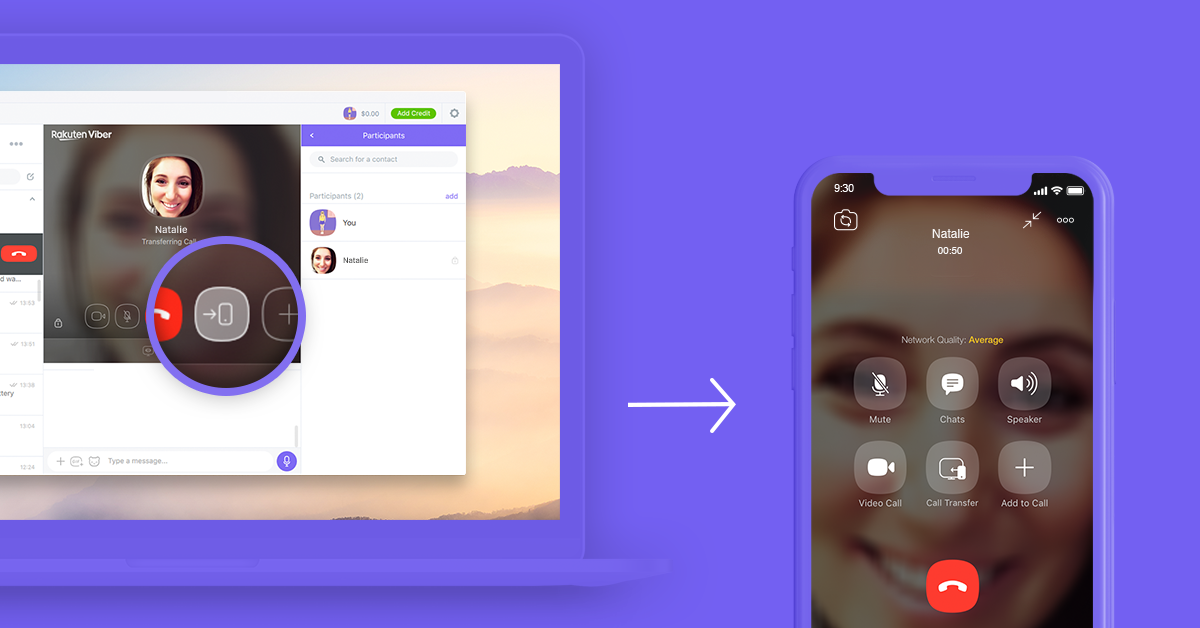 2. It's comfortable and easy to use
Sometimes it is just that much easier to use a big screen and proper keyboard to read and type your messages. That's where Viber for Desktop really shines – you have your keyboard, mouse and big screen all there to make this chat easier, and therefore more fun.
Calling on a big screen has even more advantages – when you are on a call with someone and you want them to see what is on your screen, share your screen. For example, you are both going over a document, share your screen so that you can be sure you are talking about the same thing.
Make and receive calls, including Viber Out calls, directly from your computer, and if you want to change how you are chatting, you can transfer your call from your phone to your computer (or from your computer to your phone) without interrupting the flow.
There's lots more you can do with Viber for Desktop. To get you started, check out these great hacks.
3. It's secure
Viber for Desktop is totally private. Just like with Viber on your mobile phone, messages sent to or from Viber for Desktop are end-to-end encrypted by default, which means that only you and the person you are chatting with have the (automatic) keys needed to decrypt and understand the message.
Viber for Desktop was created as a standalone app, rather than a web application like other messaging apps, because it allows us to ensure tight privacy and security for the messages you send and calls you make from your computer.
We know some of you use Viber for Desktop on a shared computer. To help you keep your chats private, we introduce Viber-screen lock. When you need to leave your computer, and someone else may use it when you are away, simply lock Viber so that your messages and notifications are hidden from view until you come back and unlock it.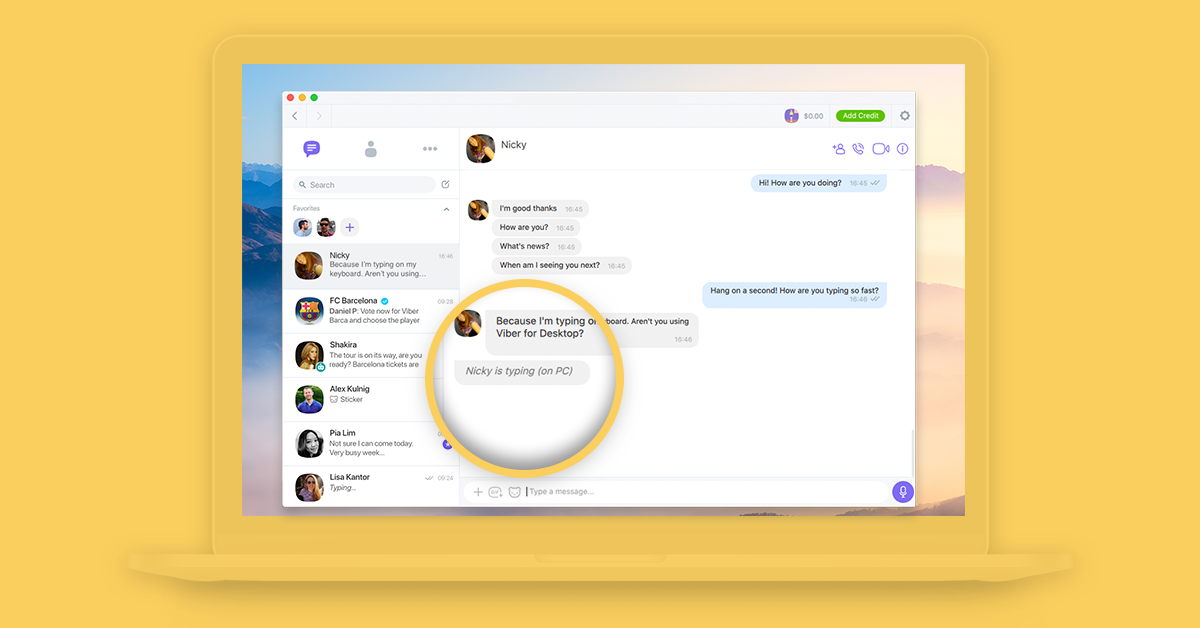 4. It saves you battery and data
You read that right. Whereas some apps need your phone to be on, and have access to the internet, and remain close to your computer to receive calls and messages, Viber doesn't. In fact, if you forgot your phone at home, and you have Viber for Desktop installed on your computer it will make sure you never miss a chat or call all day long.
This saves your phone battery because you aren't relying on Viber on your phone, nor are you using up battery keeping your phone connected to the computer. You also save data because you don't need to use your phone to download images, make calls, or send messages.
5. You can connect Viber to as many computers and tablets as you like
There is no limit to how many computers or tablets (including iPads) you connect your Viber to. You can connect Viber to your home computer, work computer, tablet, and all will sync seamlessly to every Viber chat.
Now go get Viber for Desktop
Do you want Viber for Desktop? First, make sure have Viber on your phone. Setting up and connecting Viber for Desktop is easy – get started now by going to https://www.viber.com/download/ and clicking on Download for Windows or Download for Mac.
Make the best use of Viber when you are at your computer, and download Viber for Desktop now.