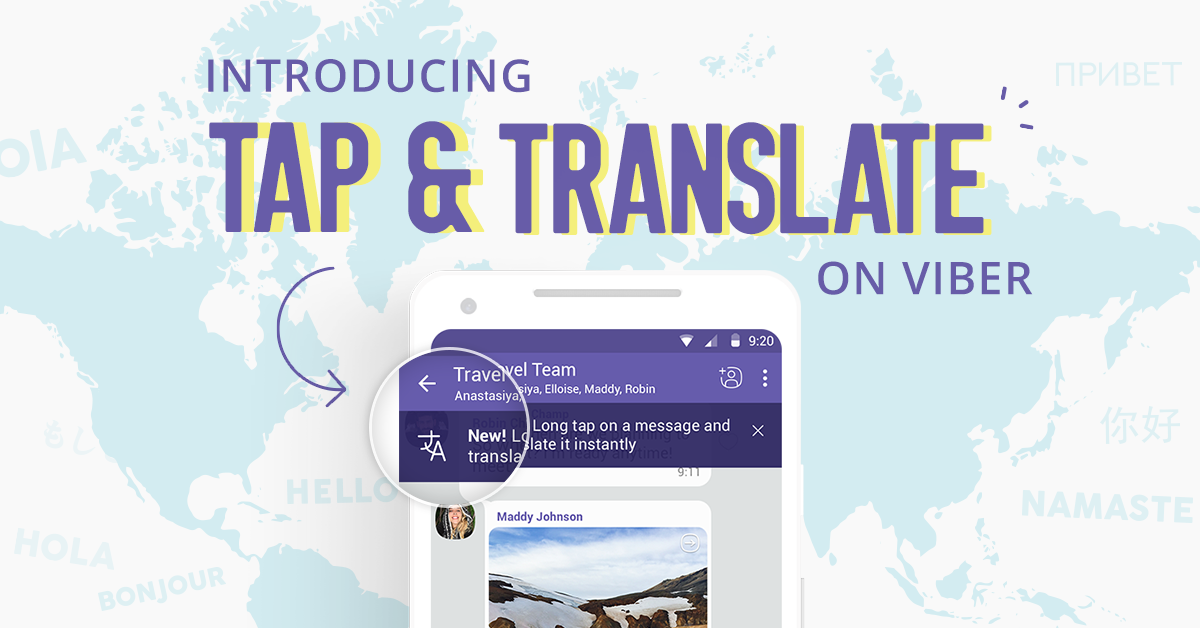 Viber is a truly international app. You can chat with friends from pretty much anywhere in the world or follow Communities from any country, and in almost any language. Which comes with a new set of problems – how can you understand when they write in a different language to your own?
Back in the day when you received a message in a language you don't understand, you would need to copy it, open up a translation app or service, paste the message, read the translation, and then go back to the chat to reply. Which all adds up to way too many steps to understand what the message says, the chat may well have moved on, and you've missed your chance to take part.

Instantly translate your messages
To make chatting (in any language) easy and smooth, we are excited to introduce Viber's new in-chat translation feature!
From today,  you can translate any message you receive inside a Viber chat into your own language. Or any other language you prefer. All you need to do is long tap on the message, choose translate, and instantly the translation will appear right below the original message.
So now you can keep up with any conversation in any language in real time.
Messages will automatically translate into the language your Viber app is set to. If you want to see the message in another language, you can easily change it from the message. Long tap on the message, tap on Language, choose the language you are looking for, and tap done. Change the translation language like this at any time, or change it in your settings to change the default translation language.
Explore more Communities with Translations
Let's say you are an FC Barcelona fan from Japan, and you want to follow the FC Barcelona official chat or a fan community, and read what the conversation in your own language. Well now you can. Join the Community or follow the Public Chat, tap on a message to translate it, and you are part of the conversation.
Translations on Viber are powered by Google Translate.
The feature is available globally for Viber users on Android running the latest Viber version in the Play Store, and will be coming soon to iPhone users.
Language is no longer a barrier.
So get chatting today: https://vb.me/4cf922