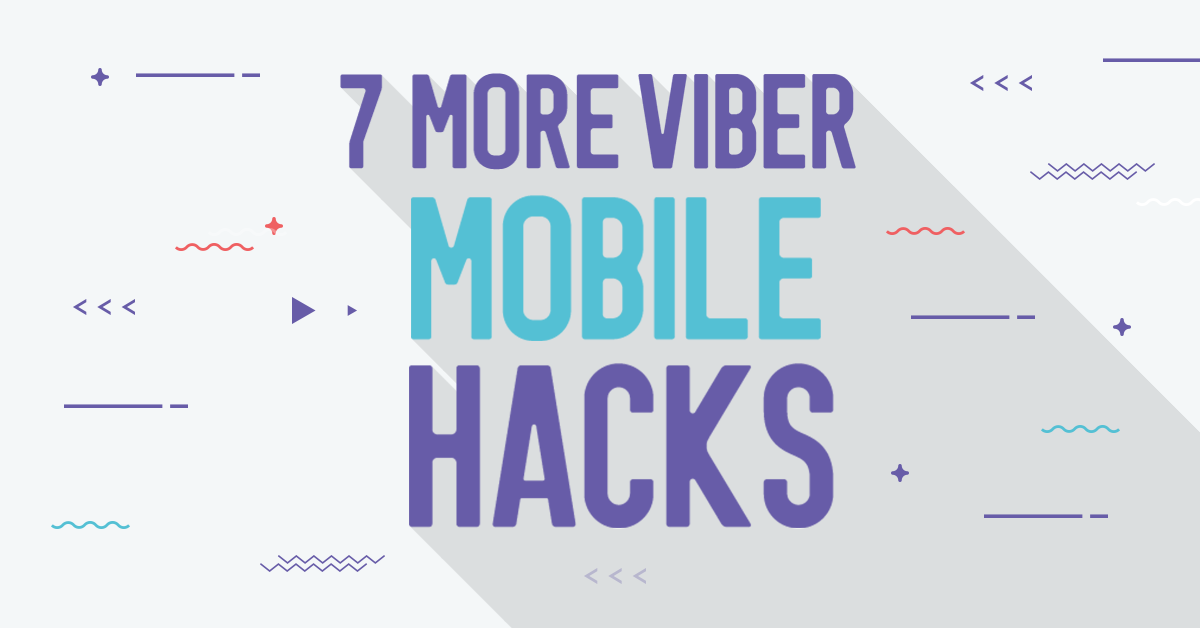 You may have already tried out our 8 hacks to help you get the most out of your Viber experience, but we're here to let you know we've got 7 more hacks for you to experiment with! From learning how to easily share a contact with another contact to the easiest way to changing your phone number, we've got you covered.
Reply directly to specific messages
You may be late to join the party, but that doesn't mean you can't participate in it! Replies will help you feel included in any group chat conversation and will save you the task of explaining to the group or person you're chatting with what you're talking about.
All you have to do is tap a specific message in a one-on-one chat, or group chat and then choose the "Reply" option and respond with text, a photo, video, sticker, GIF, file, or with a shared contact or location. Once you reply, a new message will be sent to the chat, quoting the original message, so get as creative as you like with your response!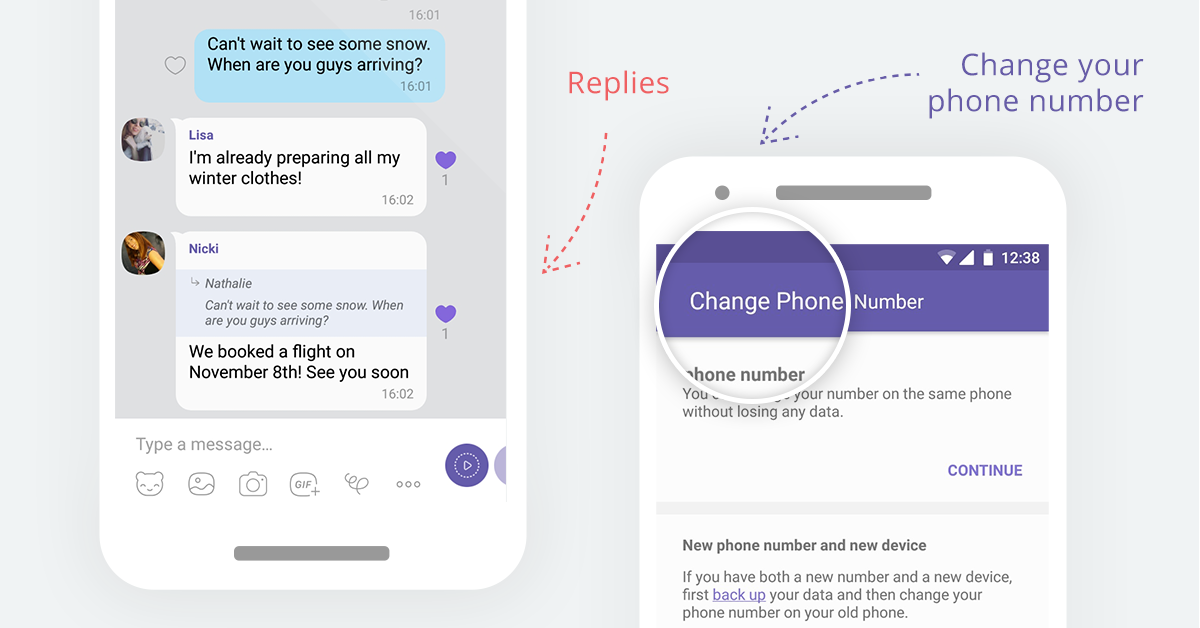 Change your phone number
Planning on changing your phone number on the same device you're using now? Simple!
Go into the more screen
Tap on Settings, and in there tap on Account
Choose the "Change phone number" option
Don't forget to set up your phone to auto backup mode In the next screen enter your new phone number and tap continue
Verify your new number – you will either receive an SMS with a code to your new phone number or a hang-up call (Android users only).
Enter the code you received and allow a few seconds for your number to be changed.
Changing your device as well?
Make sure to move your contacts over first. This will only work if you are staying with the same platform, meaning you're moving from an Android phone to an Android phone, or from an iPhone to an iPhone. Then follow the steps above to seal the deal. Enjoy your new phone!
Share a contact with another contact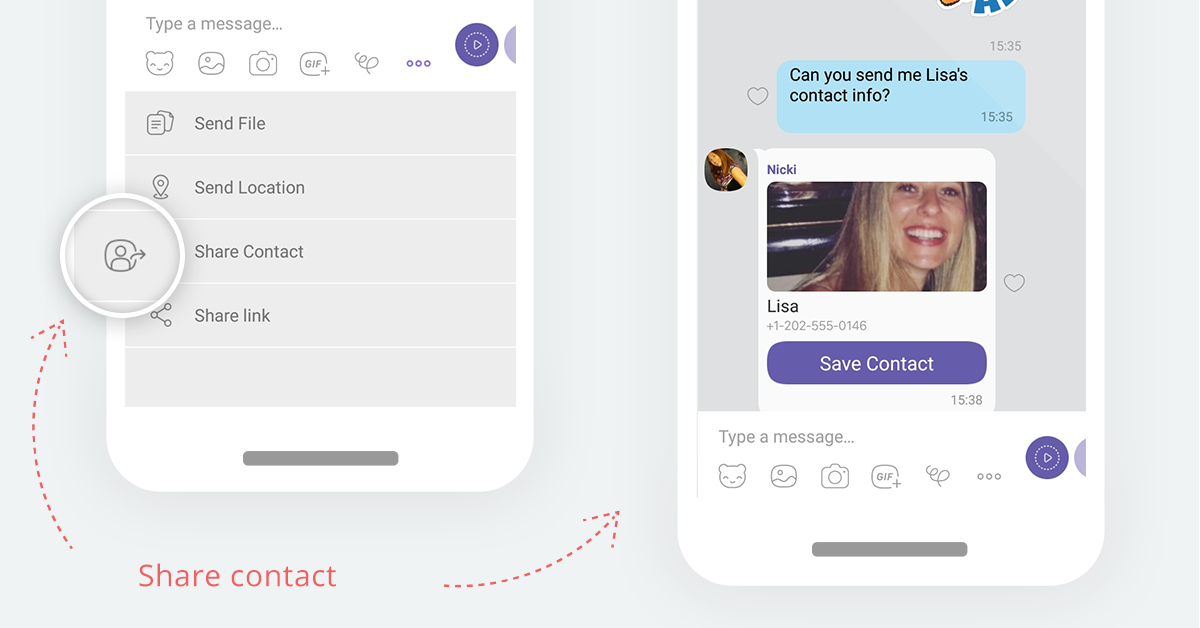 Introduce your friends to one another by sharing a contact with another user. Open the one-on-one chat or group chat you'd like to send the contact in and select the menu button in the chat menu. Tap the "Share contact" option and choose the person whose details you'd like to share. The shared contact will then appear in the chat. Now, wasn't that easy?
Send an instant video
Sometimes words simply aren't enough and coordinating a video call will take too much of your time. That's why sending an instant video – a video message you can record and send instantly by holding the instant video icon to record, release and send – is the perfect solution. Send a quick hello, blow a kiss or wish someone a happy birthday. There, you're already done!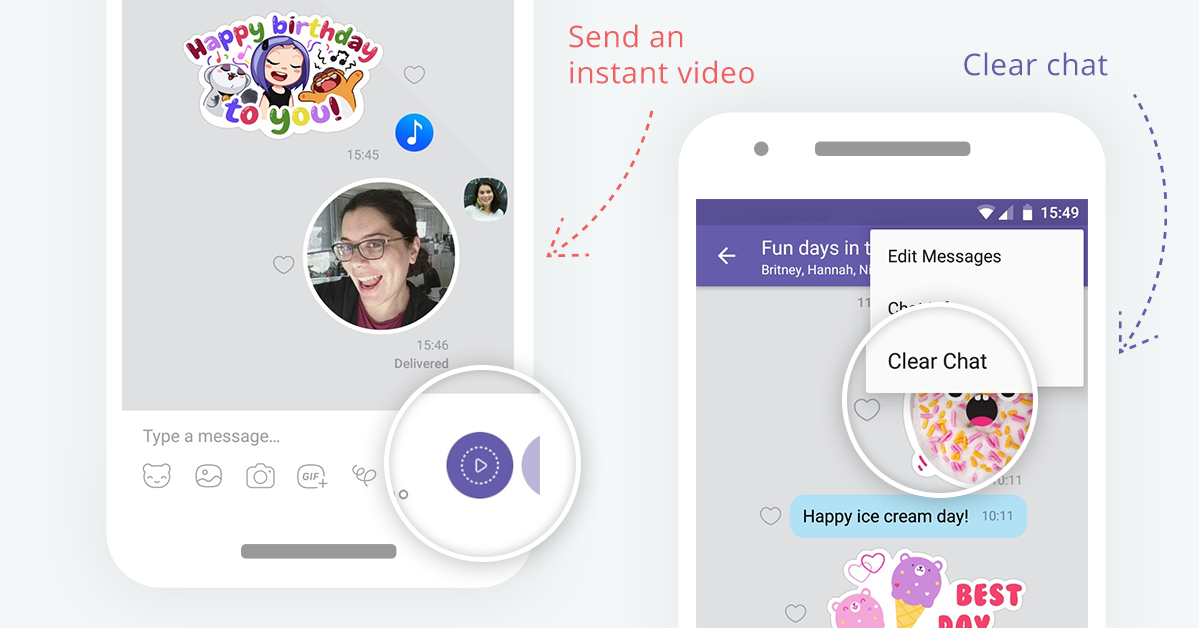 Clear your chat
Are you a part of a group that has way too many messages or media in it and feel like you need to declutter your mind as well as your phone's storage? You can now remove all the content from your chat without deleting your actual chat by pressing the "Clear chat" button, found within the chat screen on Android to the top right of your screen, and when swiping left for the info screen on your iPhone. You will still get future messages from that group or chat but past messages will be deleted.
Start a Secret Chat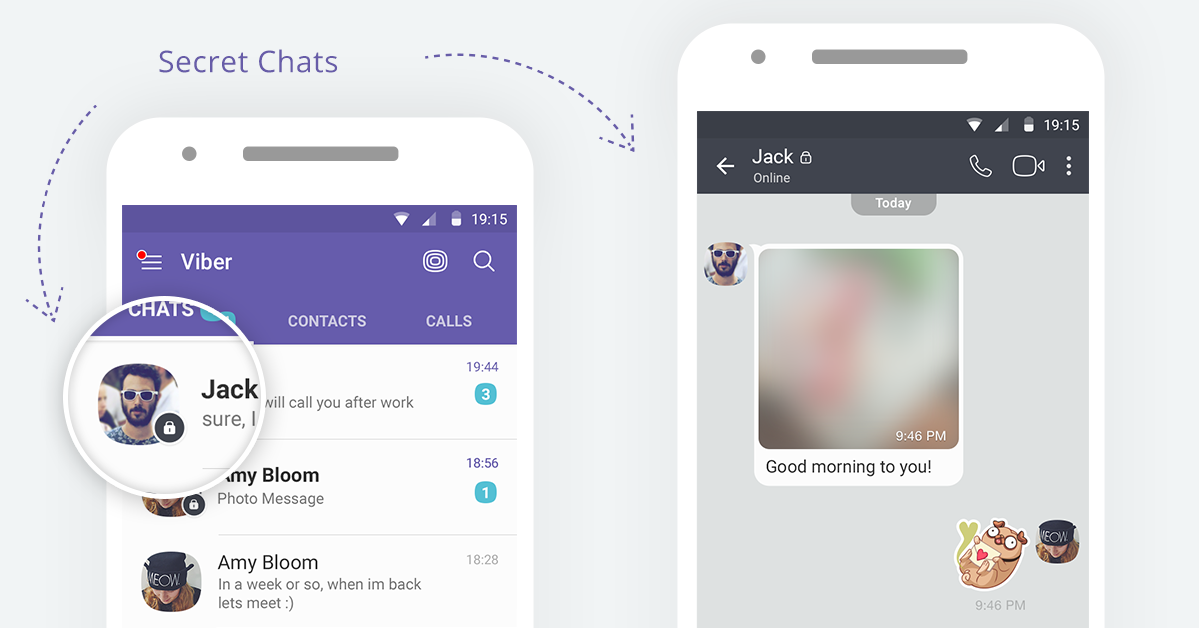 Do you have a secret to share? Even though your messages are end-to-end encrypted by default, you can always open a Secret Chat for moments when you're feeling like you really need to gossip or share an intimate secret. Secret Chats lets you set a self-destruct timer for every message in your conversation so that after your message is read, it's automatically deleted from your recipient's phone. Your messages in a secret chat can't be forwarded and screenshots are either totally unavailable or alerted to you by an instant notification in the chat screen.
Simply open the Chats screen and tap on the compose button, then tap the "New secret chat" option and add contacts to the chat. Once you tap "Done" a new secret chat will open. You can then set a time limit to control how long the message will remain visible to the person or people you're messaging with. Tap the timer button and set a time-limit from the options, send the message you wish to send and watch it disappear without a trace on anyone's phone when the timer runs out. Poof!
Hide your chats from prying eyes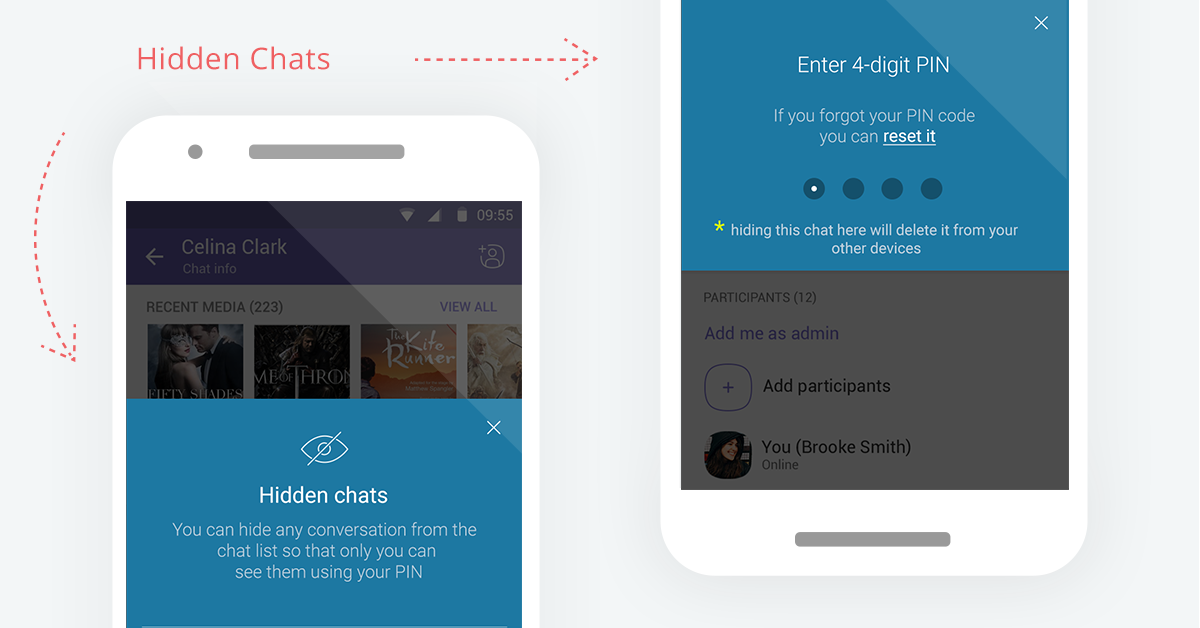 If you're planning a surprise party and don't want anyone to accidentally see your conversation, Hidden Chats is the way to go. Hide your conversations from your main chat list and access them whenever you need to with a PIN.
From the Viber Chats screen, find the chat you'd like to hide on if you're using an Android phone, long hold on the chat and tap hide. If you're using an iPhone swipe the chat to the left and tap hide. You will then be asked to set a 4-digit secret PIN (iPhone users can use your Touch ID as your PIN). Voilà! The chat is now hidden.
So which of our mobile hacks is your go-to hack? Make sure you check out our Viber for Desktop hacks if you'd really like to become a Viber expert! Get Viber today so you can try out all our hacks and stay tuned for so much more to come.