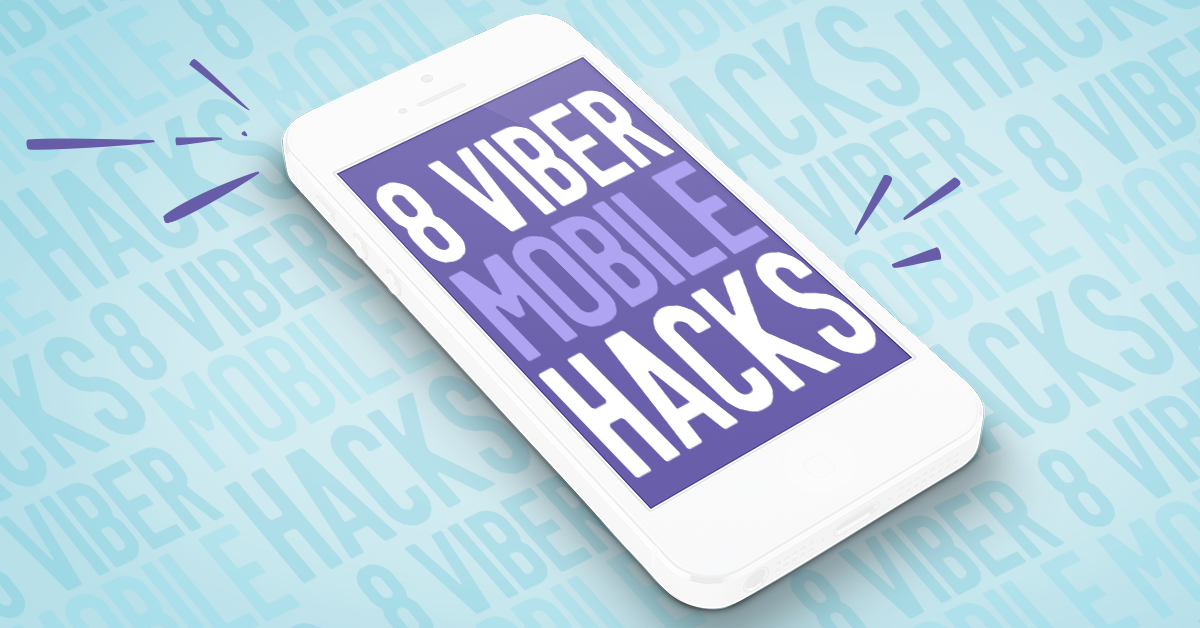 Learn how to create a favorites list on Chat Extensions or start deleting messages you didn't mean to send – It's all in a day's use! These 8 hacks will help you get the most out of your experience on Viber, and in case you're a Viber for Desktop user you can always reference the hacks post we've created for you.
Shout out loud!
Shouts is perfect for the times you want your message to stand out in one-on-one chats, groups or Communities. You can choose from over 20 colorful backgrounds and make your message stand out in a stream of messages. Simply choose the Shots option in Chat Extensions. Then type your message, tap search to find the background style you prefer and press send.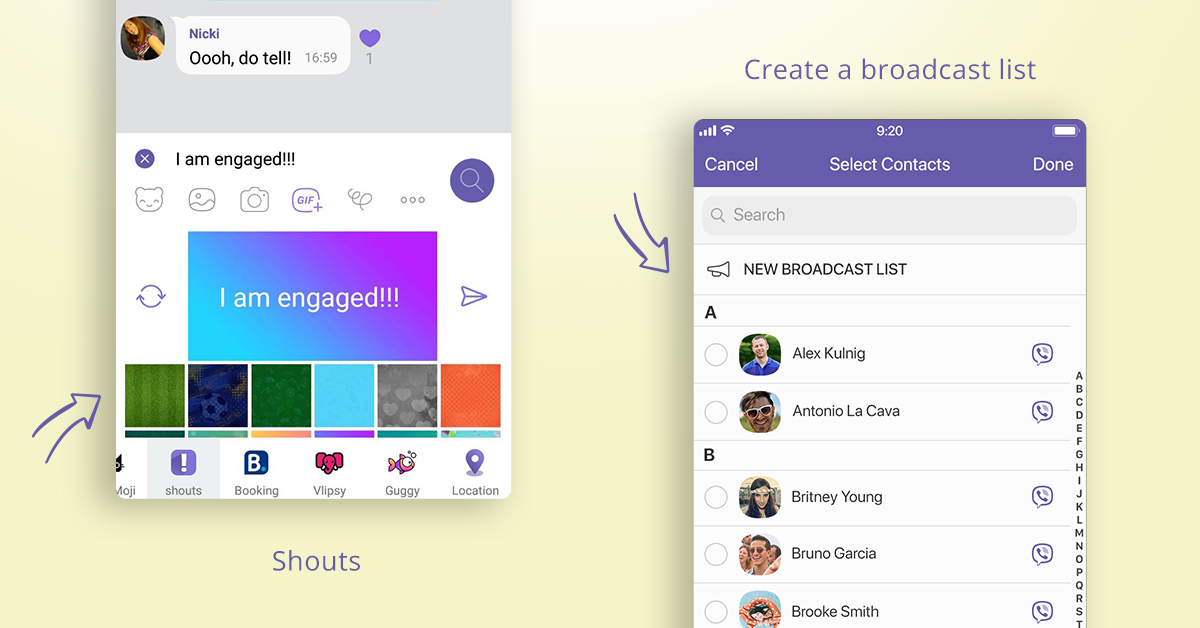 Create a broadcast list
Broadcast Lists enable you to send the same message to a number of unconnected recipients who wouldn't go in the same group chat together (for example, your grandmother and best friend). After all, it could be awkward to put friends from different circles of life in the same group chat, just to invite them to your yard sale. Create lists of two or more people from your Viber contacts who you'd like to send the same message to. Add or remove a contact whenever you like and name your list so you don't have to re-choose the people in it.
Mention someone in a group chat
Group chats are extremely useful when you want to keep in touch with a number of people at once, However, if you happen to be away from your phone for a few hours, you might end up missing out on an important message. Mentions guarantees you don't miss out on anything. In order to mention a user within a group chat, type "@" and choose the name of the person or people within that group chat you'd like to mention. That person will receive a notification that they were mentioned, even if they've muted the group chat.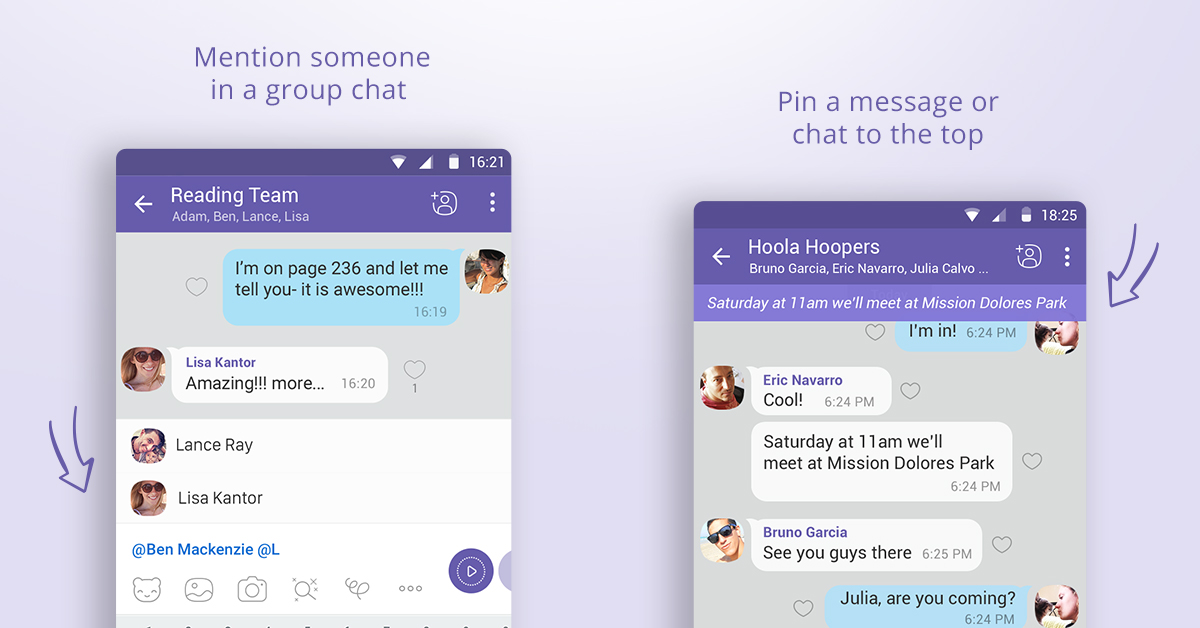 Pin a message or chat to the top
If you happen to be a group admin, this is the feature for you! The Pin Messages feature lets you ask your entire group a question, or remind them of an upcoming event. To pin a message, long tap it and select "Pin". You can also pin an existing message from your chat. Your pinned message will remain at the top of your group's screen so that your entire group can notice it.
Find the stickers you're looking for
Sticker search helps you find the perfect sticker to best express yourself with! Tap on the sticker button in your chat screen and then on the search button (looks like a magnifying glass) within the sticker menu. Type in the word or words that best describe what you'd like to say and choose a sticker from the options presented to you. Now tap the sticker to share it in your chat.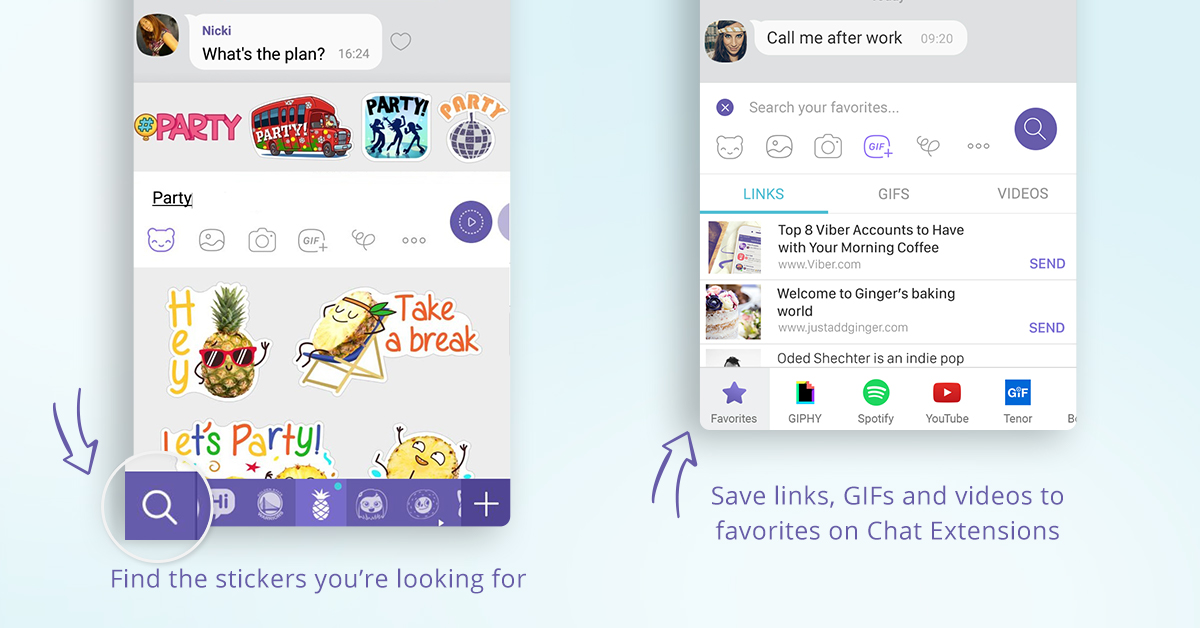 Save links, GIFs and videos to favorites on Chat Extensions
Do you find you keep sending the same GIF to a bunch of people because it really is that funny? Instead of wasting time looking for specific links, GIFs and videos you've sent before on other chats, you can now save all your favorites to Chat Extensions and send them later from there. Simply long-tap any GIF, video or link and tap "Save" on iPhone or "Save to Favorites" on Android. Easy as 1,2,3.
Delete for all
We've all written messages we wish we could delete, from that text you sent the wrong person to that photo you didn't intend your entire group chat to see. That's why one of our most popular features, with over 5 billion uses, is our delete messages feature. This feature gives you the power to delete your message for yourself as well as for everyone in your chat, whether it's a one-on-one chat or a group chat, no matter how long it's been since you sent it and if anyone's already seen it. Erase any message on iPhone or Android by long tapping it and tapping "Delete for everyone."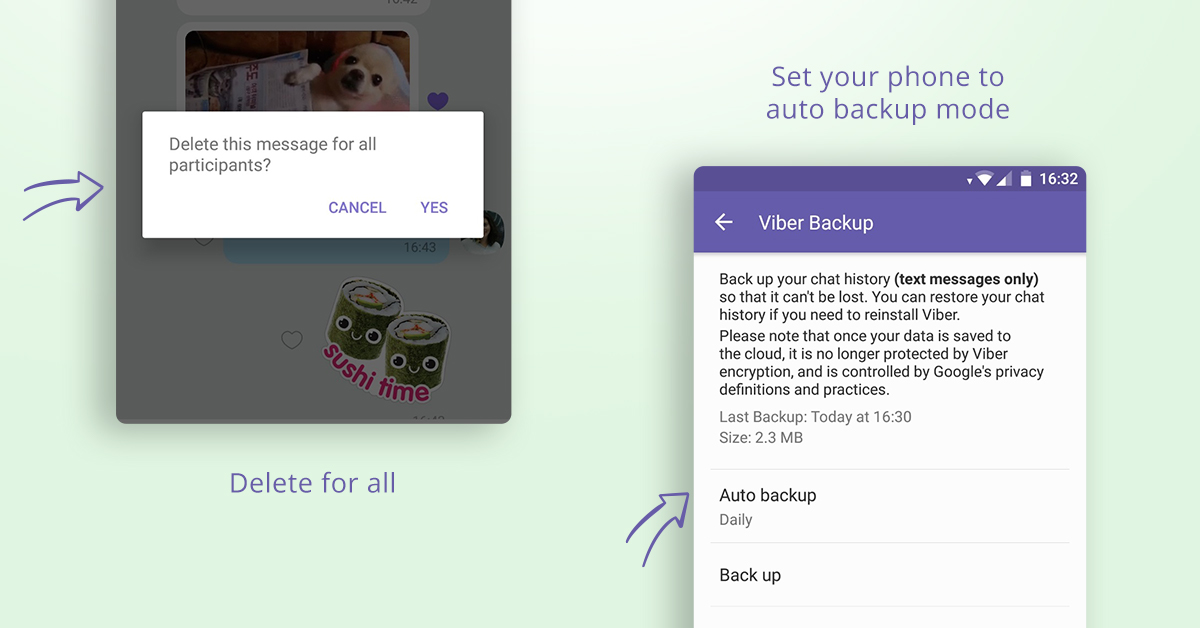 Set your phone to auto backup mode
Worried about your chat history somehow getting erased? You shouldn't be. All you have to do is make sure you set up your phone to automatically backup your messages at certain time intervals that best suit you. You'll need to be connected to Wi-Fi in order for the backup to happen. Open the more screen on your phone and tap on Settings, choose Account and select Viber Backup. Then tap Auto Backup and choose how often you'd like your history to be saved.
We can't wait to hear which hack is your go-to hack on Viber for mobile! Make sure you try them all and you'll soon be on your way to becoming a Viber expert. If you haven't yet downloaded Viber, get it today and start playing around with all the awesome features Viber has to offer!