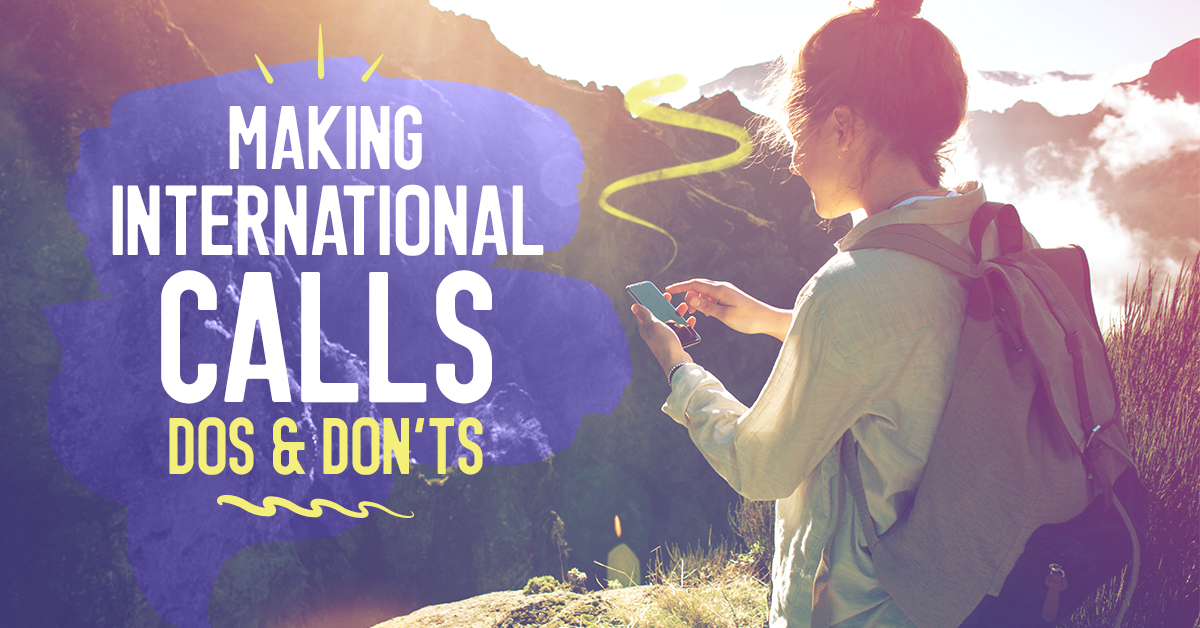 Making international calls hasn't always been easy. Remember the times when you had to use your landline and a "cheap international calling rate number" to call abroad? Well, thanks to today's rates on Viber's low-cost calling service, Viber Out, those calling tricks are a thing of the past. Whether you're abroad or need to call a landline from your mobile, Viber Out provides you with the cheapest and quickest option to do so, allowing you to contact your family and friends abroad easily. When choosing the best way to make an international call, you want to make sure you've taken into account all the dos and don'ts. Here are some things you should be aware of:
Dos
Enjoy Making Free Viber-To-Viber Calls
The easiest way to contact your friends and family abroad is through Viber. All Viber-to-Viber communication is absolutely free as long as your loved ones are also Viber users and you both have an internet connection.
Use Viber out for Calling Landlines and When There's No Internet Connection
Viber Out is the best solution for when you need to call a landline, someone who doesn't have Viber or someone who doesn't have an internet connection. Always make sure that you preload your Viber Out account in advance with credit so that you're always able to use your phone to call anyone, anywhere – even if you don't have an internet connection. Call any number in the world with Viber Out's low calling rates and choose the best calling plan for your specific needs. For example, you can choose whether you need a 30-Day Calling Plan or a Monthly Subscription Plan if you travel abroad frequently.
Find out Whether Your Mobile Service Provider Is Available Abroad
The first thing you should do before traveling abroad is to check whether your mobile service provider allows you to make international calls and whether your contract covers the amount of data and minutes you'll need to use while you're away. If you know that your phone is able to work abroad, you can keep using your local SIM card as you normally would at home. If it's not included then find out how much it will cost to use and make sure your phone is suitable for using abroad and is unlocked so you can also have the choice to use an international SIM card. This means fewer chargers and roaming rates from your service provider.
Use the Right International Dialing Codes
When making international calls to a mobile or landline, you should take into account that you need to know the international dialing code for the country you wish to call. So whether you're abroad working, traveling or at home and need to call Ireland from the US or any other country, you will be required to use an international dialing code before dialing your requested phone number otherwise your call will not go through. It's super easy to call internationally with Viber Out. All you need to do is use the following format: (+)(Country Code)(Area Code without the leading zero)(Phone Number).
Use Viber Desktop as Well as Your Mobile
Use Viber for Desktop to make free international calls if you are a person who spends most of their day in front of a computer or you just don't have your phone with you at that moment. Viber for Desktop enables you to call from your computer to other Viber users' phones or computers. You can also make Viber Out calls from your desktop, offering an easy alternative for people who spend a lot of time at their computer and don't have to worry about looking at their phone. Give it a go!
Don'ts
Don't Wake up the Person You're Calling
Be aware of the time differences before you make your call since you don't want to have to deal with a grumpy friend or coworker who you've just accidentally woken up! If you are calling China, take note that there is only one official time zone (CST – China Standard Time), which is 8 hours ahead of UTC. This means there's no Daylight Saving and the time zone stays the same all year round.
Don't Forget to Examine Your Environment and Connection Issues
When traveling abroad many people have a difficult time finding a quiet place to speak on the phone from all the buzz that's going on around them. Background noise such as construction, traffic or an echoey audio can also affect your call so make sure you are connected to a strong internet connection. Once you've examined the space you're in, where the noise is coming from and you're still having connectivity issues, try one of these sound blocking tips.
Don't Run out of Viber out Credit
Be aware of how much credit you have on your Viber Out account before you make a call. You don't want an embarrassing situation where you are cut off from a business call with your team as a result of running out of credit. Viber Out is a low-cost calling service to any international destination in the world.
Don't Dial a Different International Calling Code by Mistake
Be aware that every country has a different code and varies in cost so dialing the wrong code could cost you more than you think.
Now that you know the dos and don'ts of making international calls, you can choose which Viber Out plan suits your needs. Discover international low calling rates for any destination of your choice.  Let us know which Viber Out plan you chose and who you're planning on calling on our Twitter page.