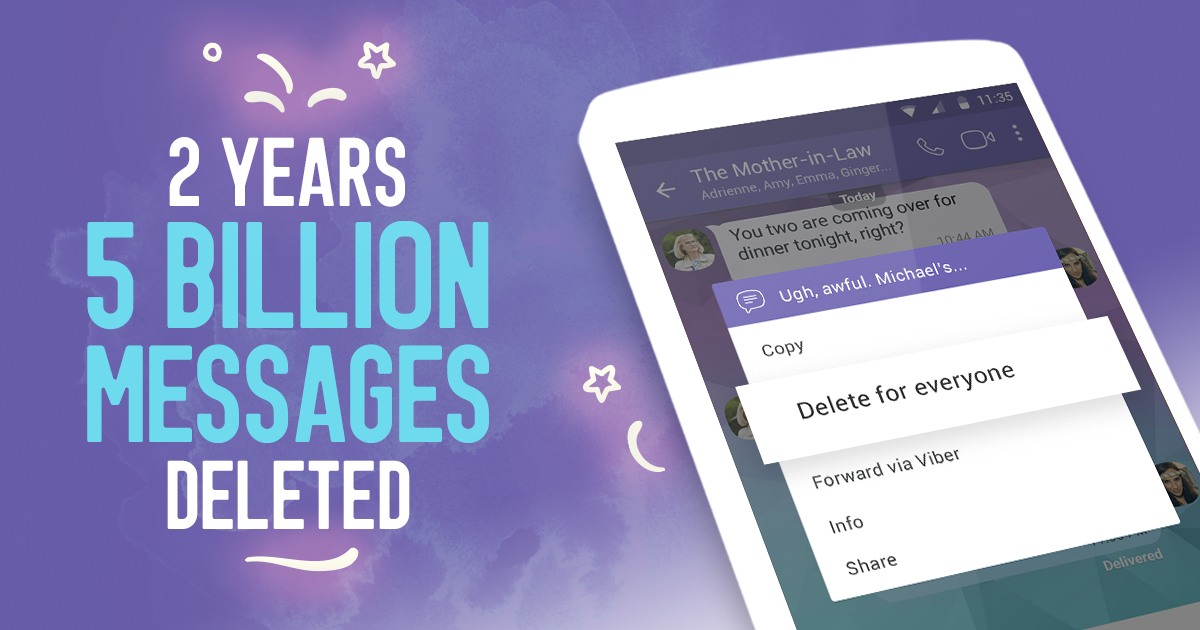 It's been two years since we first launched our delete messages feature, and there's no doubt users really needed it. After all, who hasn't written a message they wish they could delete? So much so, in fact, that since its launch in November 2015, the delete messages feature has been used a whopping 5 billion (ya, that's billion) times!
There's much to celebrate! Not only was Viber the first to introduce the delete messages feature but our users have used it nonstop in the past two years, and for good reason. With new features being introduced by Viber all of the time, we're constantly on the lookout to better user experience and, in the case of deleting messages, ensure they've got a safety net that they can count on if they make a mistake. Deleting messages helps users feel more secure when they send a message to their friends, coworkers and family.
The idea behind deleting messages is quite simple: since we're all so busy multitasking, sending a message to the wrong person, messaging your ex, or sending a photo you don't want anyone to see, can happen quite often. That's why knowing you can not only delete your message for yourself but for everyone in your chat, be it a one-on-one chat or a group chat, gives you peace of mind. Erase any message you've written on iPhone or Android by long tapping it and tapping "Delete for everyone." On Viber for Desktop, right click the message and select "Delete for everyone."It's that simple.
For added privacy measures, particularly when it comes to personal photos or sensitive information like your credit card information, users can also create a Secret Chat.
If you've been tapping the "Delete for everyone" option like the rest of us, let us know on Twitter what you think of our feature usage milestone and how the feature saved you from awkwardness or embarrassment!