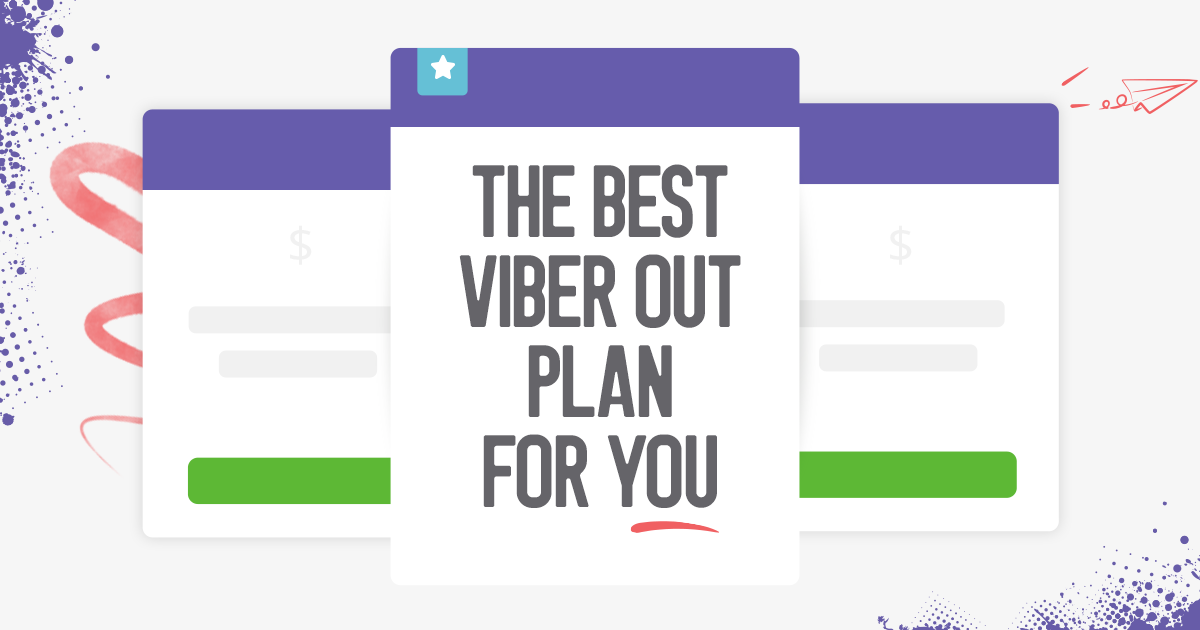 Viber Out offers the cheapest phone plans. Whether you need a credit plan or a specific calling plan, we offer the best options. Just choose your plan here!
Whether you're using your smartphone or your computer to make calls to your family and friends, purchasing an international calling plan can save you time as well as quite a lot of money. Finding the cheapest phone plans isn't always easy, but there are quite a few international calling plans out there that could suit your exact needs.
Begin by asking yourself who you plan to call and whether or not the call is an international one. Then, figure out how many minutes you think you'll be needing. If this seems like something you can't calculate accurately, consider choosing a 30-day or monthly international calling plan.
If you are a Viber user calling other Viber users, your calls, international or not, will be free. However, if you know you'll be calling someone who doesn't have Viber, a smartphone or an internet connection, choosing Viber Out as your main phone plan will allow you the flexibility you need to choose the exact phone credit for HD-quality calls at low rates.
Which Viber Out International Calling Plan is Best for You?
Deciding which Viber Out international phone plan is best for you will allow you to easily contact and stay in touch with your friends and family. Choose one of the following call plans for the flexibility and low rates you've been searching for.
Credit plans:

Add Viber Out credit to your balance whenever you purchase any amount, and make calls to any number in the world at Viber's low rates. This international calling plan is perfect for people who aren't planning on making too many international calls but want the best deal on the calls they decide to make. It's also the best plan for users who'd like to call more than one country and pay that country's Viber Out credit plan rate.
30-day calling plans:

Stay in touch with your loved-ones with Viber Out's new offering, which enables you to purchase the amount of minutes you need in order to reach a specific country you're interested in calling. The 30-day calling plan will soon be available globally and doesn't require a commitment from users. For example, Viber offers 100 minutes a month for only $7.99 for calls to Russian landlines and mobile.
Monthly subscription plans:
The monthly subscription calling plan enables you to make international calls to landlines and smartphones at Viber's low rates for as long as you need to. By using this plan you're guaranteed the lowest rate you can get for your call. If you need to call a specific location on a regular basis, the monthly subscription plan will offer you the best value for your money. For example, by choosing the monthly subscription plan for calls to Russia, you will earn 100 minutes for only $5.49 a month instead of paying $7.99 as part of the 30-day plan.
Once you've figured out which plan suits you best, check out our calling rates by typing in the name of the country you'd like to call. If you're planning on calling from your computer, we recommend checking out our post about the best ways to call a phone from your computer. It will help you find the best solutions for when you're short in time and need to handle different tasks on the computer as well as make voice or video calls to your friends and coworkers. If you think you'll be using your smartphone, be it Android or iPhone, rather than your computer in order to make your calls, checking out our post about getting the best voice quality on your call will help you do just that. So what are you waiting for? Start calling!