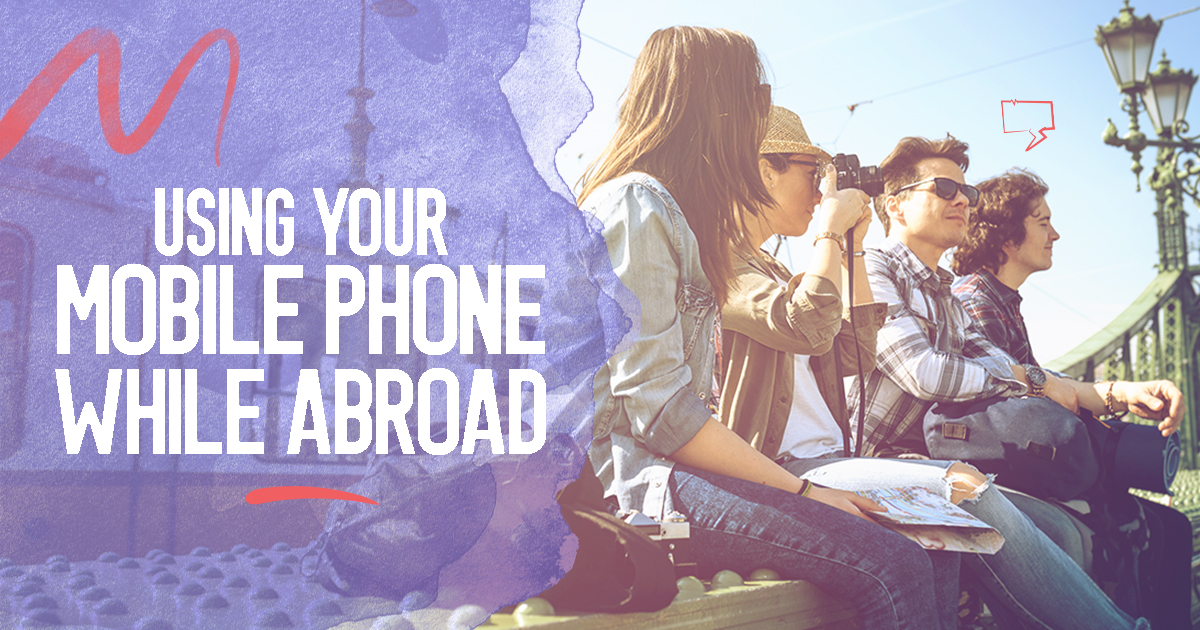 Gone are the days in which we'd travel to another country and simply rely on paid phones and the kindness of strangers to get by. No one nowadays goes anywhere without their smartphone, and using mobile abroad is what everyone seems to be doing no matter how young or old they are. However, if you haven't set up a plan that will help you make low rate calls from your destination to your loved ones abroad, you may end up spending way more than you bargained for. Since we want you to enjoy your vacation time, we've organized some useful tips to help you learn how to properly use your mobile abroad.
Data Roaming and Unlocking Your Phone
First things first, you want to make sure your phone is actually suitable for using abroad. The most common cellular technology is GSM, which normally works throughout most of the world. However, if your mobile's technology is the less common CDMA you may want to think about borrowing a GSM phone from a friend for your time abroad.
Once you figure that bit out move on to figuring out how to unlock your phone. A phone that is locked means you'll have to pay your cell company's roaming rates from the moment you land anywhere up until the point you return from your travels. An unlocked phone, however, can be used anywhere in the world and allows you to replace its SIM card with a local one. Remember, you want to avoid taking a hit to your wallet and penalty fares for going over your data limits can be extremely expensive. So make sure you choose a plan that will cover the amount of data and minutes you'll be needing to use while you're away.
Check Your Airport and Public Locations for Free Wi-Fi
Many airports offer Wi-Fi for free or at a charge, and even those that don't tend to have cafes and shops in them that will. When using airport Wi-Fi remember your browsing is not encrypted so it's not as safe as using an end-to-end encrypted platform. Research before you head out to the airport to make sure you get the Wi-Fi access you need in order to send friends a status update (a.k.a "Thailand awaits! See you in a month!") to make them jealous.
Purchase a Local SIM Card
If you're planning on using your mobile abroad for over a week you might want to consider buying a local SIM card. It's usually cheaper to get one when you arrive at your location versus buying one in advance. The biggest downside to having a new SIM card is that unless you have two SIM slots in your phone, you won't have access to your regular number as well as to the apps that are on your regular card. Take into consideration that many countries ask for your passport when you purchase a SIM card.
Avoid taking a hit to your wallet when using your mobile abroad with #ViberOut. – Click to Tweet 
Buy a Cheap Smartphone
If you're planning on staying somewhere for a long time, buying a smartphone on a budget can be a good option. Make sure to go for the "Global" version for maximum compatibility while you're abroad, and keep in mind you'll still need to purchase a local SIM card to go along with it. You can also rent a phone at the airport or even prior to your leaving the country but it usually comes out cheaper to simply purchase a new one. Another option is to opt for a prepaid phone that will allow you to call whomever you want, but won't break your heart if you lose it or break it while you're on vacation.
Purchase a Viber Out Plan
If you happen to have Wi-Fi where you are you'll be able to talk or message other Viber users for free. However, if you need to make international calls using a mobile abroad you should probably opt for Viber Out, which offers several calling plans at low rates.
Choose a Viber Out credit plan to make calls to any number in the world, or opt for a 30-day calling plan if you know you're traveling for at least a 30-day period. You can also go for monthly subscription plans to give you the flexibility you need to use your cell phone abroad, and save money while you're at it.
Now that you're all set on how to use your mobile while traveling abroad, don't forget to buy an adapter for your phone's charger before you leave and download anything useful in advance, including maps and any translation apps you may need. Remember to turn off your data roaming or leave your phone in airplane mode once you land and don't forget to take advantage of public Wi-Fi at cafes, museums and hotels. Bon Voyage!