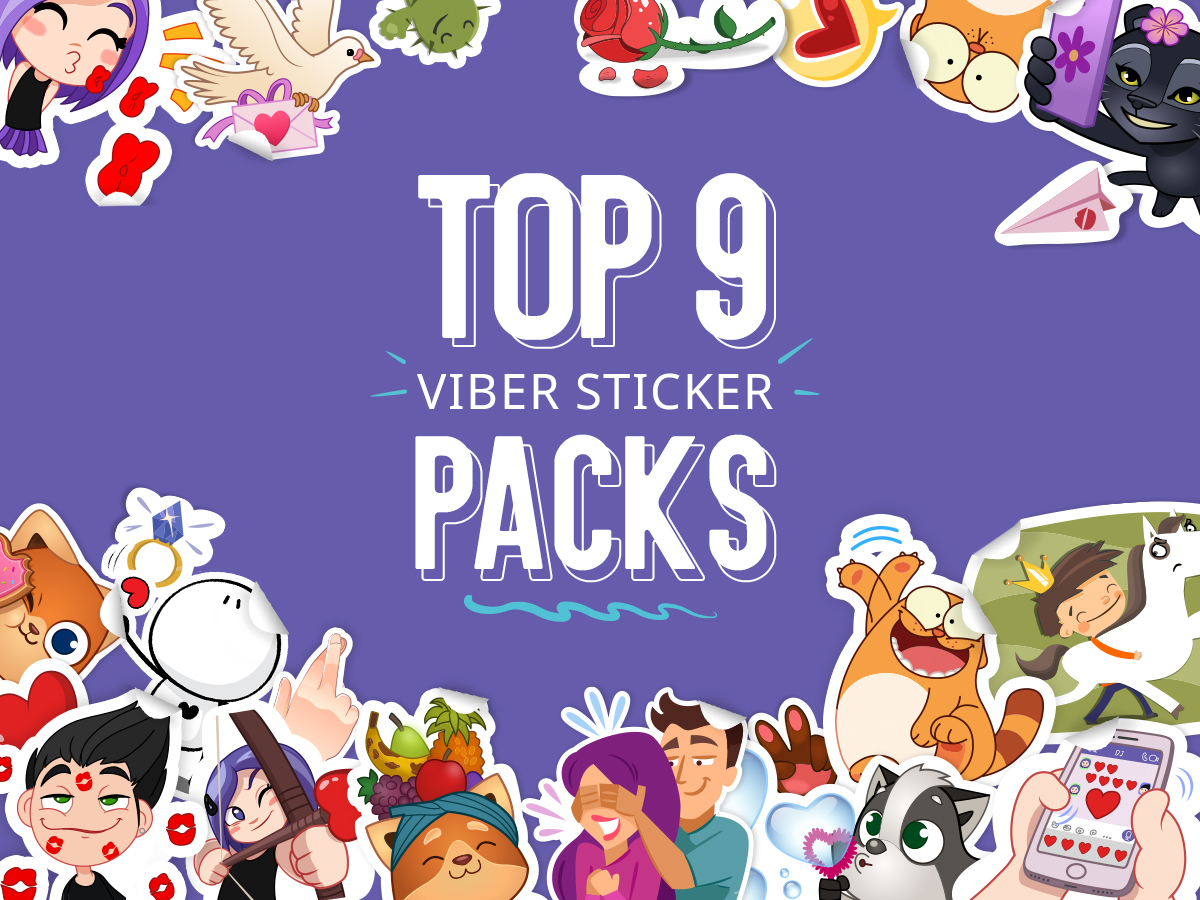 Words can only say so much and, sometimes, something visual can help you express yourself better than any sentence or word ever could. With nearly 600 million sticker pack downloads in 2016 alone, we can't help but get a feeling that our users, just like us, are obsessed with sending stickers to their friends and family members.
From Disney-themed collections that include packs with your favorite movie protagonists to free packs featuring our very own LegCat, Violet and Eve, we've released over 1,200 sticker packs throughout the years to allow our users to have fun with their chats and better express themselves. And whether you're using stickers for Android or stickers for iPhone, you know we've got you covered.
In no particular order here are our top 9 most popular Viber sticker packs of all time:
#1 Violet Forever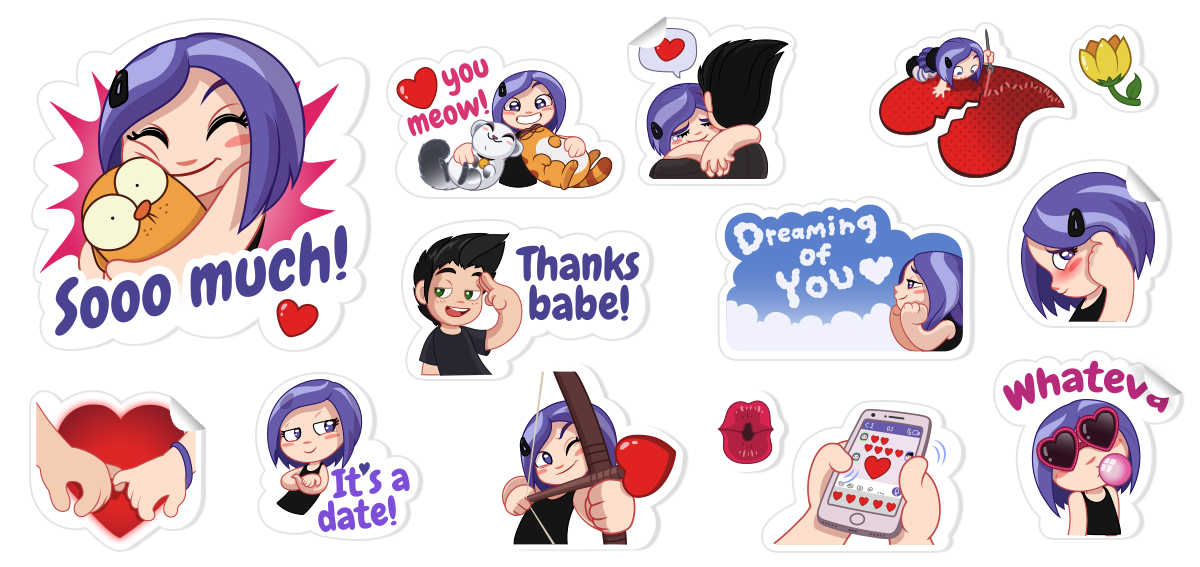 As the face of Viber since the sticker market was first released back in November, 2013, Violet has been our original mascot and has starred in many sticker packs with her cat, LegCat. In fact, since the release of the Violet Forever sticker pack this March, it's already been downloaded nearly 16,000 times – and counting! This fun and happy pack is great to use with friends and family members you love. Get it here.
#2 Freddie the Fox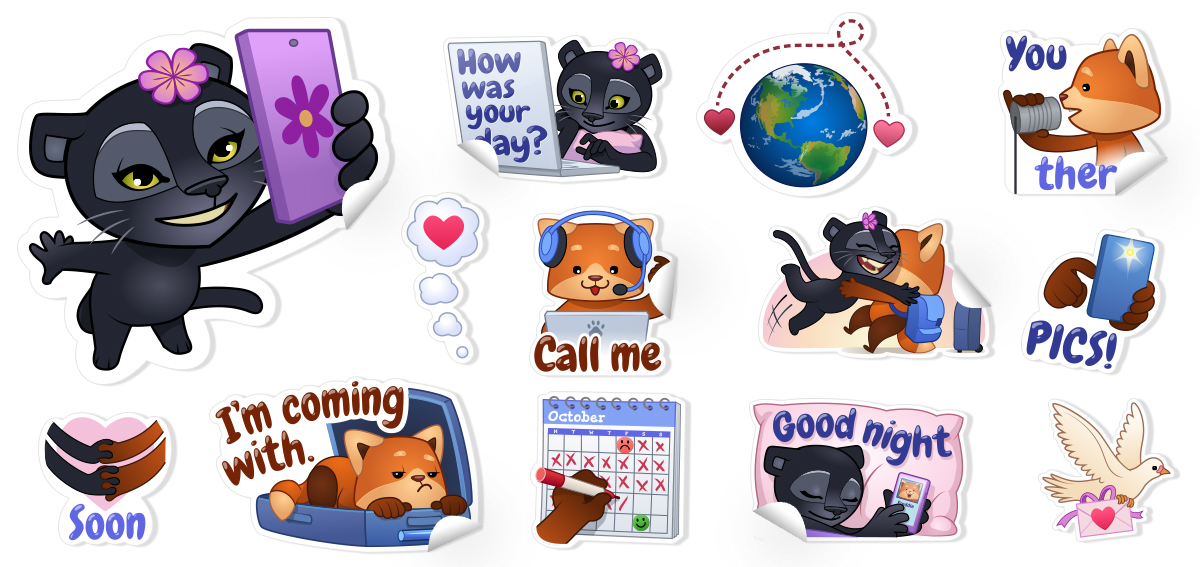 Freddie the Fox is one of the most popular Viber sticker characters, and as such has starred and appeared in many sticker packs. As the original Freddie sticker pack, Freddie the Fox has been downloaded for free 63 million times by our users who love to see what shenanigan Freddie will be up to next.
#3 Hands

They say that some people talk with their hands, and if you happen to be one of those people our animated hand gestures pack is exactly what you need. In fact, according to psychologists, hand gestures help the people express their thoughts more effectively, and judging by the nearly 85 million free downloads to our Hands sticker pack, it seems that users tend to agree.
#4 Miles of Love
Our Miles of Love sticker pack will prove to you and your beloved that love has no boundaries. Many Viber users use our app in order to stay connected with their significant other cross-country – or even in another country! – and there's no doubt that sending a lovely or amusing sticker can take the edge off a conversation between two people who miss each other. Get your sticker pack here and see to it that your loved-one knows just how much you care.
#5 Fun Size Valentine
If you're into Viber stickers you probably already know Freddie and Eve, our fox and panther who are among the most popular Viber characters. The Fun Size Valentine sticker pack was downloaded 17,000 times since its release on Valentine's Day but can be used on any other day of the year if you'd like to put a smile on your special someone. The pack features the two characters in bite size showing their love for one another in the cutest way possible. Get your sticker pack here and start spreading the love to your recipient.
#6 Love is All You Need
Roses are red, Violet is purple and love is in the air! This loveable pack features Violet and her boyfriend, DJ, as well as her cuddly and fat cat, LegCat. The pack is perfect for long distance couples who miss each other and is guaranteed to put a smile on your significant other's face even if you're just away from each other during the day. Get your Love is All Your Need sticker pack here and you'll be sure to get some brownie points from your boyfriend or girlfriend for your efforts.
 #7 Bigli Migli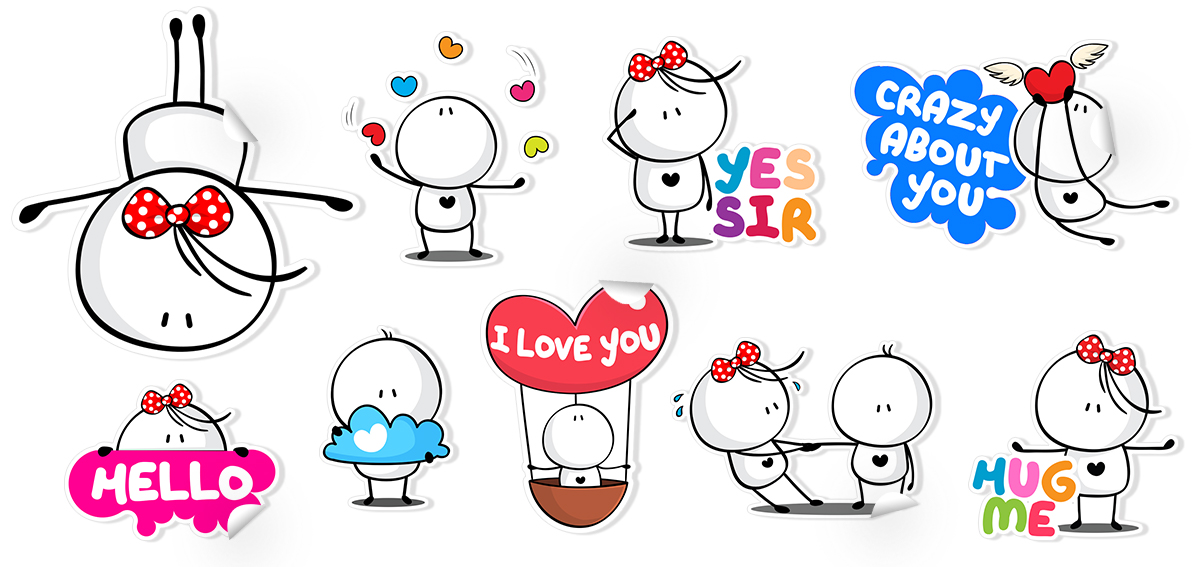 They may not have human-like expressions, but the Bigli Migli sticker pack characters definitely get their message across. This pack differs in style than many of the other packs Viber offers, and is intended for users who like to express themselves through stickers but prefer a minimalistic style. Get yours here and try them out for yourself!
#8 LegCat
No top Viber sticker pack would be complete without the original LegCat sticker pack. With 48 million downloads, this free sticker pack stars Violet's cat, LegCat, who, like his name suggests, loves rubbing against people's legs. Get your free sticker pack here, and you'll soon fall in love with this furry orange friend.
#9 Long Distance Love

Our long distance lovers simply can't get enough of this pack that features our most adorable couple, Eve and Freddie. These two just seem to get it: from missing each other like crazy to crying when they're feeling lonely, the Long Distance Love sticker pack is exactly what every couple apart needs in order to cope with their longing to see each other. These two are serious #relationshipgoals. Get your pack here.
#10 Bonus Sticker Pack: Young Love
We couldn't quite end our list of top Viber sticker packs without mentioning our Young Love sticker pack. As one of the first sticker packs released in 2013, the Young Love series has since included nine sequels in different cities around the world, including India, New York, Moscow, Tokyo, Sri Lanka and more. However, the original Young Love sticker pack remains the most successful in the series to date.
So, those were our top Viber sticker packs for Android and for iPhone, but if you'd like to explore some more on your own feel free to check out our awesome sticker market. We are constantly refreshing it with cool new sticker packs that promise to be a sure conversation starter.