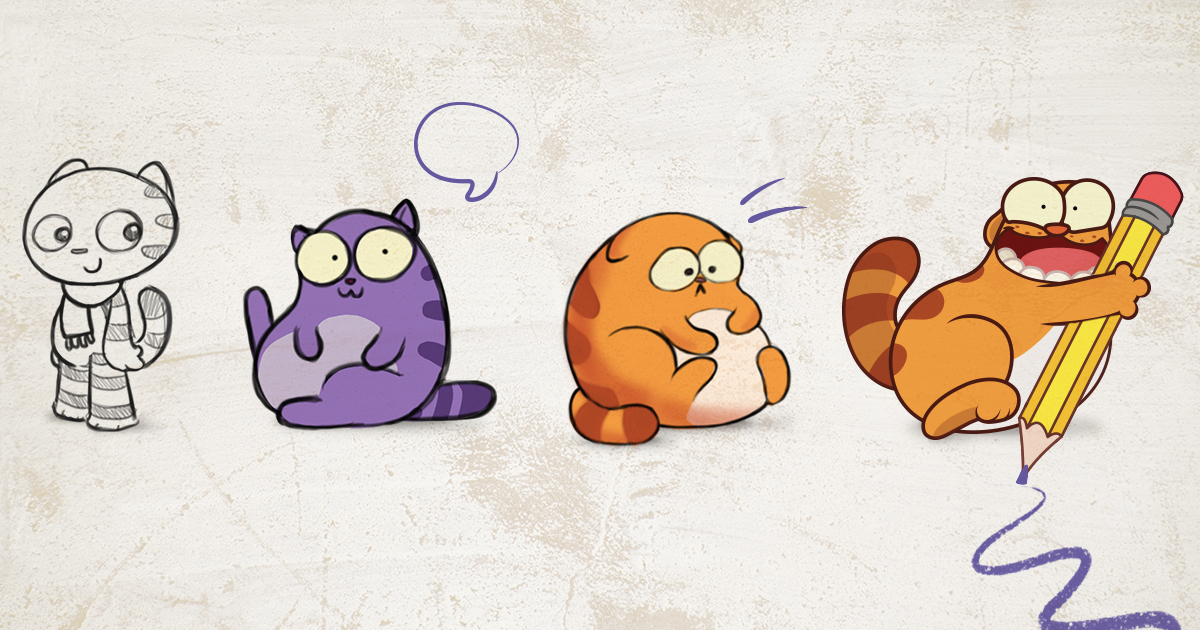 As one of Viber's most beloved characters, LegCat has become so much more than Violet's sidekick. Not only does he have his own Instagram hashtag with fans around the world sharing artistic creations starring the chubby kitty, but he is also the star of dozens of Viber sticker packs!
We sat down with Alon Boroda, the creative manager of the sticker team or, as we like to call it, the "Stickeria", to learn all there is to know about Viber's favorite feline, LegCat.
Nathalie Cohen-Sheffer: Is LegCat based on an actual cat?
Alon Boroda: You'd be surprised but no. I began by creating a few characters and particularly loved the one of the cat I had drawn – his legs were sticking out from every possible direction like cats' legs often do, and it was very funny to me. LegCat was roughly inspired by my friend's Scottish Fold cat, a breed that has "folded" ears. The moment we started referring to him as LegCat, which is a very strange name, it made him unique. After I adopted my own cat, Slinky, LegCat's stickers started to be based more on my own experiences having a cat, but they don't look alike.
NCS: I understand LegCat wasn't exactly the most popular name for your creation.  
AB: It's funny to think about it now that the name has become a part of his personality, but when we were about to release the first sticker pack starring LegCat, everyone said we should change his name to Elvis or Cranky. However, I insisted that we keep the name LegCat since I thought of it as a reflection of what he likes to do most, which is to rub against people's legs.
NCS: What was important for you that come across in the portrayal of LegCat's character?
AB: The idea behind LegCat is that he's a fat and lazy cat, so it was important he looked the part. I made sure he was very round and had short, chubby limbs and no sharp corners. When we were first figuring out LegCat's final look, we thought he should be purple so that he could serve as Viber's mascot. However, he ended up looking like an alien and his purple color clashed with our first Viber sticker character, Violet, who also happens to be LegCat's owner.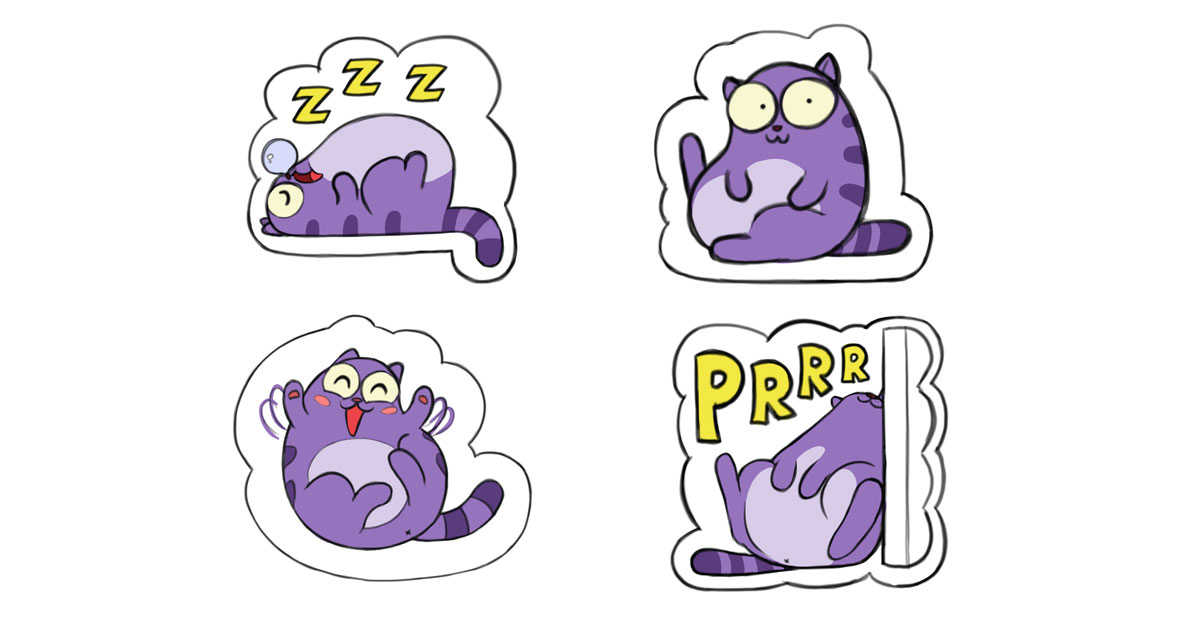 NCS: What are LegCat's main characteristics?
AB: LegCat is very lazy, naive, spoiled and exceptionally emotional, which means that there's no middle ground with him – when he's happy he's extremely happy and when he's sad he's extremely sad. He was designed that way so that it would be easier for users sending a sticker to express their emotions in a chat. The main reason we created LegCat was to give Violet, our first sticker character, a companion in a contrasting color – since she's purple and he's orange. However, since appearing with Violet in her first sticker pack, he's outgrown the "companion" role and has become even more popular than she is, maybe because people just can't seem to get enough of cats.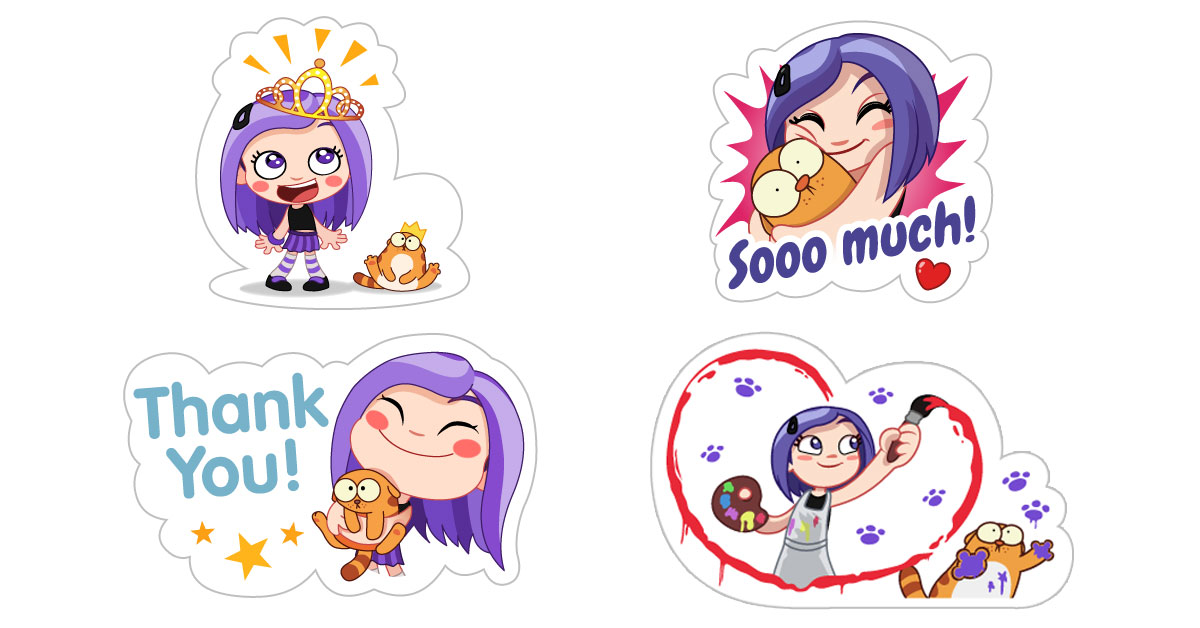 NCS: How has LegCat changed since the beginning?
AB: The original idea was to make LegCat as much of a real cat as possible. That's why in the first sticker packs he doesn't appear wearing a suit or skating, but he acts very much like a cat. In time though, since he started having more things to do and more sticker packs were created starring him, we realized something had to change with his character. That's why he now has a business sticker pack where he'll be smoking a cigar or close a deal, and in another sticker he'll appear as an astronaut. He is no longer limited to realistic scenarios, but has become more like a type of Mickey Mouse character, who can walk on two legs sometimes rather than on four.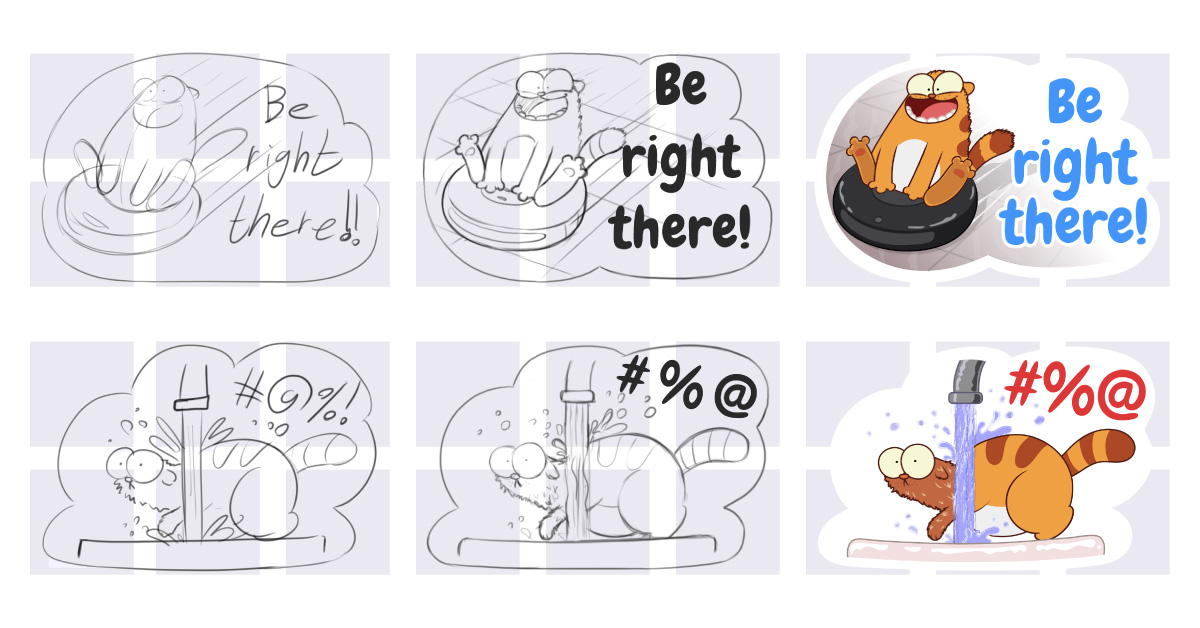 NCS: Which of the LegCat sticker packs is your personal favorite?
AB: I love LegCat Returns, which is the sticker pack I use the most, but I also can't wait for the new LegCat and Lola Forever sticker pack to come out with sound, since I think it will make the existing sticker pack even better.
NCS: Where do you see LegCat in the future?
AB: LegCat has appeared in many different things, other than the many sticker packs he stars in, and people around the world just love creating LegCat inspired cakes, mugs, shirts, dolls and more that they then post on Instagram.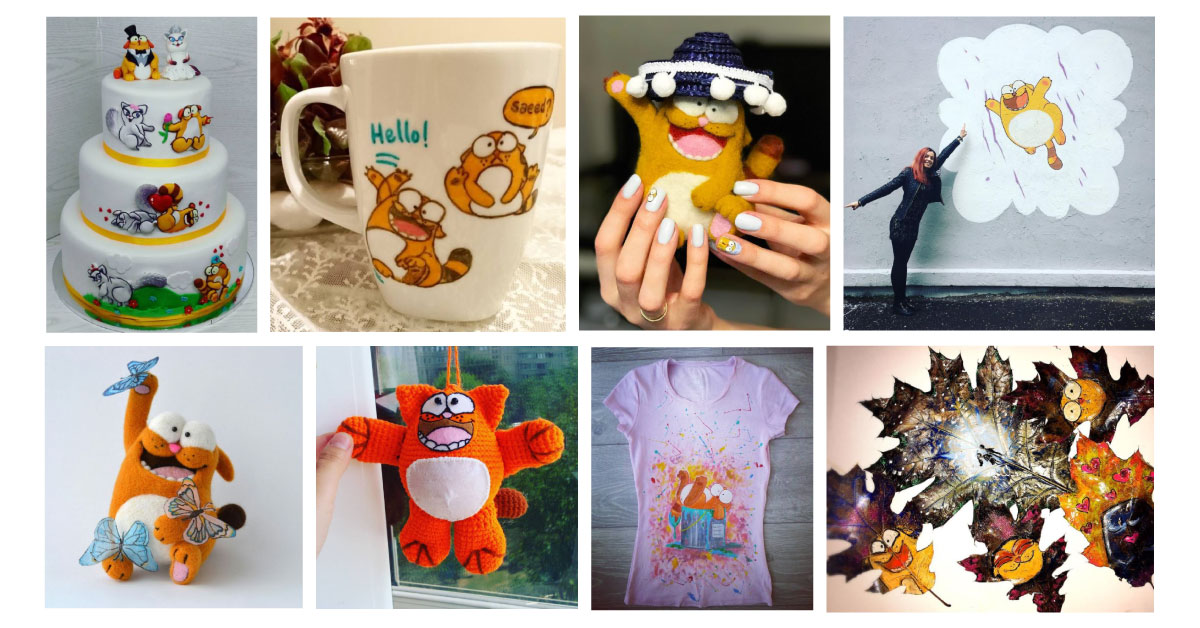 LegCat's success has been incredible. To know that something you've designed – a character you've created and love – has been so passionately embraced among Viber users is wonderful. The fact the he's broken the boundaries of just being a sticker character to actually being the inspiration of fan art is the biggest reward an illustrator can ask for. It's truly amazing.
Look out for a cat frenzie coming your way on August 8th, this International Cat Day, and make sure to tweet us your favorite LegCat sticker pack with the hashtag #FaveLegCat!
Instagram collage credit:
Iamwavecut, Yarko_kh, Bazitatliseyler, Lisenokst, Juliwooldream, Artkatana, Sweet_shop.com.ua, Zakharova2375.