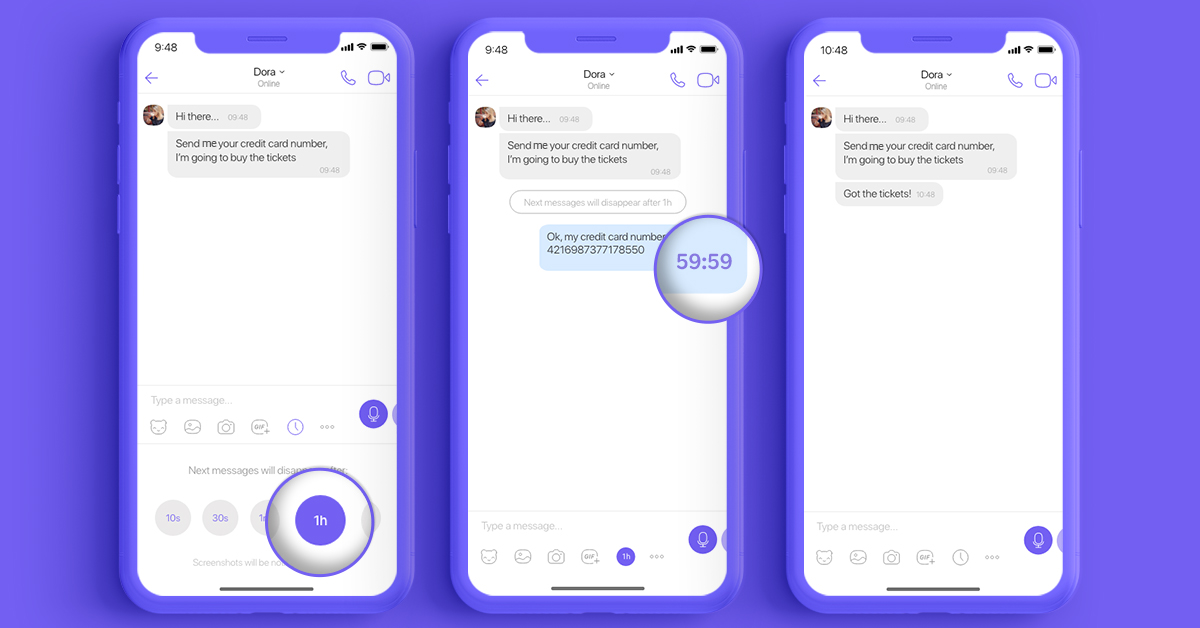 We've proved our commitment to privacy over the years with deleting messages for all since 2015, default end-2-end encryption since 2016, Hidden chats and Secret chats in 2017.
Our commitment to being "The Most Secure Messaging App" is strong, and we always want to do more in this space.
So, say hi to Disappearing Messages!
Looking at how people use Secret Chats on Viber, we've learned some of you find the experience complex and that you wish to have a single place where you manage your 1-on-1 communication with a specific person.
Knowing the awesome and important powers of Secret Chat – self-destruct timer for messages and screenshot protection – we have decided to bring these 2 super-privacy-powers to all regular 1-on-1 chats on Viber.
You'll soon see a new clock icon in your 1-on-1 chats. Once tapped – choose the self-destruct timer for new messages that will be sent in this chat.
How will it work?
Once enabled, it will be applied to both sides of the conversation. Every new message sent will disappear once the timer runs out – without any trace. All screenshots will be notified on the other end. Protection is protection 😉
As part of this update, you won't be able to start new Secret Chats, but previous Secret Chats will continue to be available.
Disappearing Messages are available on the latest version. Upgrade now.