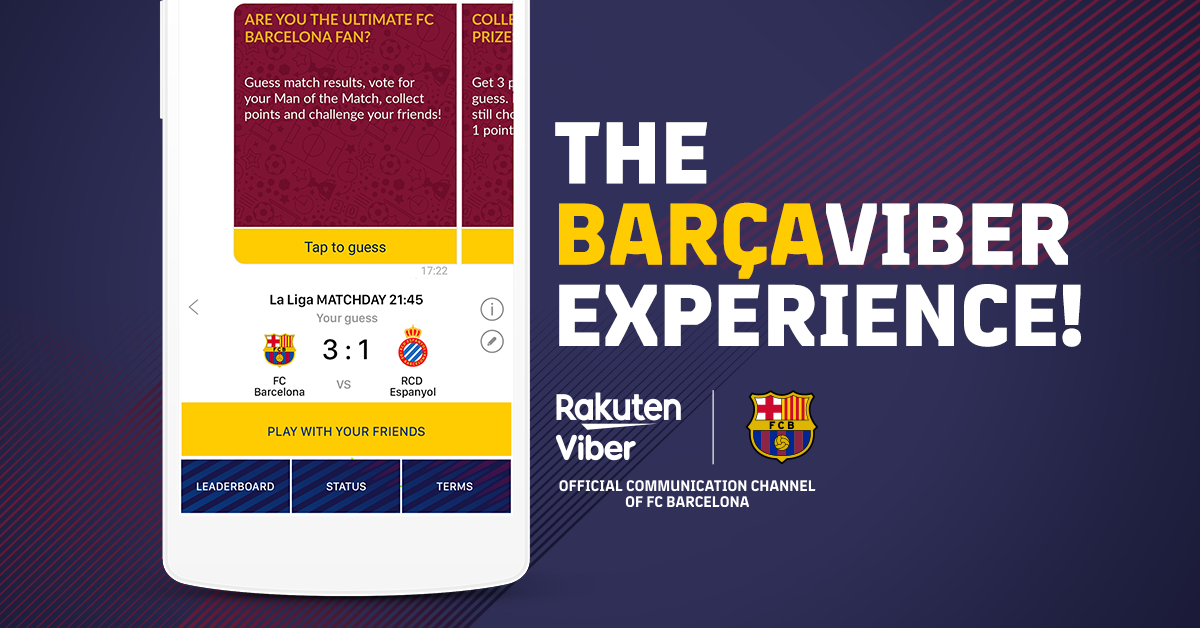 Last year, FC Barcelona and Viber's parent company, Rakuten, announced their partnership which included making Viber the official communications channel for FC Barcelona.
Last year, we launched exclusive Barça stickers and the fan-favorite "BarçaViber Man of the Match" competition. These were just the start! We are thrilled to introduce a fresh new fan experience, making Viber the ultimate place for all Barça fans.
Become the BarçaViber Fan of the Month
Some of you may remember the BarçaViber Man of the Match competition last season, which gave away official Barça jerseys and VIP trips to see the team play at Camp Nou.
We are delighted to announce that the 2018/19 edition is out, and this time it is more fun, competitive and rewarding!
Before each match guess the final score, vote for your man of the match after the final whistle, collect points and win prizes. Each month, one lucky (and skilled!) fan will win the 'Barça Fan of the Month' title and one of an awesome set of prizes.
How to collect points
Did you perfectly guess the final score? Get 3 points
You guessed the right outcome, but not the correct final score? Get 1 point
Did you vote for your Man of the Match? Get 1 bonus point
After you've collected your points, brag to fellow fans on your success. Show friends on Viber how world-class a guesser you are with the new in-chat leaderboard. Once you share a match guess in a chat with them, it will create a live leaderboard inside your group chat to track participants' points and show you each week who is the ultimate Barça fan.
Your vote for man of the match will help show the players your appreciation of the on field performance – and get one FCB player closer to the title of BarçaViber Man of the Match this season.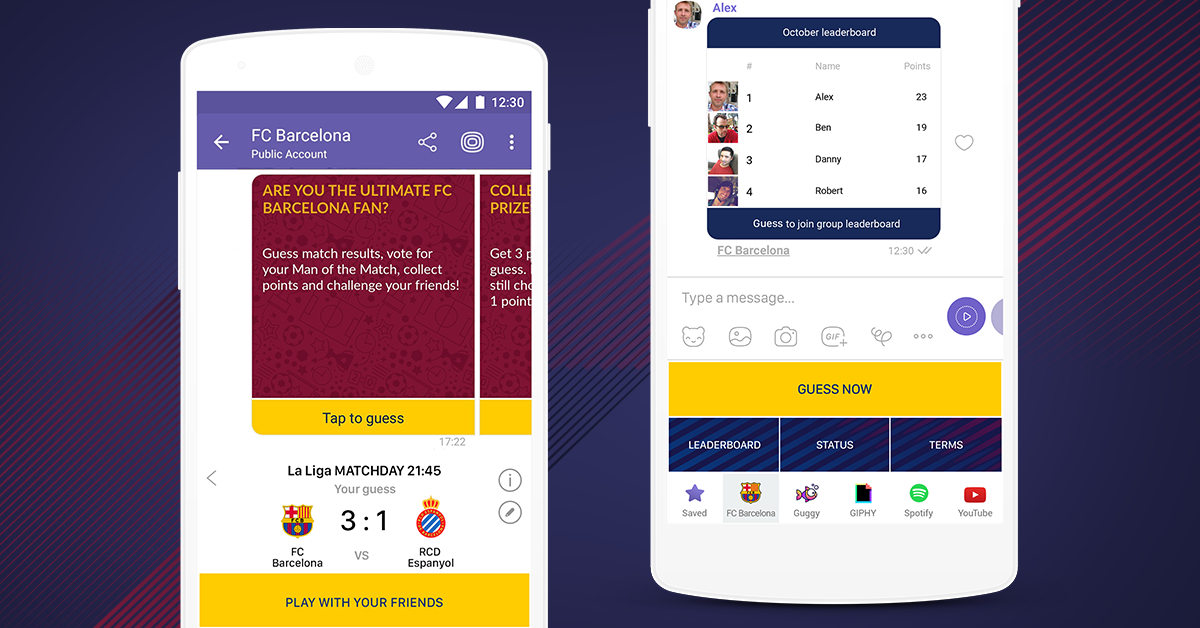 How can you win?
Every month, one lucky player with the most points will win an official Barça prize. Monthly prizes are one of an official FC Barcelona team jersey, a signed FC Barcelona ball or a VIP trip to the Camp Nou! Read the competition terms here.
Don't forget that this competition is open for EVERY match that Barça play in La Liga, UEFA Champions League and Copa del Rey each month, so make sure you guess before each match to collect points. Please note, you can only guess on the next match each time.
Start playing for November's prize now! https://vb.me/b7f3c3
Get The Exclusive Camp Nou Player Journey
FC Barcelona and Viber teamed up with Dugout to create the museum experience for fans more exciting than ever.
Ever dreamt what it feels like to sign like a new player at FC Barcelona?
Now is your chance. As you take part in the journey you will :
Sign an FC Barcelona contract. That's right, you can discover how it feels to sign a Barça player contract.
Meet the press. Put yourself in a player's shoes after a match and answer a question asked by a member of the press.
Get a sneak peek of the HOME dressing room! Enter where no fan has ever been before. This part of the BarçaViber journey gives you a virtual tour of the dressing room.
Take a walk through the tunnel. Feel the thrill of walking through the players' tunnel and onto the pitch on match day. No matter when you are in the museum, it is always match day on the app!
Show your Wall Ball skills and win prizes. Film yourself flicking the ball against the wall as many times as you can and share the video and score on the Barça chatbot on Viber.
Each journey stop includes special video filters exclusively on Viber to make you feel as close as possible to a true new squad player. You will be able to easily share these videos online, and invite friends to enjoy the experience remotely too.
The BarçaViber Player Journey at Camp Nou is available only on the FC Barcelona official chatbot on Viber. Don't miss the QR signs in Camp Nou to experience the player journey!
Even if you If you are not planning to visit Camp Nou soon, don't worry! An exclusive peek to the experience is available for all fans around the world right here.
Taste the feeling of being a true player at Barça: https://vb.me/ec9004