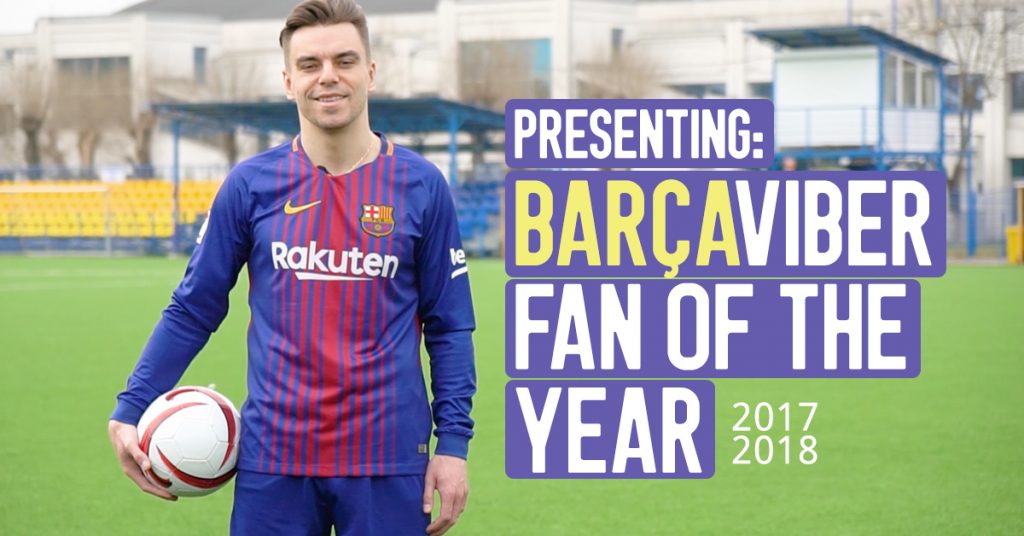 FC Barcelona has had a phenomenal season in 2017/18, winning double titles – their 30th Copa del Rey and their 25th La Liga titles – while breaking many records along the way.
After 49 games this season and almost a whopping 1 million votes and predictions cast on FC Barcelona's official chatbot on Viber, it's time to announce who is the lucky fan who snatched the BarçaViber Fan of the Year 2017/18 title and won the ultimate prize!
Season recap
Earlier this year, Viber and FC Barcelona introduced their BarçaViber Man of the Match activity, where the team's fans from all around the world could predict each game's result and pick the player they believed was the man of the match.
How did it work?
Before each match, fans who subscribed to the official FC Barcelona chatbot on Viber were asked for their excitement levels on a scale of 1-6 and their prediction for the match's result. From after half-time until the final whistle, fans could rate the team's performance on a scale of 1-6 and pick their man of the match.
Fans who scored 4/4 hits – meaning they predicted the final score of the match accurately, the community's rating for the team's performance and the community's choice for Man of the Match – collected 1 point.
The top point collectors each month from September to April were eligible to compete for the big prize – the prestigious "BarçaViber Fan of the Year" title, a VIP trip to the season's final game and a chance to meet the FC Barcelona players.
And now, as the season is coming to its end it's decision time – Who is the BarçaViber Fan of the Year 2017/18? 43 skilled Barça fans made it to the finish line. They were asked to submit a 60-second video in which they explain why they should be named "BarçaViber Fan of the Year"  to win the ultimate prize. For the past few days, a team of Viber and FC Barcelona experts reviewed all the fan-made video submissions. One video stood out and showed us the magic and talent of a truly big Barça fan. It was a unanimous vote to pick this fan as our ultimate winner.
And the winner is…
Drum roll, please …
Denis Kovalyov from Belarus!
Denis created a beautiful, stunning fan-made video that filled our team with awe.
Watch the video he created :
Denis, 26, is an economist living in Minsk, Belarus. He has been a Barcelona fan since the age of 8, and Leo Messi is "without a doubt my favorite player".
He told us he loves FC Barcelona because "they always play attacking football without changing their philosophy. I adore that FC Barcelona is one of the few teams who comes out victorious from the most difficult situations.
The relationships between FC Barcelona's players (and backroom staff) are like family and they show an example of what kind of atmosphere should be in every team."
As one who truly values his family, Denis chose his wife Nastya to join him on this dream trip to Barcelona. "She is a big part of my victory – it was her idea how to make the video."
As you can imagine, Denis's level of excitement is really high. "Since I received the winner message I can't think of anything else. I can't work, I can't sleep. And I guess I'll be in the same situation for many days after the action. All my thoughts now are about seeing Barça perform with my own eyes."
"For me, it is a matter of pride and prestige to be the fan of the year of such a club. I want to thank Viber for the opportunity to see Barça's game live and for the chance to meet the players. Now the dream of that 8-year-old boy is coming true."
What's next for Denis?
He will fly with his wife to Barcelona and receive VIP access to a  special FC Barcelona game on May 20 at Camp Nou, where the team will pay tribute to Andrés Iniesta and celebrate the team's double title achievement. They will also get two official FC Barcelona jerseys and $2,000 for expenses.
And on top of all that – a dream come true for any die-hard fan – a chance to meet with the team's players during his visit to Barcelona. Crazy!
Witness all the action and excitement of Denis and his wife's dream visit to Barcelona – Follow the FC Barcelona public chat on Viber.