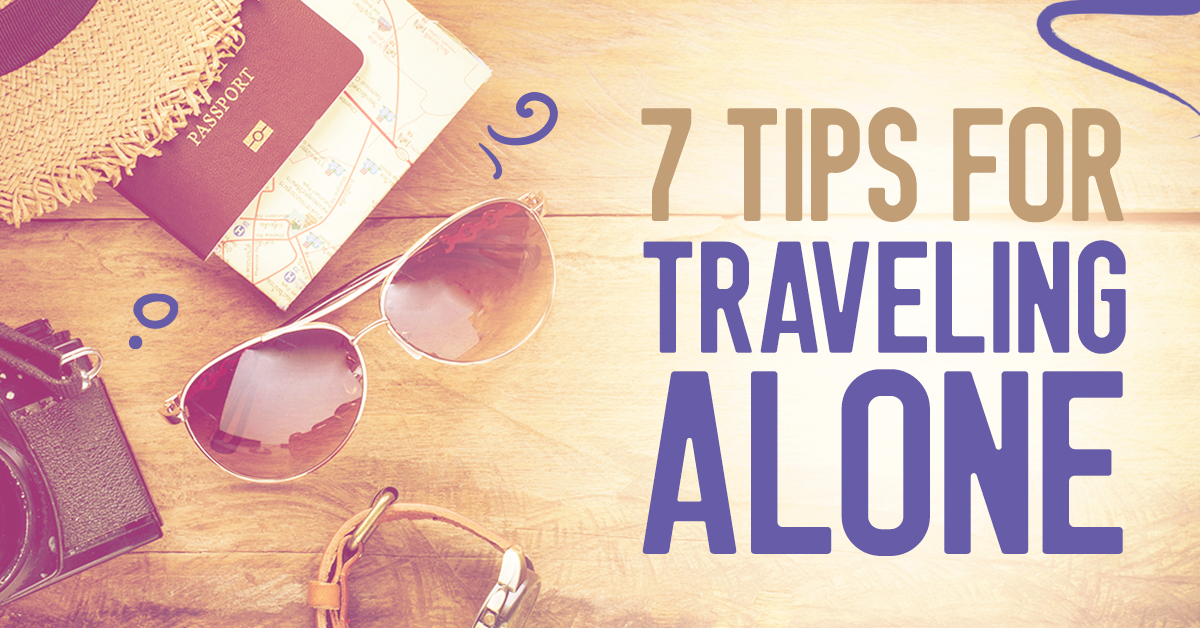 With roughly one in four people saying they will travel alone in 2018, there's no wonder you're heading out on your very own adventure! Traveling alone may seem a bit intimidating, and if you've never done it before, you may have a lot of questions about your safety, how you'll manage on your own and how traveling alone will compare to traveling with a partner. However, traveling solo can be one of the best things you'll ever do. Not only will it bring you closer to yourself but it will reveal sides of your personality you never knew you had. Preparing ahead with a travel checklist as well as with the best travel accessories will give you the peace of mind you need before heading out on your trip. Here are some tips that will help you learn how to travel alone when you're ready to take on the world by yourself.
Stay Safe
Traveling alone can be amazing, as long as you make sure you're safe. Without a companion watching your back, you are more vulnerable to criminals and scam artists, and you don't have someone to care for you in case you're not feeling well. Not drawing attention to yourself and being mindful of safety concerns could go a long way. Make sure you only walk in public areas particularly at night, watch what you're drinking and keep an eye on your valuables. You should also remember to carry a copy of your passport and ID card with you as well as leave a copy of your itinerary with a friend or family member.
It's also important that you avoid appearing like a tourist – don't walk around with your face in a guidebook and when you ask for directions make it sound as if you're going to meet with someone. Leave your flashy jewelry at home and check your maps and transportation schedules before leaving your hotel.
Know Your Strengths
Are you a sporty person who wouldn't mind climbing a mountain with a group of strangers or by yourself, or are you more of an introvert who isn't looking to make new friends? It's important you define the type of trip you're looking to go on since you don't want to find out that you're terrified of heights while climbing up Mount Everest. Dedicate some time before your trip to think about whether you'd feel more comfortable in an English speaking country. Make sure you take the time to consider all the things you may have to deal with on your own prior to your trip.
Thinking of traveling alone? Get all the tips you need on your road to self-discovery. – Click to Tweet
Take Photos
Check out these photography apps and make your trip memorable by capturing the scenes and well, quite a few selfies. It will make for cool memorabilia and will get your friends back home excited about seeing the world from your perspective.
Dine Alone Like a Pro
If you dine at a local café or local fast food restaurant chances are you'll find someone to talk to, and you can always go to crowded places where you'll have to share a table with more people. In case you don't find anyone to dine with, you can always grab a slice of pizza and eat it as you walk along. If you do decide to sit down by yourself at a restaurant – enjoy it! Read a book, plan the rest of your trip, write in your journal or practice your verbal skills with the waiter or waitress.
Don't Be Afraid to Make New Friends
Stay at a hostel or Airbnb and invite a local out for dinner to learn more about the place you're visiting. By going to places with a lot of tourists you're bound to meet some new people who might become your best traveling buddies, and you can even try to find out through friends and on social media prior to your trip whether someone you know is planning on traveling to the same area as you.
Learn a Little of the Local Language
One of the best tips for traveling alone is to learn a few useful words and sentences if you're planning on traveling to a non-English speaking country. In some countries a simple "do you know how to speak English" inquiry in the spoken language will gain you some brownie points with the locals. You should also know the way to ask for directions, how to count from 1-10 and how to order your favorite meal. Make sure you're able to let someone know about any food allergies or any types of dietary restrictions you have, so make sure to write down the terms before your trip. People love conversing with someone who's making an effort to speak their own language, which is bound to get you some new friends along the way.
Overcome Loneliness
Traveling alone can get lonely, especially if you're a person who enjoys the company of other people. That's why it's important you keep in touch with your loved ones as well as try to make new friends along the way. It's also important that you try to enjoy some alone time with yourself, particularly if you're on a quest for self-discovery. However, you can always try walking into a bar or sleeping at a sociable inn where you can try to meet new people who might be traveling on their own as well.
If you still feel like nothing will beat the feeling of hearing a familiar voice, download Viber before heading out on your trip. The app will let you make free Viber-to-Viber calls and in case you'd like to make a call to someone without an internet connection or to a landline, you'll be able to use Viber Out's low-cost calling service. Simply choose the calling plan that best suits you and the duration of your trip, and check out Viber Out's calling ratesfor your destination of choice before deciding on the plan you'd like to go with.
Now that you're fully prepared for traveling alone, check out these sites for solo travelers: Solo Mate Travel, SafeCheckIn and Solo Traveler Blog. And most importantly, don't forget to stay in touch with friends and family back home to let them know how your travels are going!