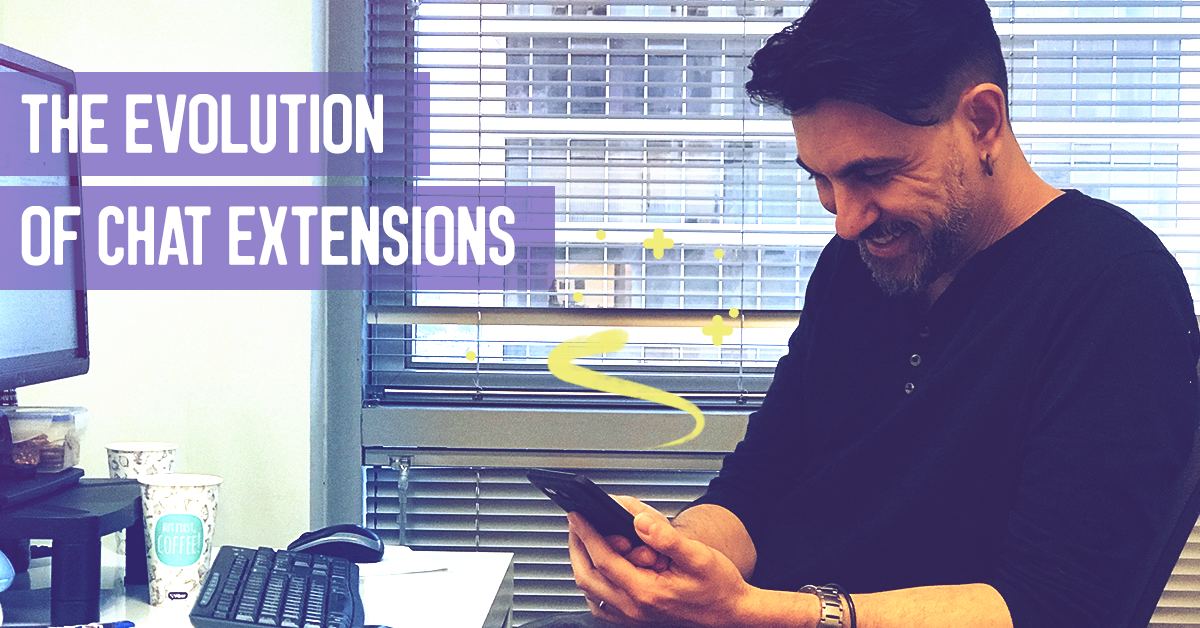 A year has gone by since we first introduced Chat Extensions, the service that lets you search, share and enrich your conversation with content from all over the webt. Since then, you may have already become a pro at using Chat Extensions, sending YouTube videos and GIFs, finding the perfect hotel to stay at with Booking.com and so much more. But that doesn't mean you know everything there is to know about the service. In order to get some answers to our most burning questions, we sat down with Eric Bar, Senior Product Manager at Viber, and the person who happens to be in charge of Chat Extensions. As the product manager who has executed some of our biggest projects here at Viber, including end-to-end encryption and secret chats, Eric knows a thing or two about leading innovation at Viber. Here's what he had to tell us about the evolution of Chat Extensions and what's in store for the future.
Nathalie Cohen-Sheffer: How did the idea for Chat Extensions come about?
Eric Bar: Chat Extensions started out as an experiment that came from one of our R&D programmers who thought it would be cool to allow users to send their friends GIFs and videos within a chat. We started out with GIPHY, Guggy and Wikipedia and soon received positive feedback from both our partners and our users who began using it frequently. In fact, it's so successful now that data has shown us that current users who have used Chat Extensions use it to send between 3-4 messages a day, and a new Chat Extension user who's sent one message via Chat Extensions will usually become a regular user.
NCS: You say the idea was pitched by a R&D programmer. Who did you work with in order to make Chat Extensions a reality?
EB: The work on Chat Extensions is a cross-organizational operation. I work with the business development team and marketing in order to connect with our partners and promote our services, with the design team in order to design consistent solutions, with the R&D and QA teams in order to develop new extensions, and with our data analysts to find out how people use our services and what's most popular.
NCS: How did you develop the new Chat Extensions feature?
EB: After the first try we decided to release a second, more advanced version in which we started examining new points of interest: Examining emotions through GIPHY and Guggy, exploring e-commerce with Booking.com, and enjoying music with Spotify and YouTube.
We've now just released new Chat Extensions that enhance the user experience even more. We added a news extension with the help of Vice, recommendation services with Yelp, and TicketMaster, which focuses on both e-commerce and music, and several new emotion-expressing extensions with Vlipsy, Tunemoji and Gfycat.
NCS: What lies in the future for Chat Extensions?
EB: We will update our existing services and add more abilities, including logging in to your own YouTube account, searching for a local business, getting business information, sharing a location and more. We'll be adding a new general search possibility, which will enable a user to search for anything they like without having to leave the chat and open Google or YouTube in their browser. Furthermore, we will continue to encourage new partners to develop their own Chat Extension, like Vlipsy, Tunemoji and Gfycat have done. We also plan on opening more local Chat Extensions, like the ones we've already opened in Bulgaria, Hungary, Russia and Vietnam.
NCS: What's Viber's goal when it comes to Chat Extensions?
EB: Nowadays, we spend a majority of our time within a messaging app, so I think it doesn't make sense for a user to have to exit the app and go to another app in order to find a GIF or video they'd like to send. The way I see it, the messaging app is my main activity, and the Chat Extensions are what enable me to stay focused on that main activity.
In the future, I think the messaging app will be the place you go to in order to find everything you're looking for. It will allow you to not only make a reservation to a restaurant but book seats to a show you'd like to see on that same night and express the way the evening went with a GIF or video. It would make everything available to you at the same time, so you wouldn't have to go in and out of the app in order to have a great outing with your friends.
NCS: What's your favorite Chat Extension?
EB: I love music and spend the majority of my day listening to it so I'm a big fan of Spotify and YouTube. I also like going out to new restaurants and finding out about new places, which is where Yelp's Chat Extension comes in handy.
___________________________________________________________________________
Eric loves to hear new ideas from real users and partners with a vision. If you have a surprising vision for Viber's Chat Extensions, don't keep it to yourself! Share your thoughts with us on Twitter with the hashtag #ViberChatEx and we'll make sure Eric hears about them. And if you haven't yet, make sure you download Viber so you can start using Chat Extensions on your mobile!