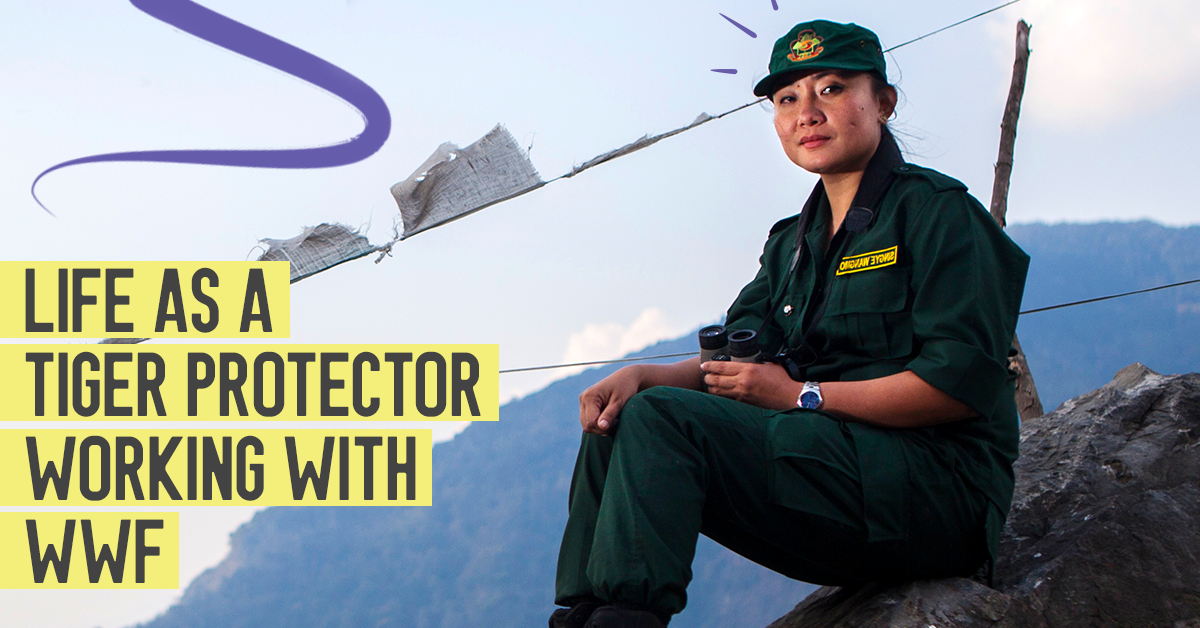 Image credit: Simon Rawles / WWF-UK Regional
Partnering with global organizations in order to help raise awareness of important global issues, such as the dengue fever epidemic, has always been important to us. That's why we're so happy about our partnership with the renowned Worldwide Fund for Nature (WWF). As part of the organization's work to educate people from around the world to the importance of environmental preservation, WWF established a presence on Viber to engage users in the importance of conservation. Viber users can follow WWF on Viber, learn more with WWF's chatbot, and download their two sticker packs, including WWF friends sticker pack starring Ranger Ed. Real-life rangers, forest guards, game scouts and field enforcement officers work around the world together with WWF, risking their lives in order to protect animals and wildlife. We were fortunate enough to interview two of these brave individuals. We'll begin with Singye Wangmo who told us what it's really like being a protector of tigers. Look forward to our second interview with Rohit Singh coming soon.
A Powerful Lioness Protecting Tigers

Image credit: Simon Rawles / WWF-UK Regional
It's not every day that we get to interview someone quite as fascinating as Singye Wangmo, the senior forest officer at the Royal Manas National Park in Bhutan and a tiger biologist. Singye, whose full name means 'powerful lion' is one of the few women working as a forestry officer with the government of Bhutan, and spends weeks at a time away from her home patrolling the field in order to protect the wild tigers residing in Royal Manas National Park.
In an interview with Viber, she tells us being a ranger has been her lifelong dream. "I always wanted to work in the wildlife conservation field. I knew this was my calling from a young age. I have always had a deep appreciation and admiration for the foresters and all those who work tirelessly to protect our rich natural heritage. The major turning point in my career as a ranger was when I began working in the Royal Manas National Park (RMNP), the country's oldest and also richest national park in terms of biodiversity. It's heaven for wildlife and nature lovers!"
Singye leads a team of 30 government rangers supported by WWF who monitor the tigers through camera traps placed in the park. Located in the Himalayan foothills, the park is home to over 400 species of bird and mammals, including the clouded leopard, greater one-horned rhino and Asian elephant. There are only around 2,200 tigers in India, 200 in Nepal, 100 in Bangladesh and 100 in Bhutan, 30 of which reside in the Royal Manas National Park. Tigers are deeply rooted in the religious and cultural tradition of Bhutan, and Singye prays for protection in the local temple before going out on her routes. Surprisingly enough, in the three years she's been working as a ranger, she has yet to see an endangered Bengal tiger in the wild.
As a forester and ranger, Singye says it's her "duty to protect and conserve our rich natural resources." The position entails patrolling, monitoring wildlife and providing service delivery to the communities residing in the national park. "I have been leading the annual tiger monitoring since 2014, which helps us and our partner organizations, like WWF, better understand the population dynamics of tigers in the landscape and in formulating informed conservation interventions," she tells us. "The tiger database created in 2011 has been instrumental in keeping track of tiger individuals over time and has helped in gauging, assessing and improving the effectiveness of wildlife law enforcement and patrols in the national park. I also write conservation management plans for our national park that aim to provide a framework for proactive decision making, as well as guide and facilitate biodiversity conservation, natural and cultural resource management, and park development. Currently, I am leading the small field conservation project in the park."
Poaching is the 4th Largest Illegal Trade
The region Singye works in is particularly dangerous, and involves many risks: getting attacked by wild animals, encountering insurgents and poachers and having to deal with harsh rugged terrain. "Carrying guns is the only means of protecting ourselves," she explains. "The wireless handsets are equally important for effective communication, as most of the park areas don't have mobile network coverage. They are very handy in times of emergency." Such a time occurred during a routine patrol in 2015 when Singye and her team were faced with armed poachers who only left because Singye's outnumbered team appeared to have more sophisticated weapons. Poaching is estimated to be worth around £15 billion per year and is the 4th largest illegal trade in the world, after drugs, people trafficking and counterfeiting.
Even though at times it can be dangerous, there are many plus sides to being a ranger. One of which is being able to encounter animals in their natural habitat. "One of the most interesting animal encounters I have had was with a lone male elephant in musth during the tiger monitoring fieldwork in 2017," she says. "We were scared and at the same in awe of the beauty and magnificence of the elephant. Just as we were bracing ourselves for an attack by a towering figure ahead, he moved along the trail and disappeared. It was as if he knew we were there to protect and not harm him. In that moment, when he looked into my eyes before he walked ahead, I had goosebumps!"

Image credit: Simon Rawles / WWF-UK Regional
Singye's work as well as that of local forestry officers are helping WWF and tiger range countries reach their goal to double wild tiger numbers by the year 2022 from 3,200 tigers in the wild in 2010. As of now, thanks to their efforts, the number has gone up to around 3,900. Singye says that she is very proud of being a ranger. "The fact that I am doing my bit in conserving and protecting our rich natural heritage gives me immense gratification. Also, I get the opportunity to work with some of the bravest rangers in our country."
Learn more about rangers and the important work they do together with organizations like WWF. In case you haven't done so yet, download Viber in order to follow WWF and get WWF sticker packs.

Female Rangers on Patrol in Sarpang Forest Division in Southern Bhutan