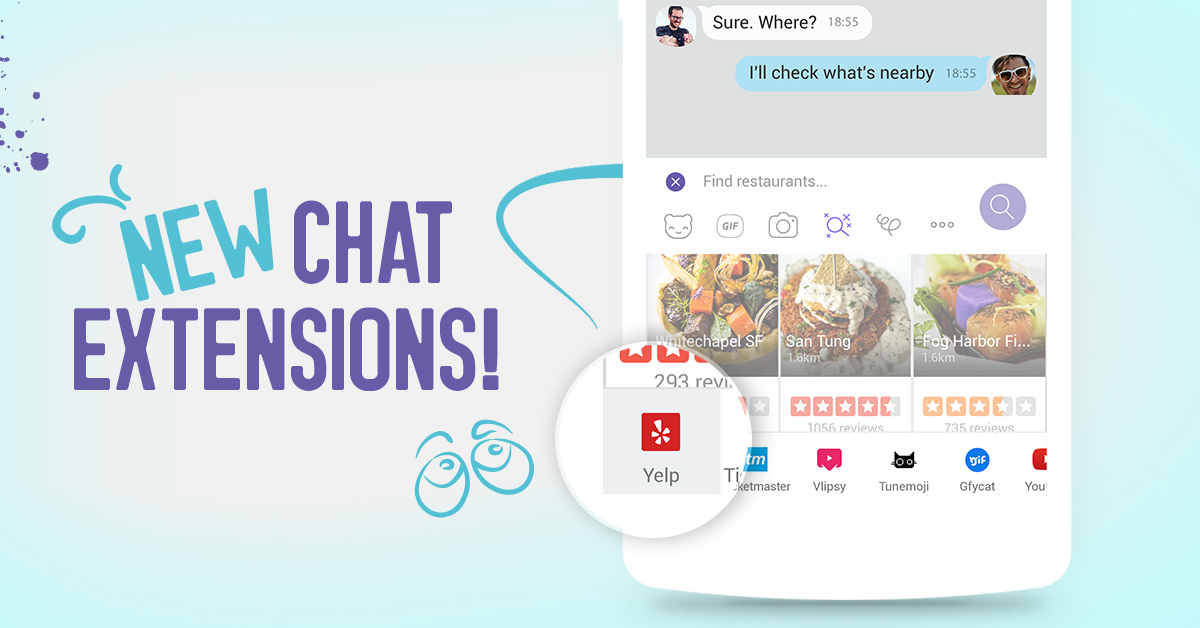 It's been nearly a year since we first introduced Chat Extensions, enabling you to send a GIF, Guggy and YouTube video. Since then, we've added more Chat Extensions that offer the option to find a good deal on a hotel with Booking, keep up with current news with Vice and catch up on the hottest music with Spotify. Now, we're making them even better! With our newest Chat Extensions, Yelp, TicketMaster, Vlipsy, Tunemoji and Gfycat, you'll be able to find exactly what you're looking for, from restaurants and nightlife, live events, funny tv and movie GIFs and so much more.
Search and Ye Shall Find with Yelp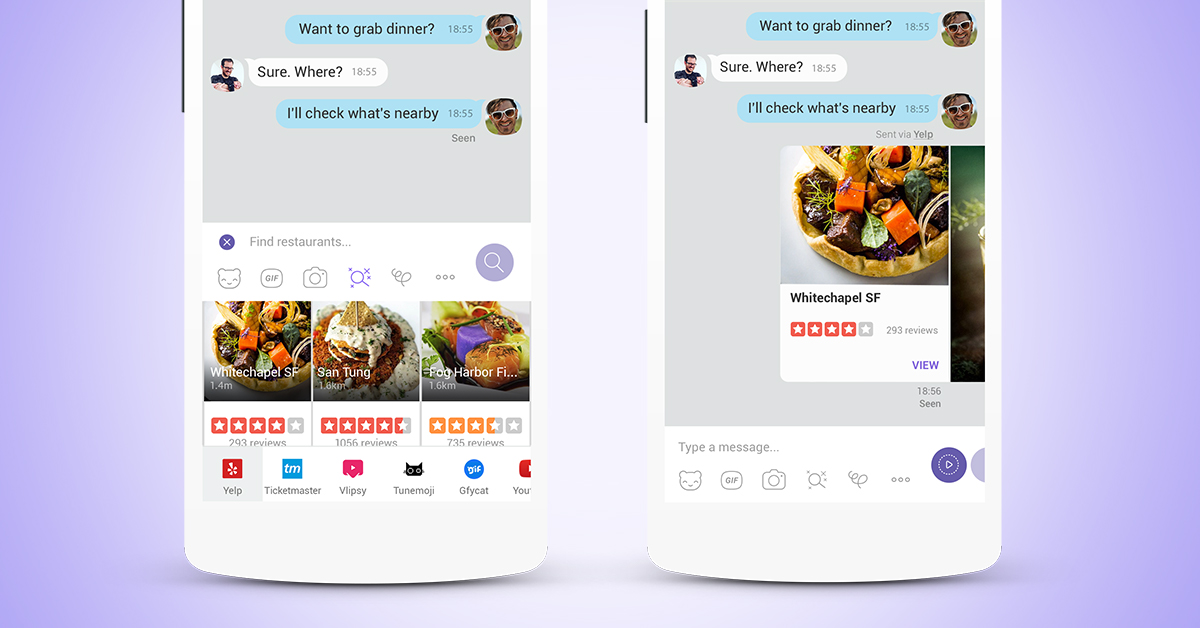 With Yelp you can find the best restaurants, hotels, bars and clubs in your city of choice. Yelp's Chat Extension enables you to search for the specific hotel or restaurant you'd like to check out, or browse every great local business around you. You can then read reviews on Yelp, call the business you selected in order to find out their availability and get directions, and share your choice with any friend or in a group chat on Viber.
Discover the Best Live Events with Ticketmaster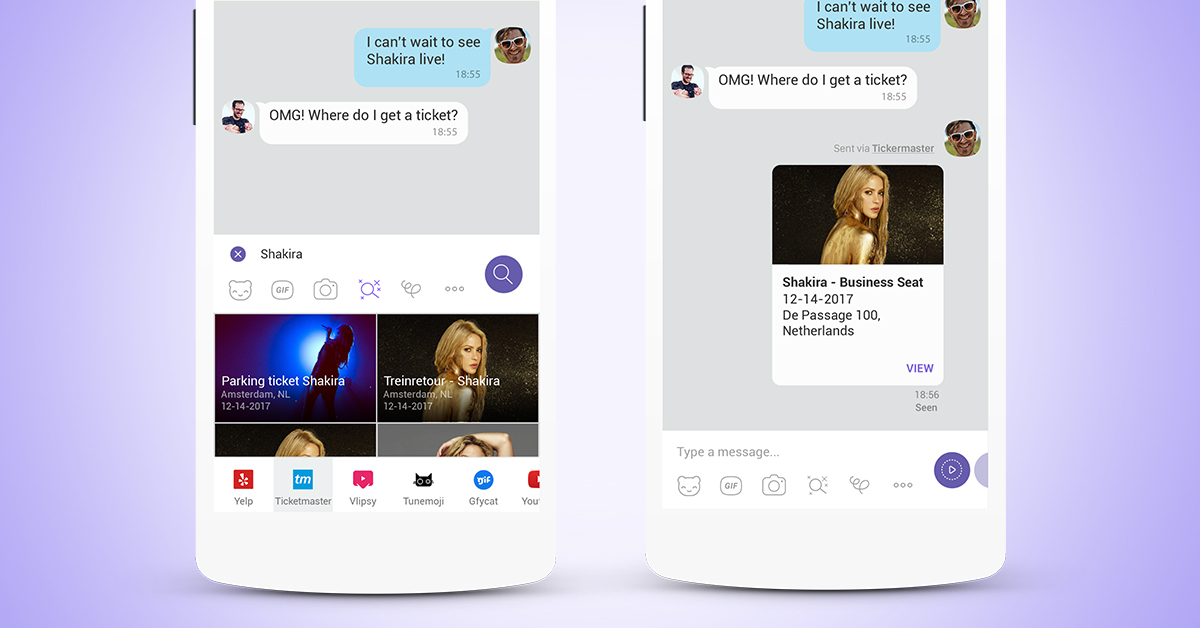 Ticketmaster is committed to making it easier for you to discover events. Ticketmaster's Chat Extension does just that, as it allows you to find and share up-to-date listings for the best in music, sports, theater and family events based on your location.
Find Your Favorite Tunes with TuneMoji
With TuneMoji you can send a cool musical GIF from a huge selection of licensed music. Use the TuneMoji Chat Extension to find your favorite tunes that will best describe what you're feeling today to your Viber friends. Check out your chosen video in preview mode before you send it out and start humming your favorite tune!
Search for GIFs in Almost Any Language with Gfycat
Gfycat enables you to search for high-quality GIFs in almost every language. Find exactly what you're looking for using the Gfycat Chat Extension and best express yourself. Try it out and let friends know what new tool you've just discovered.
Relive Funny TV and Movie Moments with Vlipsy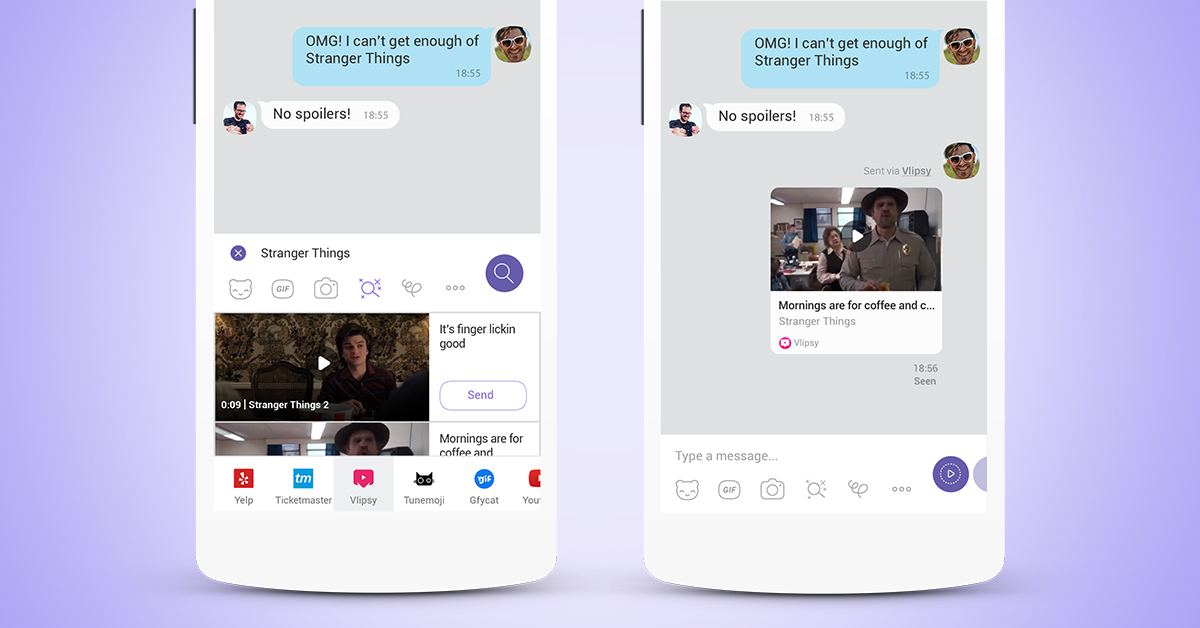 Chat Extensions already enable you to send a cool GIF or Guggy, but what about sending a short video from your favorite TV shows or movies to best prove your point? That's where Vlipsy's wide range of short videos comes in handy. Vlipsy's Chat Extension lets you preview the video you'd like to send in your chat, so that you can now amuse your friends with short videos with sound from their all-time favorite scenes. Think of it as longer GIFs with sound.
Now that we've introduced you to our newest Chat Extensions, start playing around with them and tell us on Twitter which one is your favorite! Get Viber to give them a try.