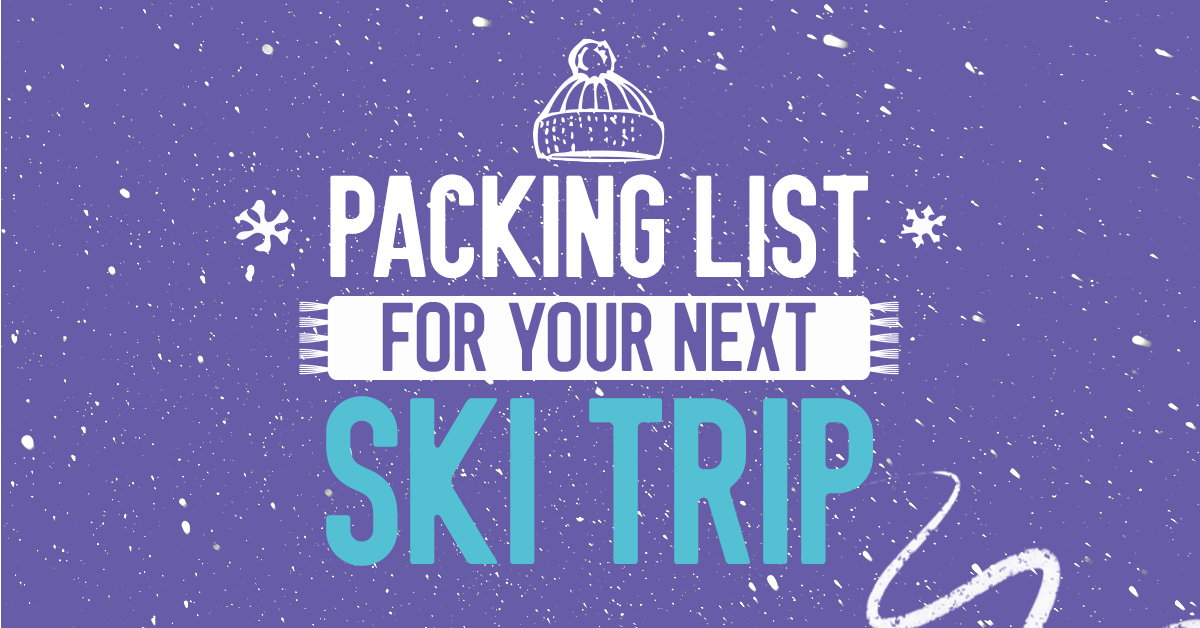 We've already listed the things you should make sure to take with you on an international trip as well as on a business trip, but when it comes to your ski trip packing list, there are quite a few things missing from the original checklists we created. Whether you're an expert skier and snowboarding fanatic, or if you're new to the slopes and cold weather isn't exactly something you're used to, gearing up for the challenging activity is crucial. Make sure you guarantee you've got all the following ski essentials with you before you head out to the snow.
Ski and Snowboard Clothing Items
You may already be accustomed to cold winters, but that doesn't mean that you shouldn't make sure you've got all these clothing items with you to help keep you warm and cozy when you're on the ice and off it. Make sure you pack the following:
Thermal pants and tops or any other underlayer, preferably not cotton made.
Waterproof, breathable jacket and overalls
Waterproof ski gloves
A warm scarf
Ski socks
Sunglasses
Goggles
A helmet
Headband or earmuffs
A face mask, if you're going to an extremely cold resort
In the evenings at the ski resort after a long day out, wear what you would at home, so make sure to add:
T-shirts
Jeans
Sweaters
Slippers, for a homey feel at your resort
A swimsuit, if your resort has a hot tub
Ski Equipment
For the chilly days outdoors you want to make sure you're properly prepared and haven't forgotten any of your equipment at home. Thankfully, you can also rent most things at the resort you go to, but you should find out prices in advance to see if it isn't better to come with your own from home. The list of your ski essentials includes:
Skis or snowboard
Ski poles
Ski boots or snowboard boots, and for walks around the resort don't forget snow or walking boots that will prevent you from slipping
A small backpack to carry water and snacks
Sunscreen lotion and lip balm
Knee braces in case you need them
Other Traveling Essentials
Don't forget to organize your ski travel insurance, your passports if you're going to travel abroad and your mobile phone and computer so you can keep in touch with friends and family while away. Use your phone to send a few jealousy-inducing photos and make a free call using Viber. If your loved ones also have a Viber account make calls and video calls for free. However, in case you're calling a landline or someone who doesn't have a Viber account or an internet connection, use Viber Out's low-rate calling services to make cheap calls. Check out Viber Out's calling rates to find the country you wish to call and check out the different calling plans to find the one that best suits your needs:
Credit plans:
Credit plans are perfect for anyone traveling for a short amount of time and is added to your balance when you purchase any amount. Choose whom you'd like to call for however long at a low Viber Out rate.
30-day calling plans:
If you're planning on going away for around a month, this is the plan for you. Make international calls to any destination for 30 days at a low rate.
Monthly subscription plans
If you're planning on traveling for more than a month or have family members or friends who you'd like to stay in touch with, Viber Out's monthly subscription enables you to make international calls without having to renew your plan.
Now that you've taken our ski trip packing list into account, make sure you lay out the items you plan on taking on the floor or on your bed prior to your trip. Step back and think about whether you've overpacked and could possibly make due without five pairs of jeans and six sweaters? Regarding your ski gear, consider renting what you need at the resort if you think you'll have to pay extra for it. And one last thing before you go and have the time of your life, don't forget to download Viber so you can keep tabs on the friends and family you're traveling with as well as on the ones you left at home.