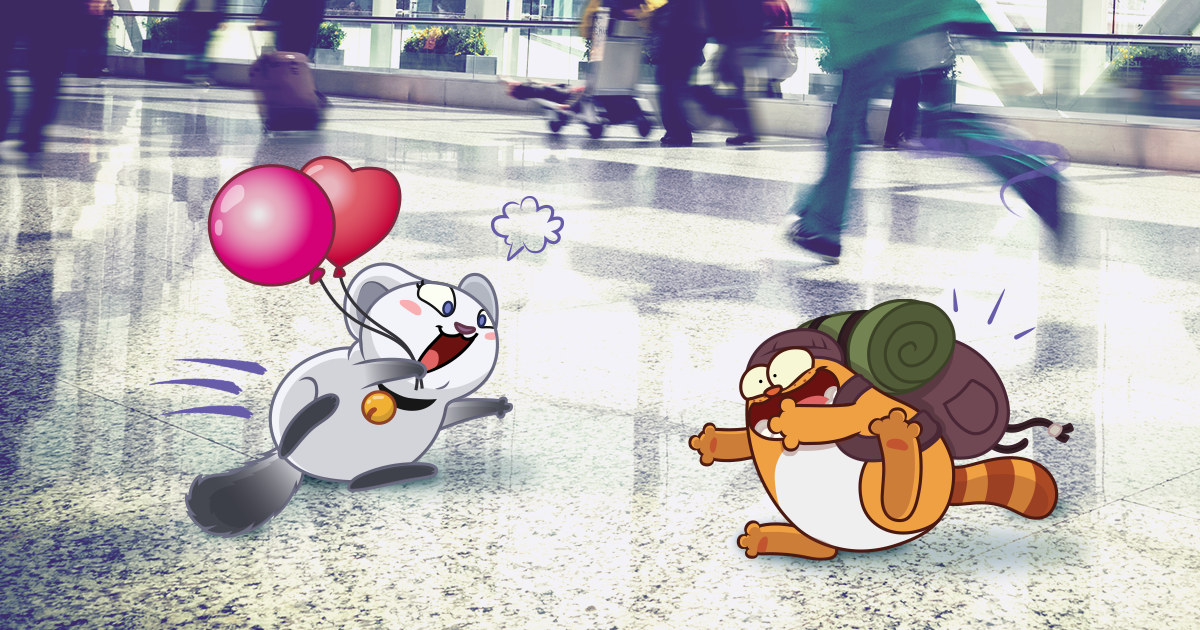 Anyone who has ever maintained a long distance relationship will tell you it takes a lot of work and commitment to make it last. However, in many cases, that hard work ends up paying off. Until the moment you and your loved one meet again, check out the many different ways Viber keeps you connected to each other and learn how to make your long distance relationship work.
Spread the Love with Viber Stickers
With hundreds of love stickers available in the Viber Sticker Market (check out the newest: Watercolor Love and Galaxy of Love), the only thing you need to do is choose which one you'd like to send. Other than searching for a sticker within your existing sticker packs, you can choose a specific sticker to best express yourself by tapping the sticker icon. Tap the search icon at the bottom of the screen and type in a specific keyword (for example "love") to find the sticker you're looking for.
Book a Romantic Getaway
There's nothing better to do while you're away from your loved one than to plan a trip you can both take together once you are reunited. With 96,000 destinations worldwide, our Booking chat extension will help you organize the most romantic vacation. Begin by typing your dream destination in the search tab and tapping on the Chat Extension icon. Then tap the Booking Chat Extension and choose the hotel that best suits you. Click on the calendar to pick out the dates that will best work for you.
Open a Secret Chat
Do you have a secret to share? Viber's secret chats give you the ability to set a self-destruct timer on all messages so you can rest assured that your messages will not be able to be forwarded or screenshot. This won't replace your existing chat, but will help you protect certain things you'd like to keep between the two of you.
Watch a Movie "Together"
One of the things people tend to miss most when they're in an LDR (long distance relationship) is doing things together, like going out to dinner or watching a movie. But long distance relationships are all about getting creative, and not being in the same room together doesn't mean you can't schedule long distance dates. Make a video call and watch a movie together to share your thoughts during the movie in real-time.
Send an Instant Video
Seeing a loved-one's face can make a world of difference. You'll find the instant video icon to the right of your main menu, where you type in your messages: 

Tap the voice messaging icon to switch it to video, and then send your favorite person a kiss or a sweet wish by holding the instant video icon, recording your message and releasing to send.
Share a Funny YouTube Video
Whether you're using Viber for Desktop or Viber on your mobile, sending YouTube videos is a great way to stay in the loop with one another. Keep things light with romantic new songs as well as funny videos that will turn into your private jokes. Tap the YouTube Chat Extension and then send your preferred YouTube video by typing what it is you're looking for in the text box. Then, tap the Chat Extension icon to send the video to your significant other.
Call Each Other!
When it comes down to it, other than seeing each other in person, there's nothing that can bring two people closer than a phone call. Hearing each other's voice is the best way to communicate with one another on a deeper level, and what better way than calling each other for free if you both already have Viber. However, if one of you doesn't have an internet connection or a cell phone at the moment you don't have to worry about not being able to stay in touch. Viber Out's low-rate landline and mobile calling services will enable you to call anywhere you'd like around the world by choosing the calling plan that will best suit your needs.
So now that you've got all the long distance relationship advice you need to keep the flame alive, feel free to share your favorite LDR tip with us on Twitter!