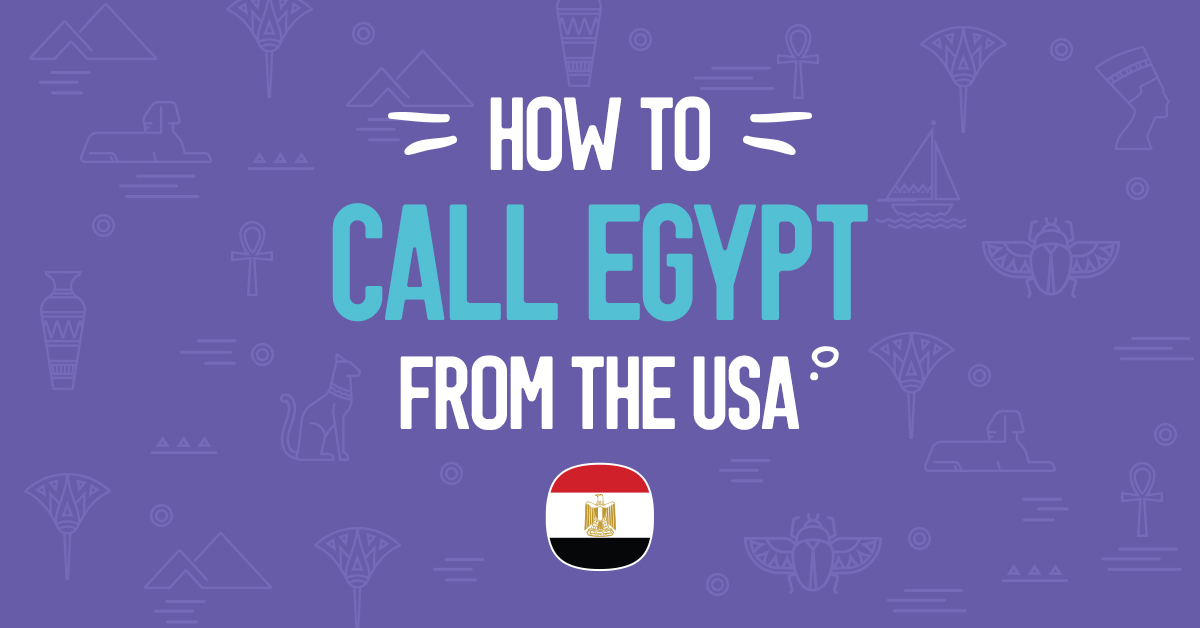 Calling family and friends in Egypt can be a bit tricky, particularly when you're calling from the USA. Whether you've been using pricey calling cards for a while now, or still haven't figured out which number comes after the next, know that you're not alone. Making a simple call to your loved ones shouldn't cause you anxiety – quite the contrary, which is why we've decided to create a how-to series for people who'd like to reach out to the people they miss who happen to live outside the USA. Whether you're you're interested in learning how to call Nigeria from the USA, how to call the UK, how to call Mexico, how to call Canada, how to call the Philippines, or how to call India, we're here with a quick and simple tutorial that will make your calls much more convenient and easy. Here's a simple guide that will help you learn how to call Egypt from the USA.
Getting in Touch
Get started by finding out the current local time in Egypt so you can calculate the time difference between the state you live in and the city you'd like to call. After all, you don't want to upset anyone by giving them a wake-up call at 2 in the morning. Once you've got that out of the way, follow the next steps in order to properly learn how to call Egypt from the USA:
011 – The USA exit code, which needs to be dialed whenever you're making an international call from the USA or Canada.
20 – Country Code for Egypt
City code – for example 2 for Cairo. Check out this list of Egypt city codes.
Then, dial the requested phone number– 8 to 9 digits, which may not begin with 0.
Sample call from USA to a landline in Cairo: 011 20 2 ???? ????
In order to call a cell phone in Egypt, dial the USA exit code along with the country code for Egypt and 10 digits, the first being 1:  011 20 1?? ??? ????
Use Viber Out to Call Egypt from 10.9¢ per Minute
We've shown you how to make a call from the USA to Egypt, but what if we told you that you could make your life that much easier, and not to mention save money, by using Viber's low-rate calling service, Viber Out. The service enables you to call landlines and cellular phones in the country of your choice for low rates. In the case of calling Egypt from the USA, calling rates are 15.9¢ per minute for landline and 17.9 ¢ per minute for cellphone.
You can, however, opt for one of the many Viber Out calling plans if you know you'll be making calls on a frequent basis. Choose between the following plans to find the one that best suits your needs:
Credit plans:
Viber Out credit is added to your balance no matter the amount you decide to purchase. Make calls to any number in the world at Viber's low rates with your credit plan.
30-day calling plans:
If you're traveling abroad, the 30-day calling plan will be perfect for you. The plan enables you to make international calls to the destination of your choice for the duration of one month.
Monthly subscription plans
The monthly subscription plan gives you the flexibility to make international calls to landlines and cell phones without having to renew your plan at any time and without having to worry about added costs.
Now that you're a pro on everything to do with learning how to call Egypt from the USA, make sure to check out all the Viber Out rates to Egypt in order to decide which plan you should go for. Now, start dialing your favorite people!
*Rates are subject to change