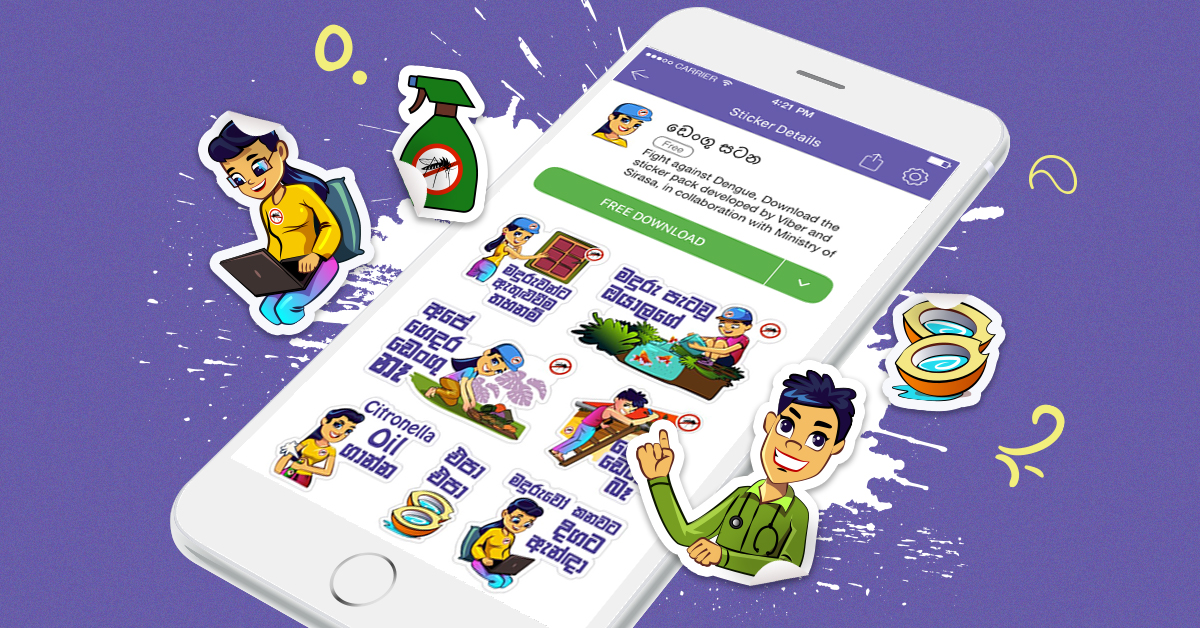 We're always trying to find new ways to raise awareness among our users to important global issues, from the work we do in collaboration with the WWF to the sticker pack we created especially for a New Zealand school for special education. Most recently, we launched a joint partnership with the Sri Lankan Ministry of Health and Sirasa FM, one of the leading radio stations in the country, in order to help educate our users to the growing dengue fever epidemic spreading across Sri Lanka. The viral infection is caused by four types of viruses transmitted through the bite of an infected mosquito. This year alone, the disease has affected more than 100,000 people in Sri Lanka and has claimed the lives of almost 300 people so far.
As part of a national effort to combat the disease, we created a sticker pack that gives users helpful tips and advice on how to protect themselves and their loved-ones from the dengue disease. The protective measures described in the sticker pack include wearing long-sleeved clothes, making sure areas aren't left damp or wet, putting toilet covers down, avoiding the outdoors and more.
As the Head of Viber Asia, Anubhav Nayyar, says, "We firmly believe the Viber Sticker Pack on dengue will be successful in creating mass awareness and community mobilization towards educating the people in preventive measures and helping prevent the spread of dengue in Sri Lanka."
Government Epidemiology Department Dengue Control Unit Director, Dr. Hasitha Tissera, adds, "community participation in dengue control is vital and public support imperative to help eradicate the disease. We aim to intensify our fight against dengue and the launch of the awareness campaign with Viber through their popular sticker pack will contribute towards protecting our communities against this disease."
.@Viber raises awareness of #dengue fever together with the Sri Lankan Ministry of Health. Get the #stickerpack here: http://bit.ly/Dengueblog– Click to Tweet
With over nine million Viber users in Sri Lanka and approximately 70 million stickers sent every month in the country, there is no doubt that the new Viber sticker pack will help raise awareness to this serious matter and highlight national efforts to combat the epidemic.
If you have any questions about this project or if you'd like to contact us regarding a similar one, we'll be happy to hear from you: stickers@viber.com.