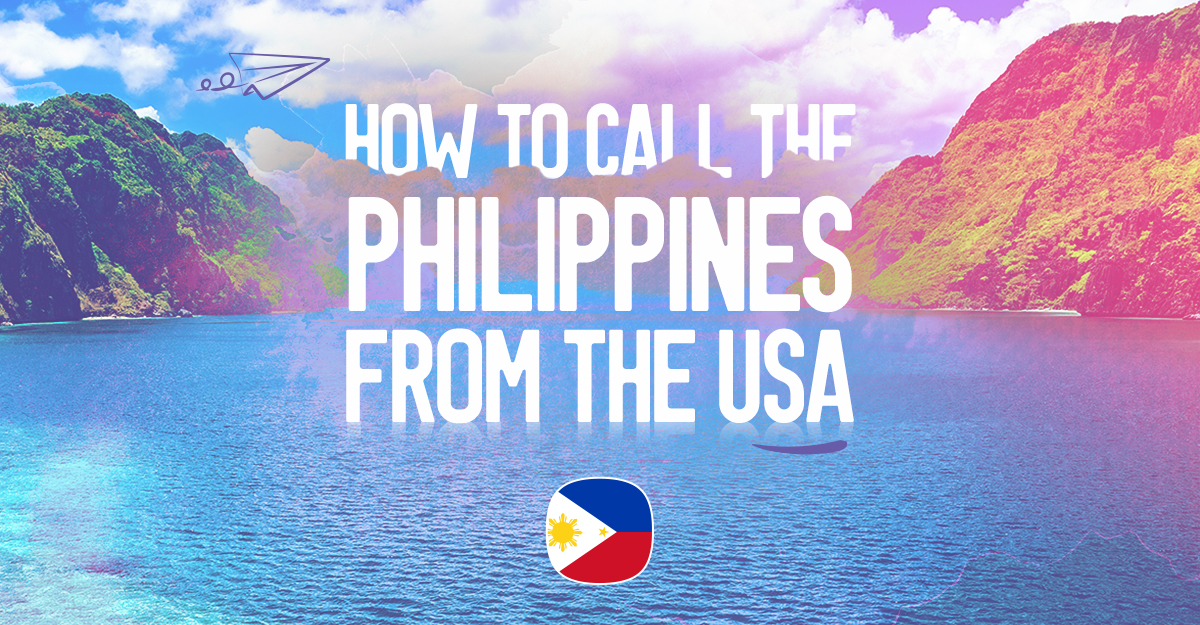 We all have someone we'd like to stay in touch with, and with nearly 3.5 million Filipinos living in the USA, chances are you probably have someone back in the Philippines you'd like to contact. We're here to show you exactly how to call the Philippines from the USA.
Begin by making sure you know what time it is in the Philippines before you make your call, so you're not waking up whoever you're calling.
In order to call the Philippines from the USA, dial according to the following format:
Dial 011 + 63 + area code + Philippines phone number
For example, in order to call a landline in Manila from the USA, dial 011 + 63 + 2 ??? ????
1- is the Philippines Country Code.
63 – dialing code to call the Philippines from the USA.
Area Code – a 3 digit number. Check the specific Philippines area code you need.
Phone number – a 7 digit number (may not begin with 0).
Call a Philippines cell phone by dialing the following format, including the country code: 011 + 63 + 9 ?? ??? ????
Notice that some cell phone numbers may have less digits, however the first digit you need to dial following the dialing code "63" is always "9".
Choose Your Viber Out Calling Plan
Calling the Philippines can get pretty pricey, especially if you're planning on making frequent calls to your loved ones. That's where Viber Out comes into the picture. Guaranteeing you don't go overboard with your calls, you can purchase a specific plan that will best suit your specific calling needs. Viber Out enables you to make calls to anyone who doesn't have a Viber account, an internet connection or even a cell phone.
Choose one of the following Viber Out plans* to learn how you can call the Philippines from the USA starting from 16¢ per minute for landline and 21¢ per minute for mobile.
Credit plans:
Viber Out credit means you choose the amount of credit you'd like to purchase at any given time. Make calls to the Philippines without having to worry about going over your set budget.
30-day calling plans:
This plan is perfect for anyone traveling abroad and enables you to make international calls to the Philippines for the duration of 30 days.
Monthly subscription plans
With the monthly subscription plan you'll be able to make calls to landlines and mobiles at Viber Out's low rates. This also means you won't have to renew your plan at any time.
Choose the best Viber Out plan for your needs and start dialing the Philippines from the USA. If you'd like to learn more about Viber Out calling rates* check them out and get the best offers on any location around the world. And in case you're interested in learning the ropes when it comes to calling Mexico from the USA, calling India from the USA, and Canada and even calling the UK from the USA, we've got you covered.
*Rates are subject to change.