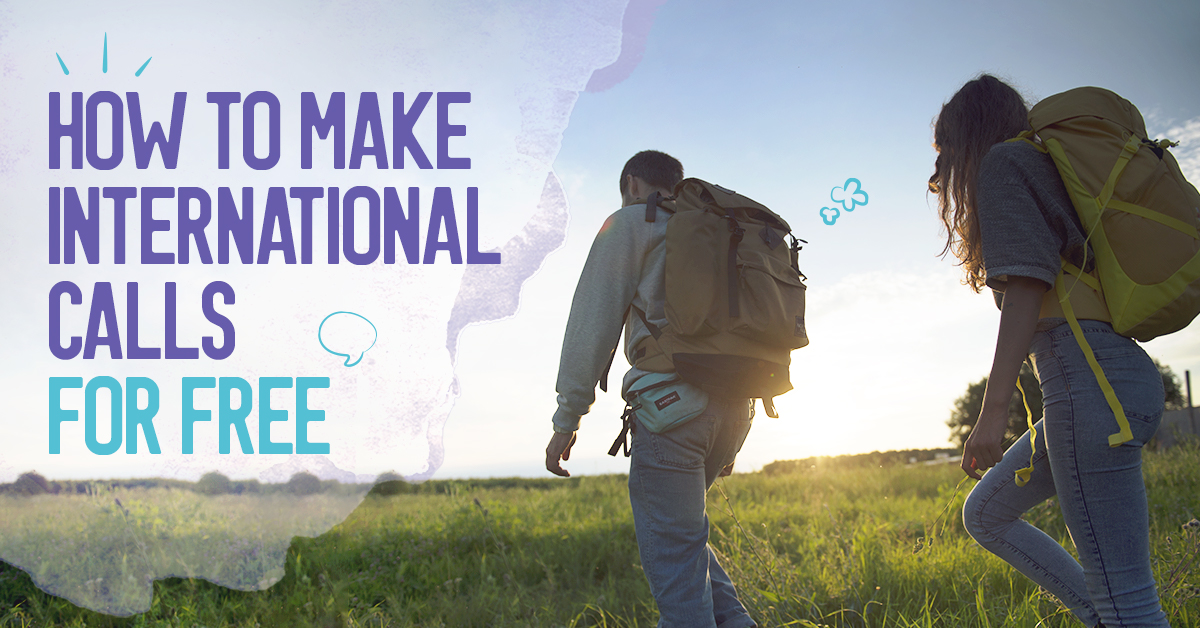 Calling friends and family members is usually a top priority for anyone traveling or living abroad. Whether you're feeling homesick, would like to tell a loved one how much you've missed them, or need to converse with a colleague who happens to be located in a different country, calling abroad can end up getting quite pricey. Take it from someone who nearly spent the amount of money it cost to buy flight ticket calling her then-boyfriend and best friend while she was abroad.
Instead of having to deal with extremely high phone bills (and a rather unpleased father), making international calls for free or for a low rate is something everyone should know how to do. If you need a guide on how to make international calls for free but don't really feel like rummaging the web for your answer, we've got the exact answers you're looking for right here. Let us guide you through the process of international calling using your smartphone.
How to Call Abroad For Free
Nowadays, several apps including our very own Viber, are able to connect users through their desktop, mobile or tablet to their friends and family no matter their physical location. Thanks to VoIP (Voice over Internet Protocol), a revolutionary method that takes analog audio signals and turns them into digital data that can be transmitted over the internet, international calling, which was once considered quite the luxury, has now become something every person is able to do for free.
As a cross-platform instant messaging and VoIP app, Viber enables you to call, video call and message other Viber users for free no matter where you are. How does it work, you wonder? Viber uses your 3G, 4G or Wi-Fi internet connection to enable you to call abroad for free no matter where you are. You should, however, be aware that there could be mobile data charges if you have exceeded your data plan. If your data plan is not unlimited, though, simply use a Wi-Fi connection as often as possible to avoid additional charges. And if you're not sure about your data plan restrictions, contact your service provider for further information.

Here's how to use Viber to call abroad for free to make international phone calls from your iPhone or Android. Simply follow these instructions:
From the contact list:
1.  Choose to view only Viber contacts
2.  Select the contact you want to call
3.  Click Free Call
From a one-on-one chat:
1.  Open your chat with the contact you want to call
2.  Click the Call button
From the calls screen:
1.  Open the calls screen
2.  Click the phone icon next to one of your recent calls
OR
1.  Click Open Keypad
2.  Enter the Viber user's phone number in the correct format (+Country Code – Area Code – Phone number)
3.  Click the Call button
You can also make free Viber to Viber calls from your desktop either by selecting a contact from your existing contact list or by typing in a contact's phone number through your keypad. Here's how to get it done by desktop in case you're busy charging your phone in the meantime:
From the contact list:
1.  Open Viber
2.  Open the contact list
3.  Select the contact you would like to call (Only contacts with the Viber badge can be called for free)
4.  Click on the Phone Icon
5.  Select Free Viber Call
From the keypad:
1.   Open Viber
2.  Select the keypad icon
3.  Type the number you would like to call
4.  Select the call button
Make @Viber your go-to app for free calls and messages no matter where you are in the world!- Click to Tweet
Making International Calls Using Your Smartphone
Now that you've got all the instructions you need on how to call abroad for free using your phone or desktop, you should know what other options are out there for making international phone calls to your family or friends who don't have a Viber account.
While the majority of the world's population owns a smartphone, there still are those who don't own one, don't have an internet connection or don't have a Viber account. That's where Viber Out comes into play, helping you get in touch with your loved ones no matter their circumstances.
Viber will never complete a call to a non-Viber user without first telling you that you're about to make a regular call and requesting permission. However, if you know you'll be making international calls on a regular basis, purchasing Viber Out credit is your best choice. Not only will it save you money but it will also prevent your having to search for cheap international calling alternatives.
With Viber Out you'll be able to call anyone, no matter their location or circumstances. Call at a flexible and low-rate by choosing the option that best suits your needs:
Credit plans:
Viber Out credit is added to your balance when you purchase any amount. With your credit, you can make calls to any number in the world at Viber's low rates.
30-day calling plans:
The 30-day calling plan allows you to make international calls to the destination of your choice for the duration of 30 days at Viber's low rates. This is a great solution for anyone who knows they'll be abroad for a month and want to be able to stay in touch with family and friends.
Monthly subscription plans
The monthly subscription plan gives you the flexibility to make international calls to landlines and mobiles at low rates without having to renew your plan at any time. With the monthly subscription plan, you can save on the calls you're already making.
Now that you not only know how to call abroad for free but also how to make international calls using your smartphone, you're all set to go on your summer vacation, resting assured that your loved ones will be up to date regarding your trip with Viber's help.