Maximum security by default
All around the world, users turn to Viber to have open and authentic conversations with their friends, family, colleagues and everyone in between. Some conversations are light and fun. Some are personal, intimate, and even confidential. What they all have in common is that they are private. Our mission is to protect that privacy so that you never have to think twice about what you can or can't share when you're using Viber.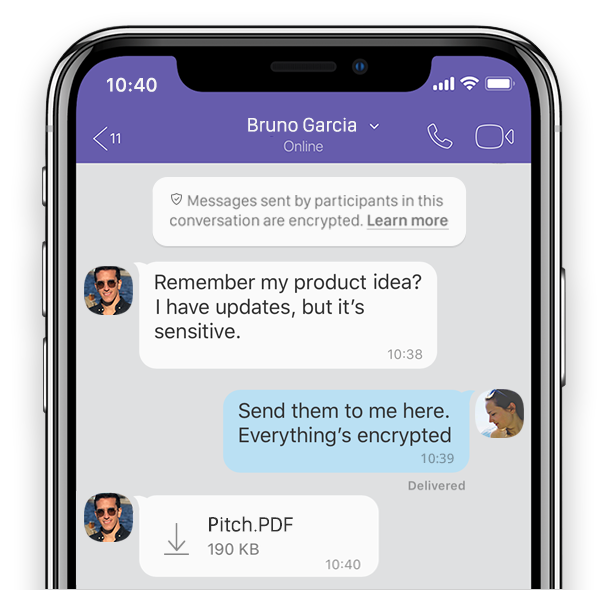 End-to-end encryption by default
We know you want your communications to be private without you having to tell us. On Viber, end-to-end encryption is the standard—not a special feature or option to be turned on in your app settings. By default, no one but you and the people you're communicating with can see your messages or hear your calls, not even Viber. The messages you send make their way from your device to the recipient in the form of a code that only the recipient's device can translate to plain text.
Security you can trust
When your chats are protected by end-to-end encryption, no one has access to them. Perhaps most importantly, Viber doesn't have access to them—which means nothing you share can be used to target you later. Viber can't share what it doesn't have and, since Viber doesn't have access to the content of your conversations, it can't share it with third parties or its parent company, Rakuten. So, you can be sure you won't mysteriously start seeing ads related to something you were just talking about with a friend on Viber.
More than encryption
Not only are your communications protected by end-to-end encryption by default, nothing you share is ever stored on Viber's servers once delivered. Viber's servers are used to transmit your messages and only hang on to anything you send until the recipient is available to receive it. If the recipient's phone is off or they don't have an internet connection, for example, your message will wait patiently on Viber's servers—still safe and encrypted—until their device is prepared to receive it.
360° security measures
The information you share is always safeguarded by our security systems so you never have to think twice about what you can or can't share when you're using Viber.

In-transit encryption
Messages are encrypted as they travel across the internet from your device to your recipient's.

End-to-end encryption
Encryption keys exist on user devices and nowhere else. So, no one—not even Viber— can read your messages.

Trusted contacts
Verify the identity of who you're chatting with by exchanging secret keys. Viber notifies you if anything about the contact's details changes.
For the particularly private
As a complement to end-to-end encryption, privacy features enable extra-cautious users to share extra-sensitive information.
Hidden Chats
Hide conversations from your chat list and access them whenever you need with a PIN.

Secret Chats
Keep entire conversations under wraps with self-destruct timers on all messages, screenshot alerts and more

Under the radar
Control when others can see your online status and the delivery status of the messages they send you.
Learn more about Viber's default end-to-end encryption for calls and messages on our support site.
Viber's security protocol was developed using the same "double ratchet" protocol found in Open Whisper Systems Signal application, but does not share their source code. Our entire security overview is available here.