Viber für Windows
Mit Viber für Windows können Sie kostenlose Nachrichten an andere Viber-Benutzer senden und sie kostenlos anrufen, auf beliebigen Geräten, in allen Netzwerken und Ländern!
Viber synchronisiert Ihre Kontakte, Nachrichten und den Anrufverlauf mit Ihrem Mobilgerät.
Sprachanrufe in bester HD-Qualität
Videoanrufe
Text-, Foto- und Sticker-Nachrichten
Vollständige Synchronisierung zwischen Ihrem Mobilgerät und Windows
Laufende Gespräche zwischen Geräten umleiten
Laden Sie Viber herunter, geben Sie Ihre Rufnummer ein, und verbinden Sie sich mit Ihren Freunden.
Viber herunterladen

Viber for Windows 10 offers a responsive design that runs on desktop and touch modes across all Windows 10 devices. Get the universal app for free in the Windows Store.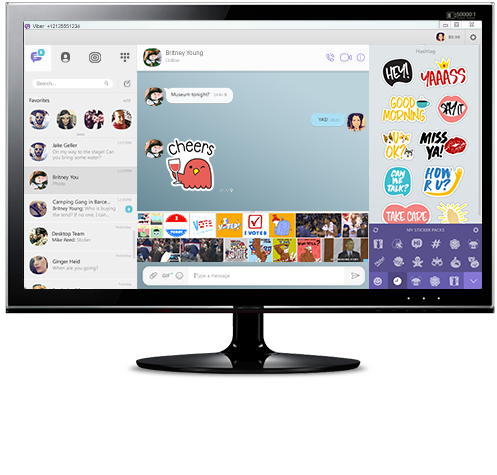 VIELE GROSSARTIGE STICKER!
Alle Sticker von Ihrem Mobiltelefon nun auf Ihrem Desktop. Einfach klicken, synchronisieren und senden.